News & Politics
Coffee shops have become the most buzzworthy unionizing battleground
City & State explores what's behind the worker-led drive to unionize at Starbucks and similar places in Pennsylvania.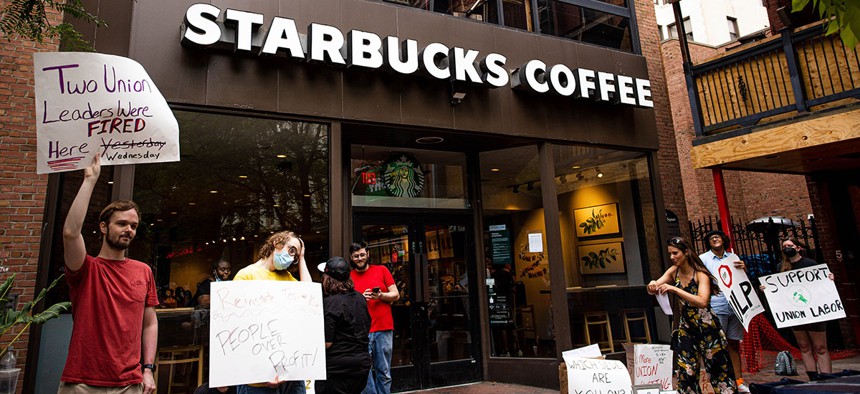 Step inside a coffee shop in Pittsburgh or Philadelphia, and it's likely that a whole lot more is brewing than just espressos or pourovers.That's because baristas and coffee shop workers across Pennsylvania are part of a growing push to unionize their ranks as they call for higher wages and better working conditions, and ask their employers to live up to – as more than one Starbucks employee put it – "modern, progressive workplaces."
Some of the first baristas to unionize this year were workers at five Coffee Tree Roasters locations across the Pittsburgh region, who voted 17-3 to unionize back in February. Starbucks workers at Pittsburgh's Bloomfield store followed suit, voting unanimously to become Starbucks' first unionized coffee shop in Pennsylvania. This quickly grew into a trend. 
"The problems that most Starbucks workers face that have led them to want to organize don't really come from their store managers, per se, or even specifically their store," said Jacob Welsh, a member of the organizing committee at the Bloomfield Starbucks. "It's really a corporate, systemic problem."
Current and former Starbucks workers interviewed by City & State listed stagnant wages, inconsistent staffing levels, a loss of pandemic benefits and safety concerns as some of the reasons they ultimately voted to unionize.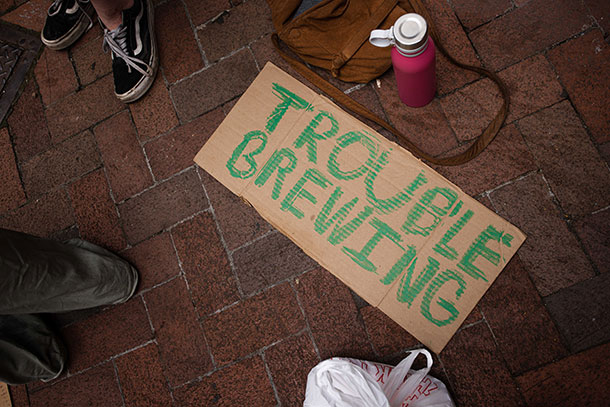 Tori Tambellini, a former shift supervisor at a Starbucks in Pittsburgh's Market Square neighborhood, echoed claims about the company presenting an image to the public that differs from the reality behind the counter. Tambellini said the Market Square location is a "high incident" shop where people sometimes slept in the store, used drugs in the bathroom and shoplifted, which she said are "things that Starbucks baristas who are making $12 an hour are not at all equipped to deal with." 
"All the stuff related to the pandemic kind of highlighted our other issues that we were having, and it really made us realize that the company just sees us as numbers and they really don't care about our store," Tambellini said. 
Like Welsh, Tambellini was also active with the organizing committee at her Market Square shop. But that's where their paths diverge. Welsh is still employed at the Bloomfield store, where he's worked since 2016. Tambellini was fired on July 13, just months after she signed a letter voicing her support for a union election. 
In a statement provided to City & State, a Starbucks spokesperson said Tambellini was fired due to "violations of time and attendance policies."
They really thought they were union busting by firing me, but now this is just my full time job.
- Tori Tambellini
"Time and attendance violations significantly impact our ability to properly run our stores and creates undue stress for the other partners on a shift," the spokesperson said. "A partner's interest in a union does not exempt them from the standards we have always held. We will continue to consistently enforce our policies."Tambellini said Starbucks officials appeared to be "digging for a reason" to fire her, adding that her notice of separation listed an instance where she was 10 minutes late to work. She said Starbucks also accused her of time theft, which Tambellini chalked up to an incident where she mistakenly wrote down the wrong start time for a shift.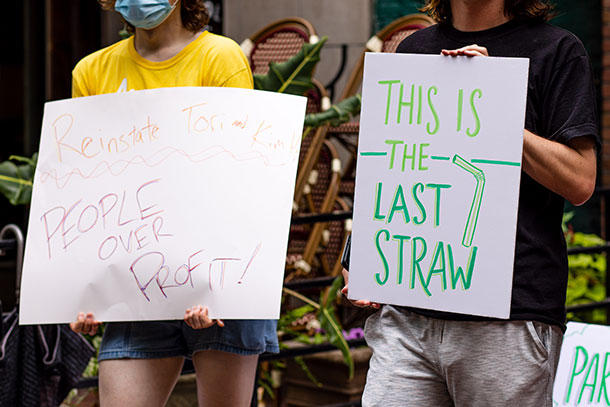 "A lot of the things on there were just absolutely ridiculous," Tambellini said of the separation notice. 
Multiple strikes and protests were organized in the wake of Tambellini's firing, and she has since been hired by the Pennsylvania Joint Board of Workers United, working 20 hours a week on top of a part-time internship she already had with the union. 
"They really thought they were union-busting by firing me, but now this is just my full-time job," Tambellini said. "Now I'm just kind of riled up and have unlimited free time to organize more stores."
The frustrations felt by coffee shop workers aren't limited to those working for Starbucks – employees at Coffee Tree Roasters have expressed similar worries about their own conditions. 
Jordy Vargas, a worker at the Shadyside Coffee Tree Roasters location in Pittsburgh, said Coffee Tree Roasters employees have grown frustrated with scheduling and wage issues, a lack of rest breaks and an inability to accept electronic tips, among other areas of concern. 
One Coffee Tree Roasters employee, Liam Tinker, was fired last year for being late to a shift a day after announcing his support for a union campaign, according to WESA.
Vargas said the union campaign allowed workers to see conditions at other Coffee Tree Roasters locations for the first time. 
"We started to see that it wasn't just a store issue because we started recruiting people from other locations. We started to see where the systemic issues were – that companies have a really easy time disregarding the state of their working conditions for their lowest-level employees," Vargas said. "It's really easy for them to underpay them and not notice how hard it is to maintain their stores and maintain their image."
Management for Coffee Tree Roasters did not respond to multiple requests for comment for this story, but a spokesperson for Starbucks said the chain is "listening and learning from the partners in these stores as we always do across the country."
"From the beginning, we've been clear in our belief that we are better together as partners, without a union between us, and that conviction has not changed," a company spokesperson said. "We've also been clear that we respect our partners' legal right to organize and will bargain in good faith with the stores that vote to be represented by the union."
Starbucks has also asked the National Labor Relations Board to temporarily halt elections at its stores in the U.S., pointing to allegations that an NLRB employee "improperly coordinated" with union organizers, according to a report from The Associated Press.  
Wendell Young IV, the president of United Food and Commercial Workers Local 1776, which represents workers at Coffee Tree Roasters, said the difficulties workers have experienced at Coffee Tree Roasters locations can likely be applied to other coffee shops across the state.
"Workers are just tired of not getting a fair return on their sweat equity in their work," Young said. "They wanted more respect on the job. They wanted to be safer on the job and they wanted opportunities on the job. They didn't like the way they were being treated – as rather disposable."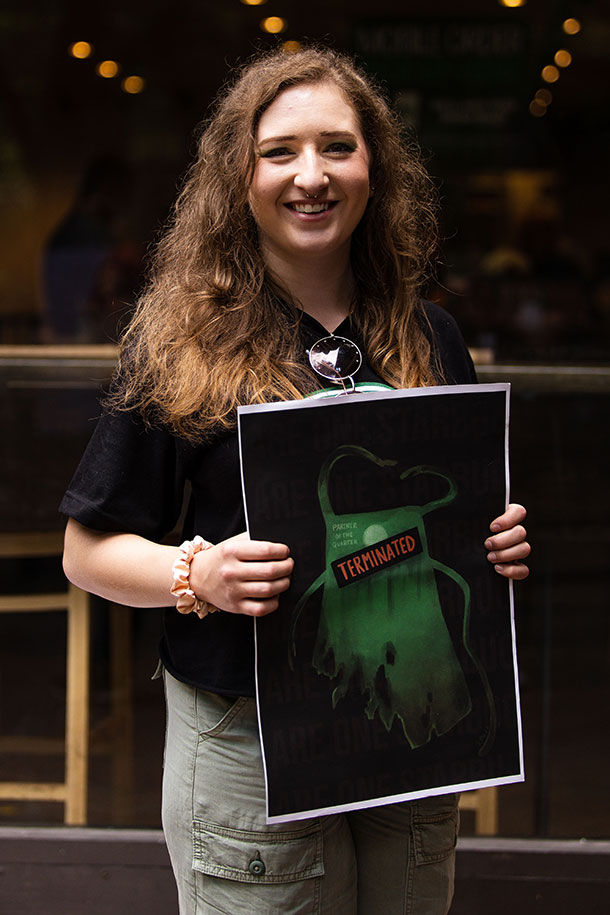 A vote by Buffalo, New York Starbucks workers appears to be the galvanizing force behind the barista-led push in Pennsylvania. After workers voted to unionize at a Buffalo Starbucks last December, coffeehouses across the commonwealth followed suit. Since that time, workers in the Lehigh Valley, Philadelphia and Pittsburgh have voted to unionize, as have shops across the country, ranging from red states like Texas, to blue states like California. 
Erik Loomis, a labor historian at the University of Rhode Island who authored the 2018 book, "A History of America in Ten Strikes," said the demographic and political characteristics of coffee shop workers may be a defining trait that separates baristas from fast food or fast casual workers, who haven't been unionizing like coffee shop workers have. 
Loomis noted that workers at Starbucks and other coffee shops are often white, have high school or college degrees, and are already politically engaged, putting them at an advantage compared to those in other parts of the service industry.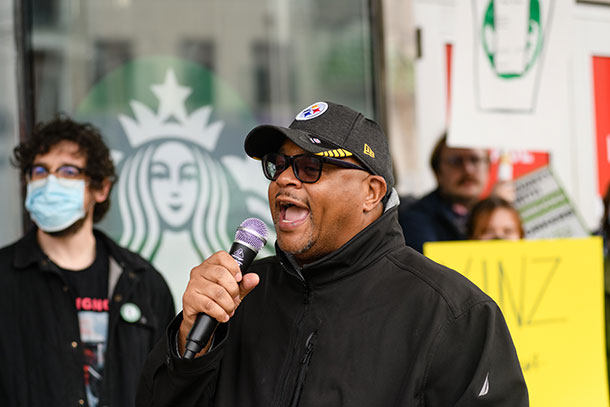 "I think that a piece of it is, again, the demographics of coffee shop workers are different than (someone) who works at McDonald's, or Wendy's or KFC. The reality is that those workers are whiter, and they are more educated, and they have more cultural capital," Loomis said. 
"They're using that and it's reflective of the larger inequalities in society. That these young, mostly white, college-educated workers – many of whom are already identifying with political movements – are not surprisingly going to be able or willing to jump into the breach and take that step," he added. "Whereas, somebody who was not able to graduate from high school and has no other economic options is gonna be a little more fearful of taking that step."
I would say that until the union members say otherwise, continue going in and supporting any way you can.
- Jacob Welsh
Different sets of workers at different coffee shops have resulted in different sets of demands. At Coffee Tree Roasters, workers want the option to collect electronic tips, given the reliance on electronic forms of payment available everywhere. At places like the Market Square Starbucks in Pittsburgh, workers could benefit from additional training and having naloxone readily available to reverse opioid overdoses, Tambellini said.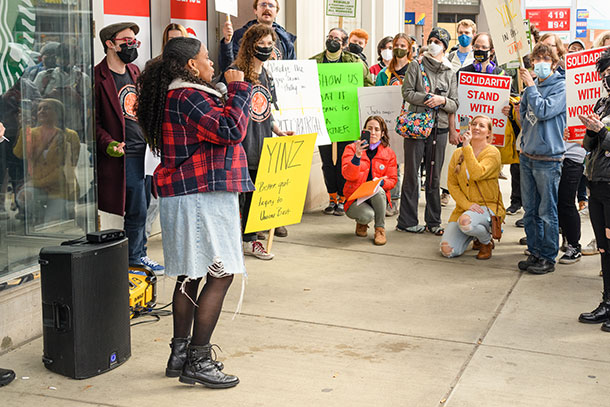 Workers in coffee shops across the state have secured short-term victories by winning their respective union elections, but now, they face a different kind of tall order: guaranteeing substantive changes in any potential contracts that get negotiated between them and their employers.
For Welsh, he's not confident that Starbucks has approached the negotiating table in good faith. "I can say with 100% certainty that my store went into this really, sincerely hoping that the company would treat us fairly, and that's just not what's panned out," he said. In the meantime, workers encourage the public to continue frequenting their shops in order to support workers, both current and former, who, this time, are asking their employers for a perfect blend – of respect and benefits, that is. 
"It's such a hard position to be in, right? Because on one hand, those tactics are so reprehensible and so awful to the workers, but at the same time, the company needs to continue to profit in order for the employees to get a good contract," Vargas said. "So, I would say that until the union members say otherwise, continue going in and supporting any way you can."