Campaigns & Elections
John Fetterman pulls in $22M as Dr. Oz moves within striking distance
The celebrity doctor reported raising more than $17M in the most recent quarter.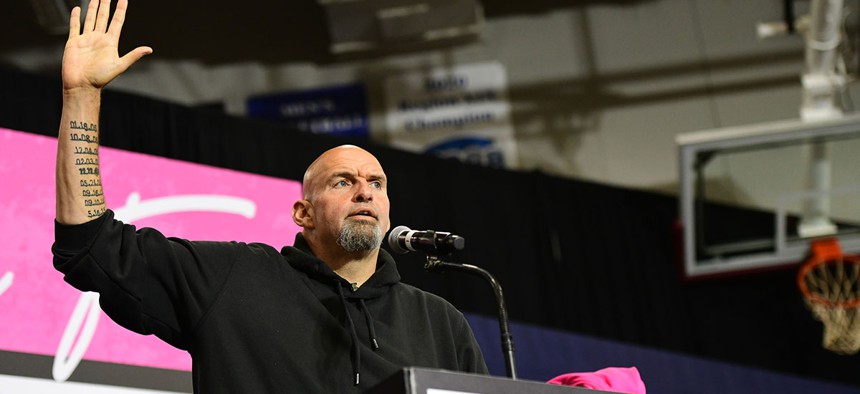 Democratic Lt. Gov. John Fetterman continued his strong fundraising streak in the third quarter of 2022, bringing in $22 million in contributions as his opponent, Republican Dr. Mehmet Oz, inches closer to Fetterman in multiple public polls conducted on the state's U.S. Senate race. 
Fetterman outraised Oz during the third quarter by about $5 million; Oz reported raising more than $17.2 million during Q3, which included a $7 million loan Oz lent to his campaign. 
Fetterman's campaign said the Democrat's haul "shatters" Pennsylvania fundraising records, and looked to hit Oz over the $7 million he gave to his campaign. Oz's campaign, meanwhile, said the celebrity physician's loan will help him spread his message across the state. 
The Senate race between Oz and Fetterman could very well determine which party controls the chamber in 2023, and has gotten increasingly heated as both candidates trade attacks over everything from Oz's medical background to Fetterman's recovery from a stroke. Some early polls in the race showed Fetterman with a double-digit lead, though that gap has significantly narrowed in recent weeks. A poll released at the end of September from The Hill and Emerson College placed Oz within two points of Fetterman. 
Another recent poll from Suffolk University and USA Today, which was conducted from Sept. 27 to 30, showed Fetterman's unfavorability rating rise in comparison to a June poll from the same pollsters. In June, 27% of voters said they had an unfavorable view of Fetterman – a figure that increased by 17 points by September, with 44% of voters saying they have a negative view of the Democratic nominee. As of September, more voters still have an unfavorable opinion of Oz; 51% said they had an unfavorable opinion of the celebrity doctor. 
The people of Pennsylvania have John's back and that's something even Dr. Oz's millions could never buy.
- Brendan McPhillips
Still, Fetterman raked in cash though the third quarter, which lasted from the beginning of July through the end of September. His campaign reported receiving upwards of 595,000 donations from more than 330,000 individual donors, and his campaign boasted that this is the highest quarterly total for Fetterman to date. 
Fetterman's campaign also portrayed the incumbent lieutenant governor as an underdog, pointing to Oz's wealth as a barrier that the campaign has been able to overcome, at least as far as fundraising is concerned. 
"We're going up against an ultra-millionaire who has poured millions of dollars of his own money into this campaign, and who has the backing of the special interest groups that are terrified of John," Fetterman campaign manager Brendan McPhillips said in a statement. "The people of Pennsylvania have John's back and that's something even Dr. Oz's millions could never buy."
But Oz's campaign, which has ramped up attacks on Fetterman as the former TV show host gains ground in the polls, said the GOP nominee's fundraising spoils are a testament to Oz's work ethic. 
"Doctor Oz will not be outworked when it comes to making sure he has the resources to tell voters his positive message of fixing the economy, creating jobs, and cleaning up our streets," Oz's national finance director Michael Adams said in a statement. 
"Our momentum is building every day and we're uniting Republicans, Independents, and Democrats who want to see a change in Washington," Adams added. "We're proud of our success this quarter – and we're just getting started."
Oz's $17.2 million raised in the third quarter represents the largest haul Oz has reported all year. He reported raising $1.7 million from donors in the first quarter of this year, and loaned himself $5.8 million. In Q2, he brought in a little more than $1 million, while also loaning his campaign $2.2 million.
Fetterman reported raising $3.1 million in contributions during the first quarter of 2022, and more than $10 million in the second quarter. He has not made any personal loans to his campaign since announcing his run for Senate, according to records from the Federal Election Commission.