Campaigns & Elections
Democrats claim they've flipped the state House blue
It would be the first time Democrats have taken control of the House in more than a decade.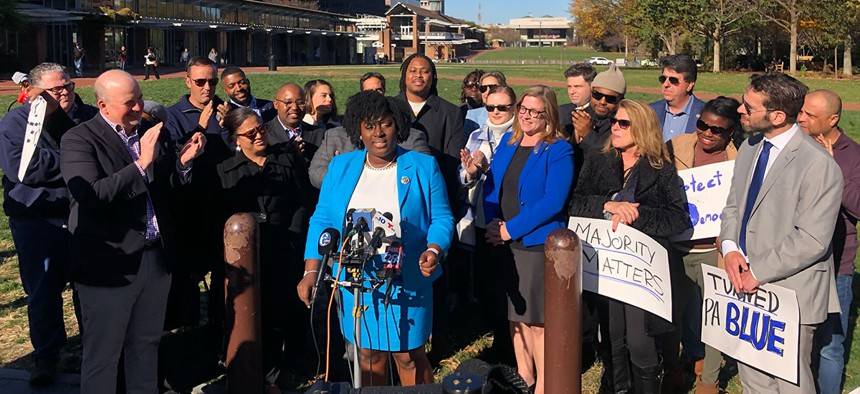 For the first time in more than a decade, Democrats say they are projected to win majority control in the state House in Harrisburg. 
Democratic legislators gathered in front of Independence Mall in Philadelphia Wednesday to discuss election results and what a Democratic House majority would look like in the next General Assembly. Without confirmation from the Associated Press, Democratic lawmakers declared they had won control of the state House and that they expect to hold at least 102 seats in the chamber. 
"As the votes are being counted, we are able to make certain projections right here and right now. The voters have spoken loud and clear, despite the narrative that was proclaimed in the last week," state Rep. Leanne Krueger, chair of the House Democratic Campaign Committee, said at the press conference. "Not only have Democrats done better nationally than expected, but we're proud to say that in addition to Governor-elect Josh Shapiro and Senator-elect John Fetterman, we can confidently say that Democrats will win the majority of the state House."
The announcement came as a bit of a surprise as many counties are still finalizing vote counts, including counting mail-in and overseas ballots. State Rep. Jordan Harris, the House minority whip, said Democratic gains in Philadelphia's collar counties and recent trends in mail-in and absentee voting allowed them to make this projection. 
"We know how mail-in ballots typically trend, and the truth is, we won seats that people didn't think we would be able to take in this state," Harris, a Democrat from Philadelphia, said. "We didn't need gerrymandered maps. We just needed fair maps."
Elections for the state House took place with a new map that was expected to show Democratic gains. The latest map – which was approved by a bipartisan commission made up of legislative leaders and an independent chair, and unanimously upheld by Pennsylvania's highest court as part of the latest decennial redistricting process – gave the Democratic Party a path to shift the power in the legislature. 
Going into Election Day, Republicans held 113 of the 203 seats. Democrats needed to flip at least 12 House seats to become the majority. As of Wednesday afternoon, some House races remained too close to call. At least three House seats – those held by Summer Lee, Austin Davis and the late Tony DeLuca – are expected to be filled in an upcoming special election. 
As the votes are being counted, we are able to make certain projections right here and right now.
– state Rep. Leanne Krueger
Lee, a state representative from Allegheny County, won the race for U.S. House District 12. Davis, Shapiro's running mate, will assume the role of lieutenant governor. DeLuca passed away last month but remained on the ballot. All three won reelection and will have their vacant seats filled next year, but those districts are likely to remain Democratic strongholds. 
State Rep. Joanna McClinton, who would become the commonwealth's first female House Majority Leader if Democrats do take the chamber, touched on the importance of having a female leader given the recent attempts by Republicans to restrict abortion rights. 
"It is much more than symbolic that we will finally have a woman that has the gavel in the Pennsylvania House of Representatives," McClinton said Wednesday. "At a time when women's rights were on the ballot … we are able to create an agenda to work with our governor, Josh Shapiro."
The House Republican Campaign Committee could not be immediately reached for comment.