Capitol Beat
House votes to impeach Philadelphia District Attorney Larry Krasner
State representatives voted 107-85 to adopt the articles of impeachment and send them to the Senate for trial.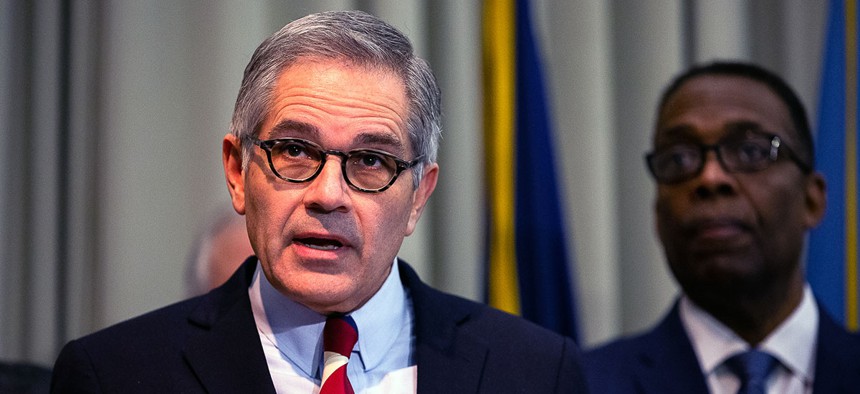 A sharply divided state House voted 107 to 85 to send articles of impeachment against Philadelphia District Attorney Larry Krasner to the state Senate for a trial. After a lengthy floor debate, legislators adopted House Resolution 240 along party lines in a lame-duck session.  
A months-long investigation by the chamber's Select Committee on Restoring Law and Order, which tasked itself with investigating crime in Philadelphia during Krasner's tenure, culminated in Wednesday's vote. The vote also came just one day after the House Judiciary Committee approved the impeachment resolution along party lines. 
Pointing toward rising homicide and gun crime rates in the city, Republicans claim Krasner's policies and priorities as Philadelphia's top prosecutor is a direct cause of the city's current violence. The select committee's interim report outlined issues related to gun violence and the prosecution of gun crimes, as well as several emotional first-hand stories from crime victims' families. 
"The information that was contained in the report was so egregious to me, I felt compelled to drop these articles of impeachment," state Rep. Martina White, the chamber's lone Philadelphia Republican and the prime sponsor of the impeachment resolution, said during the impeachment debate. 
These articles of impeachment are like a plate of spaghetti thrown against the wall. You're supposed to look at it not too carefully and just throw up your hands and say, 'What a mess.'
– State Rep. Mike Zabel
Republican lawmakers and the bipartisan committee have sought to paint a picture of rampant crime in Philadelphia and blame the policies of Krasner, a progressive Democrat, for the rise in violence. They've alleged that although Krasner hasn't committed a crime, his "misbehavior in office" meets the state Constitution's threshold for removal from office. 
"The constitutional standard for the legislative process of impeachment is any misbehavior in office. This language is intentionally broad as to protect the citizens of Pennsylvania from those in positions of power who may walk the line of abusing their power but fall short of coming to a criminal act," White said. 
Krasner's alleged "misbehavior in office" cited in the indictment includes the refusal to enforce the law, obstruction of the select committee's investigation, violation of judicial conduct and violation of victim rights. 
Krasner, while mounting an ultimately unsuccessful challenge of the select committee's validity in Commonwealth Court, was held in contempt in September for failing to comply with subpoenas and requests for information. 
"In the hundreds of years the commonwealth has existed, this is the only time the House has used the drastic remedy of impeachment of an elected official because they do not like their ideas," Krasner said in a statement. "We were never given the opportunity to defend our ideas and policies – policies I would have been proud to explain. That Pennsylvania Republicans willfully avoided hearing the facts about my office is shameful."
Democratic legislators have called the entire process politically motivated and an effort to overturn a local election. In addition to making arguments related to the state's handful of impeachments over the centuries, Democrats questioned the General Assembly's unwillingness to impeach elected officials who have committed crimes in office in the past. 
The only person to be impeached and removed from office by the legislature is Rolf Larsen, a one-time state Supreme Court justice, who, in 1994, was impeached by the state House for a host of ethical violations.
"Not that long ago, we had a member in our midst who had a protective order on this House floor," state Rep. Jason Dawkins, a Philadelphia Democrat, said during the impeachment debate. "Not that long ago, we had sitting district attorneys in this commonwealth that had committed crimes while in office and we have not taken up this particular motion. I'm not calling anyone a hypocrite…there's just something that doesn't sit right."
Democrats also argued that this is just the latest attempt by Republicans to pin crime rates in cities on progressive policies. They've continually called out Republican leadership in Harrisburg over inaction related to criminal justice and said Philadelphia is not alone when it comes to gun violence. 
"There are ways to influence those policies short of impeachment. Legislators can revise state laws that give the district attorney discretion in certain areas. They can give – and have given – concurrent authority to other prosecutors in certain kinds of cases. Impeachment is a totally inappropriate response to a policy disagreement," Marc Stier, director of the Pennsylvania Budget and Policy Center, said in a statement. "The city's murder rate has gone up at the average increase for all large cities and is substantially lower than many. The Philadelphia murder rate has also increased less than that of a number of rural counties in Pennsylvania, including the counties represented by some of District Attorney Krasner's leading critics in the Pennsylvania House of Representatives."
State Rep. Mike Zabel, a Democrat from Delaware County, touched on his experience as an assistant district attorney in Philadelphia under then-District Attorney Seth Williams. He pleaded with lawmakers during the floor debate to vote against the resolution, arguing that it would set a standard that would allow any legislative majority to impeach an elected official and judge over policy disagreements. 
"The truth is, prosecuting crimes in one of the largest cities in the country is a complex task with a never-ending parade of challenges," Zabel said during the floor debate. "These articles of impeachment are like a plate of spaghetti thrown against the wall. You're supposed to look at it not too carefully and just throw up your hands and say, 'What a mess'... Fight the urge to throw your hands up in the air and go, 'What a mess' and really consider for a moment as legislators what should be the grounds for impeachment." 
Nine lawmakers were on leave and did not have votes recorded, including Republican state Reps. Frank Farry, Rosemary Brown, Tracy Pennycuick, Greg Rothman and Megan Schroeder, and Democratic state Reps. Amen Brown, Frank Burns, Kevin Boyle and Ed Neilson. State Rep. Michael Puskaric, who is on his way out of the House after losing reelection, was the lone 'no' vote among Republicans. Puskaric has previously told City & State he thinks it would set a "horrendous precedent" for legislators to intervene in local elections.  
It's unknown whether the Senate will choose to hold a trial before Nov. 30, the end of the legislative session. Senate leadership has hinted at the possibility of adding session days to the calendar but no official actions have been taken.