U.S. Congress
How Pennsylvania's congressional delegation voted for a new House speaker
It was mostly Hakeem Jeffries vs. Kevin McCarthy on Tuesday from Pennsylvania's members of Congress.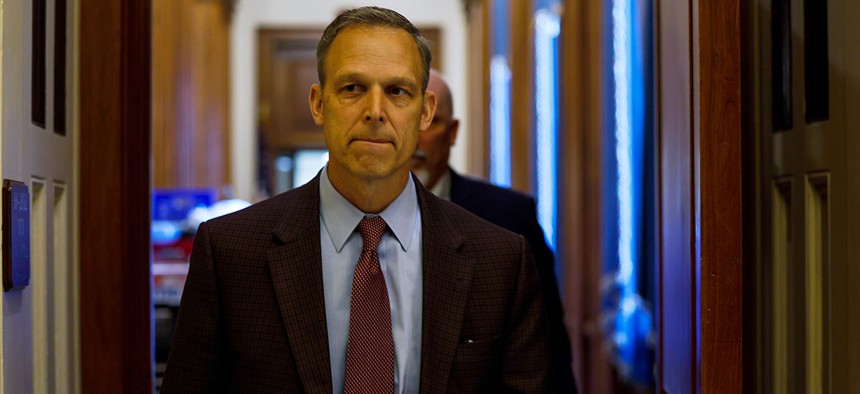 If you had "Harrisburg lawmakers coming together before those in Washington, D.C." on your 2023 bingo card, you're off to a great start. As the state House elected state Rep. Mark Rozzi as its speaker Tuesday, lawmakers in the nation's capitol were at an impasse over who should lead the newly-elected, GOP-controlled House of Representatives. 
U.S. Rep. Kevin McCarthy, the California Republican, has failed to garner the votes necessary to be elected Speaker of the House as a conservative wing of the party is preventing him from winning the majority of votes. And amid the chaos in Washington, Pennsylvania lawmakers, including U.S. Rep. Scott Perry, are playing a pivotal role in the votes for speaker.
A member needs 218 votes if every member of Congress casts a ballot, meaning McCarthy can only afford to lose four Republican votes. Thus far, he's come up short on eight occasions, with Democrats voting for Hakeem Jeffries from New York and several GOP members bucking McCarthy and voting for the likes of U.S. Rep. Jim Jordan, the Republican from Ohio, and U.S. Rep. Byron Donalds, the Republican from Florida. 
Here is how the commonwealth's congressional delegation has voted for speaker in each of the first seven ballots: 
Brian Fitzpatrick
1st: McCarthy
2nd: McCarthy
3rd: McCarthy
4th: McCarthy
5th: McCarthy
6th: McCarthy
7th: McCarthy
8th: McCarthy
Brendan Boyle
1st: Jeffries
2nd: Jeffries
3rd: Jeffries
4th: Jeffries
5th: Jeffries
6th: Jeffries
7th: Jeffries
8th: Jeffries
Dwight Evans
1st: Jeffries
2nd: Jeffries
3rd: Jeffries
4th: Jeffries
5th: Jeffries
6th: Jeffries
7th: Jeffries
8th: Jeffries
Madeleine Dean
1st: Jeffries
2nd: Jeffries
3rd: Jeffries
4th: Jeffries
5th: Jeffries
6th: Jeffries
7th: Jeffries
8th: Jeffries 
Mary Gay Scanlon
1st: Jeffries
2nd: Jeffries
3rd: Jeffries
4th: Jeffries
5th: Jeffries
6th: Jeffries
7th: Jeffries
8th: Jeffries
Chrissy Houlahan
1st: Jeffries
2nd: Jeffries
3rd: Jeffries
4th: Jeffries
5th: Jeffries
6th: Jeffries
7th: Jeffries
8th: Jeffries
Susan Wild
1st: Jeffries
2nd: Jeffries
3rd: Jeffries
4th: Jeffries
5th: Jeffries
6th: Jeffries
7th: Jeffries
8th: Jeffries
Matt Cartwright
1st: Jeffries
2nd: Jeffries
3rd: Jeffries
4th: Jeffries
5th: Jeffries
6th: Jeffries
7th: Jeffries
8th: Jeffries
Dan Meuser
1st: McCarthy
2nd: McCarthy
3rd: McCarthy
4th: McCarthy
5th: McCarthy
6th: McCarthy
7th: McCarthy
8th: McCarthy
Scott Perry
1st: Biggs
2nd: Jordan
3rd: Jordan
4th: Donalds
5th: Donalds
6th: Donalds
7th: Donalds
8th: Donalds
Lloyd Smucker
1st: McCarthy
2nd: McCarthy
3rd: McCarthy
4th: McCarthy
5th: McCarthy
6th: McCarthy
7th: McCarthy
8th: McCarthy
John Joyce
1st: McCarthy
2nd: McCarthy
3rd: McCarthy
4th: McCarthy
5th: McCarthy
6th: McCarthy
7th: McCarthy
8th: McCarthy
Guy Reschenthaler
1st: McCarthy
2nd: McCarthy
3rd: McCarthy
4th: McCarthy
5th: McCarthy
6th: McCarthy
7th: McCarthy
8th: McCarthy
GT Thompson
1st: McCarthy
2nd: McCarthy
3rd: McCarthy
4th: McCarthy
5th: McCarthy
6th: McCarthy
7th: McCarthy
8th: McCarthy
Mike Kelly
1st: McCarthy
2nd: McCarthy
3rd: McCarthy
4th: McCarthy
5th: McCarthy
6th: McCarthy
7th: McCarthy
8th: McCarthy
Summer Lee
1st: Jeffries
2nd: Jeffries
3rd: Jeffries
4th: Jeffries
5th: Jeffries
6th: Jeffries
7th: Jeffries
8th: Jeffries
Chris Deluzio
1st: Jeffries
2nd: Jeffries
3rd: Jeffries
4th: Jeffries
5th: Jeffries
6th: Jeffries
7th: Jeffries
8th: Jeffries