Philadelphia Mayor's Race 2023
From shining shoes to shaping policy, Allan Domb is planning Philadelphia's path forward
The real estate broker and former City Council member is relying on his private and public sector expertise to attract voters to his mayoral campaign.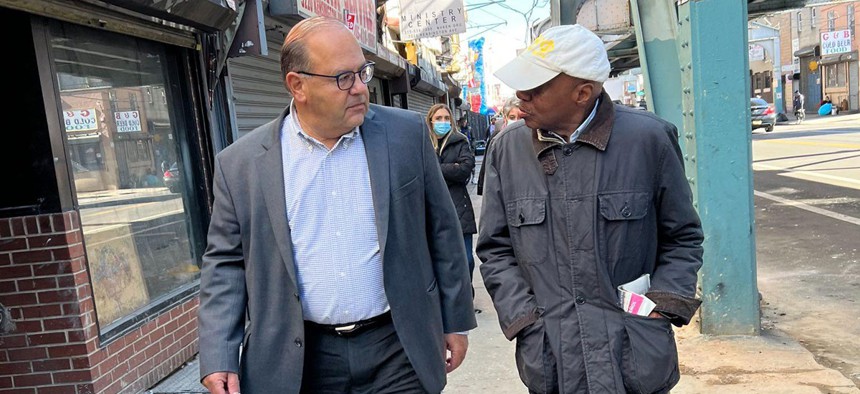 From shining shoes at age 4 and purchasing his first real estate property at 14 to running for Philadelphia City Council at age 60, Allan Domb's path from self-made businessman to mayoral candidate has taken a few twists and turns. 
Known as Philadelphia's "Condo King," Domb has attempted to dispel the thought that his success as a wealthy real estate entrepreneur – and his ability to self-fund much of his campaign – doesn't take away from his modest upbringing.  
Growing up, his family's water glasses "were Hellmann's mayonnaise jars that were recycled. We used to wash plastic forks and spoons," Domb told City & State in an exclusive interview. "We didn't have a lot."
His family's financial struggles taught him a "put your head down and work" mentality that contributed to his success in real estate, Domb said. And as he looks to become the city's 100th mayor, Domb said he continues to live by the words of Winston Churchill: "We make a living by what we get, but we make a life by what we give."
A people-focused mindset led Domb to first run for public office. Domb said he considered a mayoral run in 2015 before political experts told him he needed to "run for Council and know the ropes first." Domb did just that, getting elected to City Council after a largely self-funded campaign and a priority on financial stability. 
"I love seeing people," Domb told City & State. "I would say every job, including the mayor's job, is probably at least 51% hospitality – and it might be more than that – and 49% technical. You need to have that balance."
Domb brought that hospitality and his business acumen to City Council, overseeing both its Fiscal Stability and its Intergovernmental Cooperation committees. He also donated his City Council salary to Philadelphia public schools and sought to pass a wage tax refund that Mayor Jim Kenney ultimately vetoed. 
Domb has stressed the need for robust economic and public safety reforms, including two major measures he'd seek to alleviate poverty in the short term: a wage tax and an earned income tax credit. 
"The wage tax bill would reimburse a good portion of the wage taxes to lower-income people … (it's) very progressive and powerful legislation," Domb told City & State. "My colleagues will tell you: I was the biggest proponent of getting EITC money into the hands of our residents."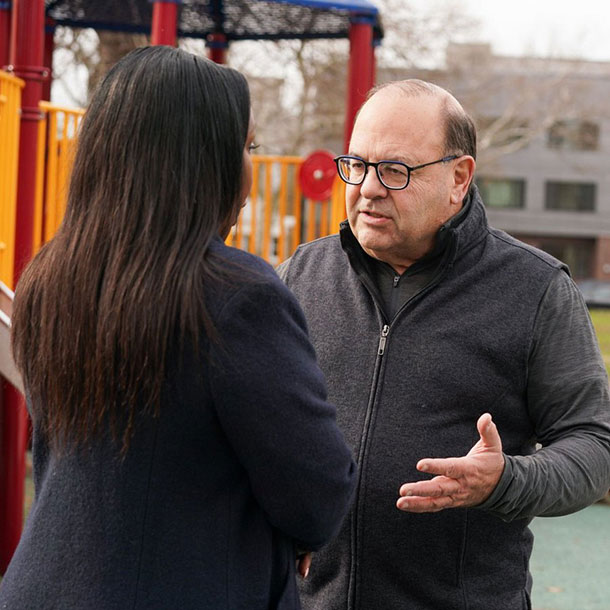 Putting money directly into residents' hands, he argued, will allow spending to stay local and benefit the region even further. 
"When they get those checks, that goes into the local economy," Domb said. "They're not going to Hawaii for a trip. They're paying their bills and putting food on the table."
Domb is not the only solutions-minded businessman in the race, however. Many see Domb sharing his lane to victory with Jeff Brown, another candidate who can rely on his wealth to fund his campaign. 
Both have had to address concerns related to their business dealings and potential conflicts of interest. Domb, who owns more than 400 properties across the city that are collectively worth more than $400 million, has vowed to distance himself from his holdings if elected. 
Domb specifically committed to selling his business and real estate holdings to a company owned by his son and other investors if elected, adding that the company would be prohibited from seeking zoning variances and new construction permits from the city. His plan also calls for an independent ethics expert to review any interactions between the company and city government. 
Mustafa Rashed, a Democratic political consultant, said that although having a self-sufficient campaign can play a major role in getting a candidate off the ground, those funds alone won't assemble the broad coalition needed to win the primary in such a crowded field. 
"While having financial resources is critical, it's just as important –  if not more so – to show that you have a wide range, a wide base of support across the city because (it shows) people believe in what you're doing," Rashed told City & State.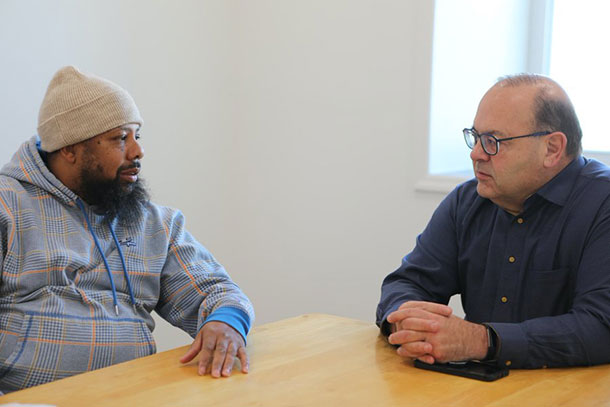 Modernizing the education system – a talking point that Domb touted during his nearly two terms on City Council, continues to be a leading message that he believes everyone can agree on. A focus on reimagining education, such as teaching financial literacy, he said, would "dramatically" change the city's schools, and in turn, its economy. 
Drawing comparisons to the Phillies' roster development, Domb said the city must focus on training young people for specific jobs of the future.
"We have not done a good job of growing our farm system," Domb said. "We need to train young people to come into these positions, not just for police, fire and EMT and building trades – I would take it a step further – to some of the city jobs in L&I and into becoming teachers."
4 quick questions with Allan Domb:
Are you in favor of having an elected school board? No.
Would you consider a rent control system? I would not be in favor of rent control. I am in favor of helping people keep their homes and not having to move them, providing they have the willingness to pay … I would want to create opportunities for individuals in housing to buy their own homes and I believe the tool to do that would be what's called a "Buydown Mortgage," where we subsidize that as a city … It's cheaper than giving you credit and it's a very effective tool in financing that has been used in real estate. 
Would you look to reform the soda tax? I'm glad we did it but I think it could have been paid out of the General Fund in retrospect. I want to do what's called an elasticity study to show if the soda tax was adjusted … would we attract more people to come and shop in our stores and get more jobs. What is the benefit? 
How would you prioritize getting the city back to 2 million residents? We need to grow the base by making the city more attractive. Number one is to make it safer, reduce the violence and then create an opportunity for people to grow jobs here and more entrepreneurship here, and improve what we teach in our schools … You're going to have a different city when you're going to have people want to come here, stay here and keep their kids in school here.