Philadelphia Mayor's Race 2023
Ed Rendell is endorsing Rebecca Rhynhart in Philly mayor's race
The former mayor and governor joins the list of former mayors to back Rhynhart.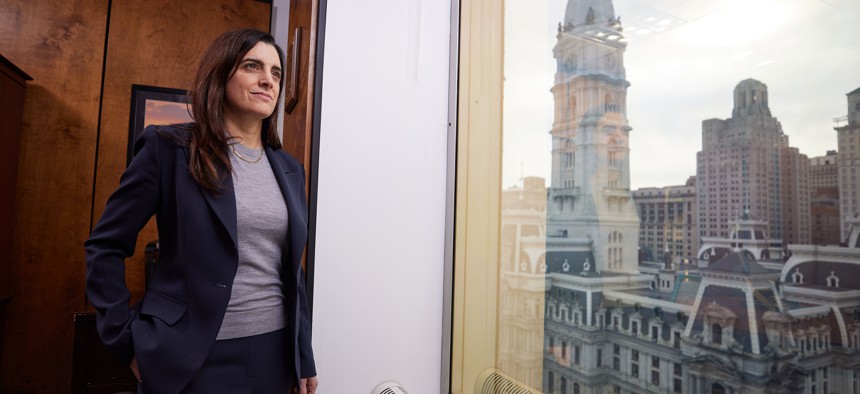 Former Gov. Ed Rendell has endorsed Rebecca Rhynhart in the race for Philadelphia mayor, he announced Wednesday. He's now the third former Philadelphia mayor to put his support behind her. 
In a statement, Rendell said he believes fellow Democratic candidates Allan Domb and Cherelle Parker "would be good stewards for the city" but that Rhynhart is the best candidate to lead the city "on the long road it will take to overcome our challenges." 
"In my long career in public life, I have found that a good leader must be willing to take prudent risks in putting forward solutions that may not be immediately popular," Rendell said in a statement. "Rebecca has demonstrated the willingness to propose such solutions when she is convinced it is the best way to deal with the problem." 
Rendell joins former mayors Michael Nutter and John Street in endorsing Rhynhart. Nutter has been a loyal supporter of Rhynhart, who served as city treasurer and then budget director under his administration. He formally endorsed her last month. 
As the former city controller, Rhynhart has made her mastery of the city's finances a leading message throughout her campaign. Street endorsed her back in January, citing that experience, stating she "can basically hit the ground running." 
Rendell also endorsed Rhynhart back in 2017 during her run for city controller, when she upset three-term incumbent Controller Alan Butkovitz. 
"(Rendell's) legacy demonstrates that we share the belief that our residents deserve leaders who will move our city beyond the status quo. That's how I led as City Controller, and that's exactly what I will do as mayor," Rhynhart said in a statement. "(The former mayors') confidence in my leadership means a great deal to me and further proves that I have the knowledge, experience, and courage to lead our city forward – making it safer and cleaner and providing our residents with true opportunity."
Mustafa Rashed, a Democratic political consultant, told City & State that he had little confidence in a big name endorsement this late in the election cycle, citing "diminishing returns."
"What's helpful is the governor has extensive networking and people who look to him for clues about who could win," Rashed said. "But I'm not sure at this point that particular endorsement would change the game."
Rendell also suggested Rhynhart assemble a "team of rivals" by hiring some of her opponents, naming former City Council members Allan Domb and Cherelle Parker, as well as Maria Quiñones Sánchez and Derek Green, both of whom suspended their campaigns for mayor.
The primary election is May 16.