News & Politics
Worried about a recession, Joe Pittman says PA must be 'judicious' with the next state budget
The state Senate majority leader also acknowledged areas of common ground for Republicans and Gov. Josh Shapiro.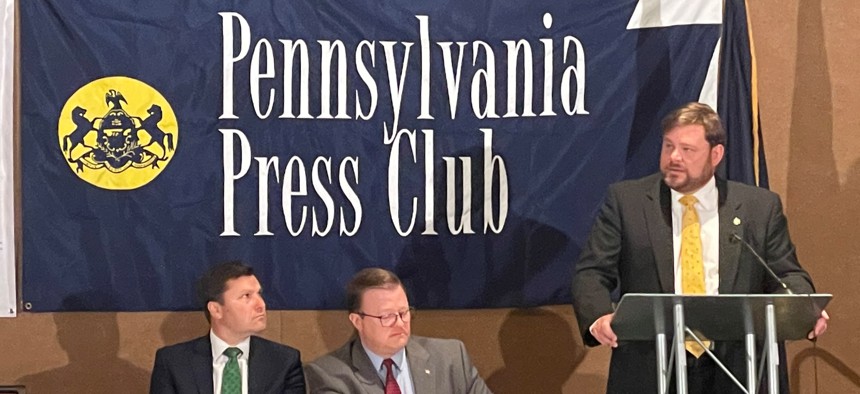 Pennsylvania Senate Majority Leader Joe Pittman signaled an openness to working with Democrats during a 25-minute speech before the Pennsylvania Press Club on Monday, while also calling for a "responsible" budget that keeps state spending in check. 
Pittman, who was elected majority leader in a caucus election last November, offered praise at the monthly luncheon series for Democratic Gov. Josh Shapiro, whom he said offered a "reasonable" budget proposal that will serve as a starting point for negotiations. Pittman said Shapiro's budget dropped many policy proposals sought by his predecessor, Gov. Tom Wolf.
"I do think that Gov. Shapiro has taken many of those pie-in-the-sky ideas off the table so we can get to work on a very reasonable, responsible product," Pittman said. Still, Pittman said, he has reservations about the level of spending in Shapiro's spending plan, especially given that both Shapiro's administration and the Independent Fiscal Office have both predicted that the state's expenditures will outpace revenues in future budget cycles – which would lead to a budget deficit.
"The governor's budget proposal, as he put forward, readily acknowledged that, on the track of spending that he would like to undertake, our budget surplus would be fully exhausted within the next four to five years. I can assure you that the Senate Republican Caucus finds that to be unacceptable," Pittman said.  
Pittman said a decline in revenue from the Realty Transfer Tax, which is a 1% tax levied on real estate transfers, could be an indicator that a recession is around the corner and that the state should prepare wisely. 
Pennsylvania's Realty Transfer Tax revenue has come in below estimates each month this year, and the total collection amount this fiscal year is $487 million – or $73.6 million less than what was anticipated, according to the most recent data available from the Pennsylvania Department of Revenue.
"There is a red flashing light – and that red flashing light is the real estate transfer tax. The revenues that have come in from real estate transfer taxes have plummeted. To me, that's a sign of recession times to come," Pittman said. "We have to be judicious on how we proceed with this budget." The Senate Republican Caucus leader said he's hopeful that this year's budget will be enacted by the June 30 deadline, but also downplayed the significance of the date. 
"I will say that whether it's before June 30, on June 30 or after June 30, our caucus' focus is on making sure it's a responsible product for the taxpayers of this commonwealth – we're not wed to June 30," he said.