Philadelphia Mayor's Race 2023
Cherelle Parker wins historic Philadelphia Democratic mayoral primary
The former City Councilmember is on track to become the city's 100th mayor and its first female leader.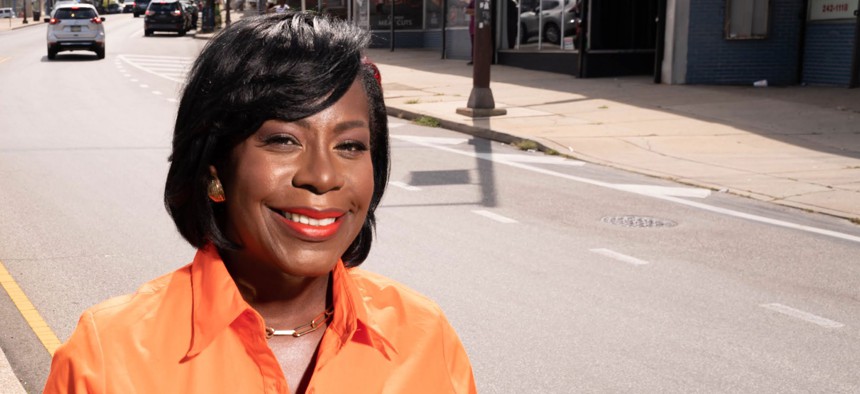 Former state lawmaker and Philadelphia City Councilmember Cherelle Parker may soon have another title to add to her name: mayor. 
Parker won the Democratic nomination in Philadelphia's mayoral primary election Tuesday night, coming out on top of a crowded primary field and setting herself up to become the city's 100th mayor – and its first female chief executive. 
Her victory lap was not a straightforward one, though: Someone at her event, which was held at Laborers Local 332 hall in Center City, prematurely called the race in her favor, and Parker was unable to attend her victory party. Her campaign released a statement citing "a recent dental issue that required immediate medical attention this evening, and she is currently receiving care at the University of Pennsylvania."
"It's been a long road, and to see the tireless work of my campaign team, supporters, and family pay off is humbling," Parker said in a tweet. "I'm looking forward to November and bringing our city together as its 100th mayor."
The race, which was hotly contested from the beginning, was defined on Election Night by low turnout – the percentage of eligible voters hovered around the 20% mark by the end – and by a large swath of undecided voters that ensured the winner would only get a plurality of votes. 
Parker outperformed expectations and continued to grow her lead after starting near the top when mail-in ballots were first counted. She began the night with about 27% of mail-in ballots and continued her success from there, eventually building an insurmountable lead over Jeff Brown, Allan Domb, Rebecca Rhyhart and Helen Gym.
Parker, the 50-year-old Northwest Philadelphia native, leaned on her legislative experience at the city and state level and the backing of the city's Democratic establishment to propel her to the projected victory, which was called shortly after 11 p.m. Tuesday. 
With three of the leading mayoral candidates vying to be the city's first female mayor, there was optimism that one of them would come away with a win. Early returns showed solid mail-in ballot returns for both Rhynhart and Parker, who each got more than 13,000 votes from the jump. Parker took the lead once in-person counting began and continued to separate herself from there. As of 11:30 p.m. Tuesday, she had 58,659 votes and nearly 33% of the citywide vote share, holding a more than 10-point lead over Rhynhart and Gym, who placed second and third, respectively. 
Spirits remained high at other candidates' election night parties throughout much of the evening, despite the early numbers showing Parker in the lead. 
Sam Sam, executive chef of Little Saigon Cafe in Chinatown, said he's supported Gym for more than 20 years, going back to the foiled attempts to build the Phillies baseball stadium near the neighborhood. 
"(Helen's) very good for the community," Sam said at Gym's watch party, held at the Sheraton Center City. "She cares about us."
Joseph Dennis, a Rhynhart supporter, said he believed she had the "right vision and temperament to lead the city." As he took part in Rhynhart's event, held at Craft Hall in Northern Liberties, he said he wasn't deterred by the early results, adding that Rhynhart has "too much knowledge" to remain on the sidelines. 
"She's going to be mayor of the city one day," Dennis said. 
The broad base of support her Democratic opponents sought ultimately tipped in Parker's favor. Parker garnered the majority of votes in divisions throughout parts of North, West and South Philadelphia, and ended up with the largest percentage of Black voters. 
The past two mayoral primaries were different stories. 
In 2015, Jim Kenney won with 130,775 votes, about 56% of the more than 234,000 ballots cast. Four years later, with lower turnout and a less crowded field, Kenney won reelection with 133,966 votes, about 67% of the roughly 200,000 ballots cast.