Philadelphia Mayor's Race 2023
What Helen Gym, Cherelle Parker and Rebecca Rhynhart said about being Philadelphia's first woman mayor
Three of the leading mayoral candidates speak about how their victories would be historic for the City of Philadelphia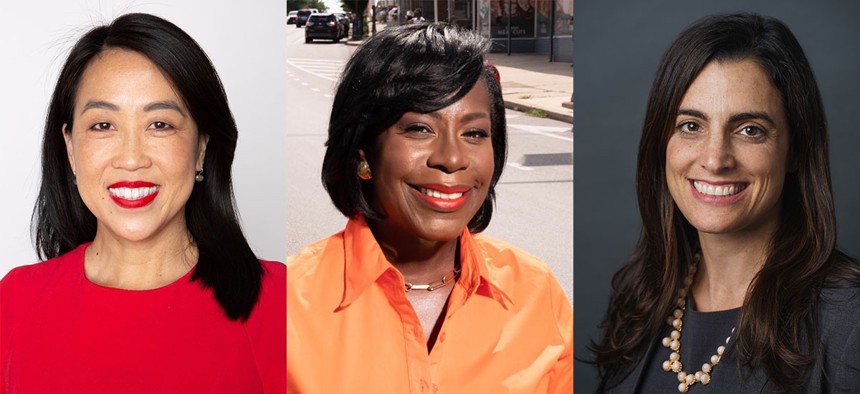 There's no shortage of significant storylines ahead of tomorrow's primary election in Philadelphia. As the city is set to elect its 100th mayor later this year, the Democratic primary has been deemed a turning point for both the direction of the city and the party. 
Three of the five leading candidates are women, two of whom are former City Council members and women of color – Helen Gym and Cherelle Parker – and one of whom is a former city controller – Rebecca Rhynhart. 
As moms, women and former elected officials, each candidate believes they have what it takes to make a difference in the City of Brotherly Love and Sisterly Affection. And while they haven't made gender a focal point of their primary policy pitches, they all agree that electing a woman mayor would be a bright spot for a city anxiously awaiting new leadership.
Earlier this month Mayor Jim Kenney, without giving a full endorsement, said he voted for Parker and that he thinks "it's time for a woman of color" to lead the city. 
City & State spoke with each leading candidate throughout the primary election about their vision and what it would mean to them to be the first female leader in City Hall. Here's what Gym, Parker and Rhynhart had to say: 
Helen Gym
Gym told City & State she knew she would be "a different kind of leader" as an organizer and mother when she announced her candidacy. 
"I think that is what Philadelphia needs right now," she said. "I think it needs a different kind of leader who never quits, who has come to the table with really smart solutions that actually fix problems and help turn our city around. 
Gym also told the Philadelphia Inquirer she's "led a women's first agenda" since before her time in office and that, as a mom, she knows how to get things done. 
"Moms get up in the morning and do everything they can to fix a really broken world, and we need that tenacity in City Hall," Gym told the Inquirer, referencing the female candidates in the Democratic field. "I think all of us are very clear about who we are, what skill sets we bring, and I think it's about showing leadership."
Cherelle Parker 
Parker said the role of race and gender were brought up to her early on, but also that she's not running "to be a footnote in somebody's history book."
"I had people say to me before I even announced my candidacy: 'Do you realize that you will be the 100th mayor of the City of Philadelphia – the sixth-largest city in the nation and the birthplace of democracy – and you will be the first woman, the first Black woman (mayor)? You have to think about that.'" Parker told City & State. "In my mind, it is true: representation matters. I will never act as if that is not something that is significant, especially when I think about all of the women and men on whose shoulders I stand and who have helped to even make it possible for me to be a credible competitor in this race."
Rebecca Rhynhart
Rhynhart told City & State that "it's long overdue that a woman leads the city" and that she'd be "truly humbled and honored" to be elected in that position. 
"We've had 99 male mayors in our city so I do think that this represents a historic opportunity," Rhynhart told City & State. "I was the first woman city controller that the city has had and I think that having women in leadership roles is extremely important for girls and kids to see as they grow up."
She also told the Inquirer that "being a mom and having my daughter in public school and raising her here in Philly and calling Philly home does shape me. And it contributes to who I am as a leader."
What it means for Tuesday's primary
Despite optimism from campaigns and hope from many for a historic election, the mayor's race remains anyone's game. One of the few public polls released, conducted by Emerson College and PHL17, showed a dead heat among the three women and fellow candidates Allan Domb and Jeff Brown. The poll showed 21% support for Gym, 18% support for both Parker and Rhynhart and about 15% of likely voters saying they are undecided.