Philadelphia Mayor's Race 2023
Philadelphia's leading mayoral candidates cast their ballots in person
Jeff Brown, Allan Domb and Rebecca Rhynhart crossed paths at their polling place this morning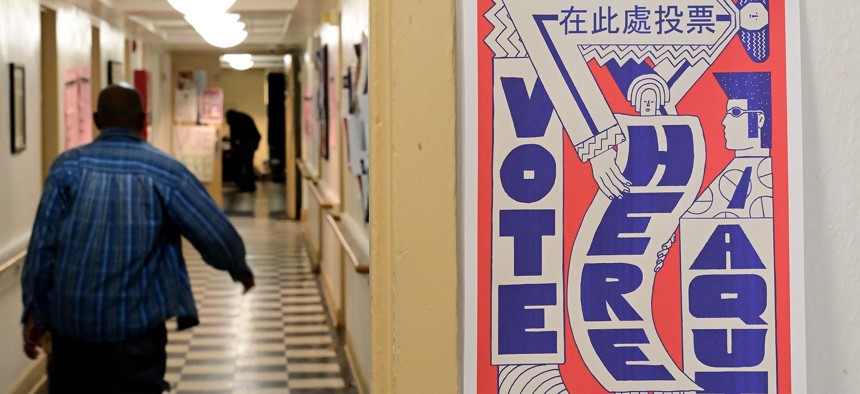 How does it feel to vote for yourself? 
Joined by family, friends and even fur babies, Philadelphia's mayoral candidates answered that question Tuesday morning as they cast their ballots in the city's primary election. 
With the hotly contested primary season coming to an end, there's still no clear frontrunner in a race with five leading Democrats vying for the party nomination. 
Three of those five candidates crossed paths Tuesday morning at their polling place. Former City Councilmember Allan Domb, grocer Jeff Brown and former City Controller Rebecca Rhynhart all stopped in at Tenth Presbyterian Church in Center City to vote in person. 
Domb, Brown, Rhynhart and former City Council member Helen Gym are all residents of the 8th Ward in the heart of the city, while former City Councilmember Cherelle Parker remains the lone leading candidate from the northwest part of the city. 
Domb, joined by his rescue dog Allie at the church, shared a familiar message about his work ethic when asked about the final stretch of the campaign. 
"People said, 'Aren't you exhausted?'" Domb said. "I said, 'No, I'm used to working like this.' And I would apply that same work ethic as mayor." His dog Allie had a message of her own, wearing a shirt reading "Vote for my dad Allan Domb" as he took her into the polls. 
Soon after Domb was Brown, who shared the moment with members of his family. Brown told City & State he feels confident about his team's work and their expected results. 
"We've had a tough seven-and-a-half years. I'm excited for us to go in a new direction and hopefully, I'll be part of it," Brown said. "A lot of people think our voters are going to surprise people." 
Not long after Brown exited the church after casting his ballot, Rhynhart arrived with her husband and 13-year-old daughter, Julia. Rhynhart said she feels hopeful that "there's a lot of great momentum" leading up to the election.
"After 99 male mayors, it's more than time to have to have a woman mayor of this city to lead the city with both courage and compassion," Rhynhart said. "I'm excited about that possibility and feel very hopeful." 
Although each was occupied by team members, supporters or press, none of the candidates acknowledged the others on their way in or out.
Not far from Domb, Brown and Rhynhart, Gym cast her ballot early Tuesday morning alongside family members at Moore College Of Art & Design in Center City. Gym said she is "incredibly proud" of her campaign. 
"I felt like we wanted to show the city an alternative," she said. "It really does feel like we're trying to win a city."
And in the northwest corner of the city, Cherelle Parker cast her ballot alongside family and friends, including U.S. Dwight Evans and former City Councilmember and longtime mentor Marian Tasco. 
When asked about what was going through her head as she cast a vote for herself, Parker said she was keeping an eye on her 10-year-old son Langston, who was ready to check off her name on the ballot before she was.
"I was trying to go in order in the way it pops up on the ballot but he got to my name before he was supposed to…It was important for him to go through that process with me," Parker told City & State. Surrounded by supporters donning her orange campaign shirts, Parker said she's "extremely humble and grateful" for the people in her community and campaign. 
"It's more important than anything when people have dignity and pride in their communities and in themselves," Parker told City & State. "I talk about (others) engaging in what I call 'I know what's best for youse people' policymaking, but this right here – these are my people."
Each candidate is traveling around different parts of the city today before election night events begin at 8 p.m. following polls closing. And with five of the leading candidates expecting to poll at or less than 20%, the winner in this consequential election could be decided by just a few thousand – or even a few hundred – votes. 
This story is part of City & State's ongoing election coverage. Check back throughout the day and evening to get the latest on elections across the state.