News & Politics
Polling memo shows 'tight' race for Bucks commissioners seats
A recent internal poll on the race shows single digits separating all four candidates.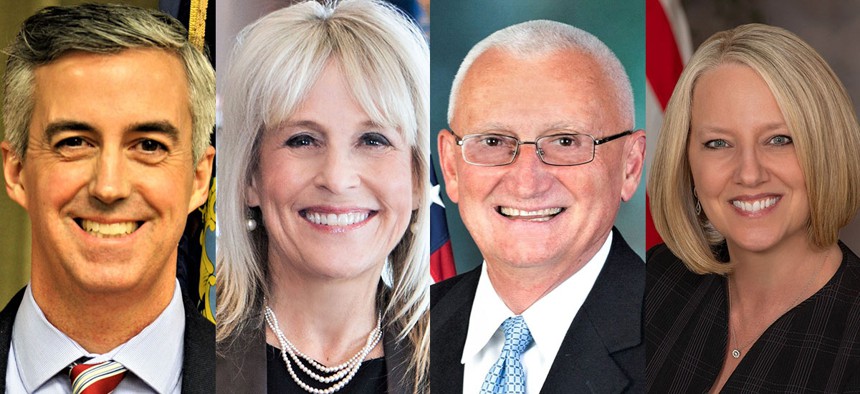 New polling data on the race for three seats on the Bucks County Board of Commissioners shows a close battle between Democrats running to retain control of the board and the Republicans running to flip the county to GOP control. 
The poll, which was commissioned by Bob Harvie and Diane Ellis-Marseglia – the board's two incumbent Democratic commissioners – shows a razor-thin, four-candidate contest that is within reach for both major parties. 
The survey was conducted after the primary election, which saw Marseglia and Harvie secure the Democratic nomination. Incumbent Republican Commissioner Gene DiGirolamo and GOP candidate Pamela Van Blunk also won their party's nomination – setting up a four-way race for three seats. 
Looking ahead to the general election on Nov. 7, the poll shows Marseglia leading the pack with support from 42% of Bucks County voters, while DiGirolamo followed with 41%. Harvie, who currently serves as chair of the commissioners, was next with 39%, and Van Blunk, the current Bucks County Controller, notched support from 36% of voters. 
The polling memo states that the race is "as close as it is because the electorate is narrowly divided – with a slight Republican tilt – and voters are not familiar enough with Marseglia and Harvie's record."
Support for all four candidates improved when voters were told more about them and what they stand for, according to the memo.
State Sen. Steve Santarsiero, who chairs the Bucks County Democratic Committee, told City & State that while the poll shows a close race, he's confident that Democrats will improve their standing as more voters learn about the candidates.
He added that the race will determine the direction the county takes on election administration, environmental issues and social services. 
"Those types of things need to continue and I really believe that they have a measurable impact on our communities," he said, adding that all three of those issues "make this election very important."
Pat Poprik, the chair of the Bucks County Republican Committee, told City & State she was "pleasantly surprised" to see the results of the poll. 
"This poll, to me, is unbelievable. It's their poll, and one of ours is beating one of theirs – then our other one is only three behind," Poprik said. "I'm very happy."
Poprik said the poll bodes well for DiGirolamo and Van Blunk, particularly given their poll performance in such an early stage of the general election cycle.
 "This is bad for them and good for us," Poprik added. 
Santarsiero noted that while Democrats will have their work cut out for them in the high-stakes race, he's optimistic about the party's chances. 
"We have a lot of work to do between now and Nov. 7," he said. "I like where we are. I like our chances of prevailing."
This fall's elections will determine which party controls the Board of Commissioners, as well as the Bucks County Board of Elections, which is responsible for overseeing election administration in the county.
The poll surveyed 400 likely Bucks County voters from May 18 to May 21 and has a margin of error of +/- 4.9%.