Criminal Justice
Allegheny County Jail Oversight Board sued – by one of its own
Allegheny County Councilmember Bethany Hallam is demanding fellow board members attend meetings rather than send a surrogate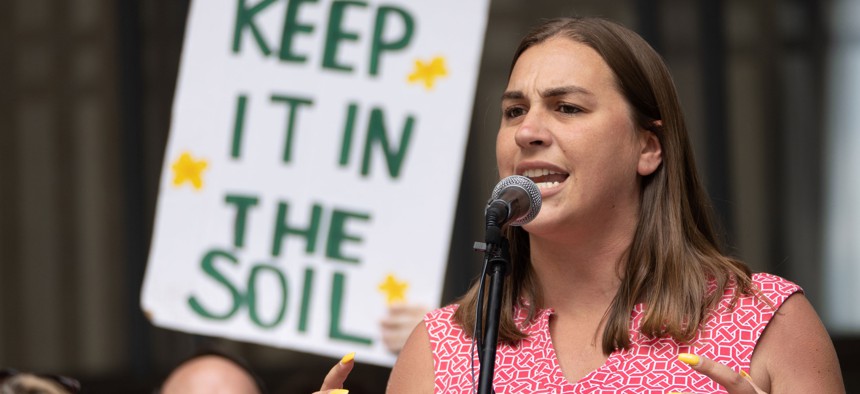 Allegheny County Councilmember Bethany Hallam filed a lawsuit against fellow members of the county's Jail Oversight board this week in an attempt to force the other members to attend the board's regular meetings rather than sending a designee in their place. 
Hallam held a press conference Thursday to announce the legal complaint and demand Allegheny County Executive Rich Fitzgerald and other county officials attend the board's meetings in person.  
"Every single meeting, (Fitzgerald) is the one person who exists in this entire world who could snap his fingers and fix the jail tomorrow – stop people from dying tomorrow," Hallam said during a press conference Thursday. "And yet these illegal designees have sat there, rolling their eyes, texting on their phones, telling jokes back and forth while people are standing at the public comment podium, bawling their eyes out asking for justice."
The lawsuit, filed in Allegheny County Common Pleas Court, names Fitzgerald, County Controller Corey O'Connor and Sheriff Kevin Kraus, who have each sent surrogates to previous board meetings. It seeks a writ of mandamus – in which a judge orders a public official to fulfill a legal responsibility – that would require the three named officials to appear at future board meetings and asks the court to issue a declaratory judgment stating their previous designees were not allowed. 
Allegheny County's Jail Oversight board has the authority to oversee the county's jail operations and implement reforms to ensure the health and safety of those held within facilities. It consists of nine members, including the county executive, sheriff, county controller, president of County Council, two judges, and three citizen board members. 
The suit, citing an opinion by Fred Frank – a County Council attorney – points out that the state statute pertaining to the board explicitly provides that only certain members may designate someone to stand in and vote for them. In this case, designees would be allowed for the president of County Council and the president judge, but not other members. 
Chuck Pascal, a Western Pennsylvania-based attorney, largely agreed, telling City & State that the designee policy is straightforward about who can – and who cannot – have a surrogate in their place at board meetings. 
The statute defines people that are allowed to have designees and "omits it elsewhere," he said, making it clear that "those people can't have designees."
A spokesperson for Fitzgerald declined to comment. Mike Manko, a spokesperson for Kraus, said, "Neither Sheriff Kraus nor the office has been served with any legal process at this point."