News & Politics
Mudslinging taints Allegheny County Council race
Bethany Hallam and Joanna Doven have been trading barbs on social media.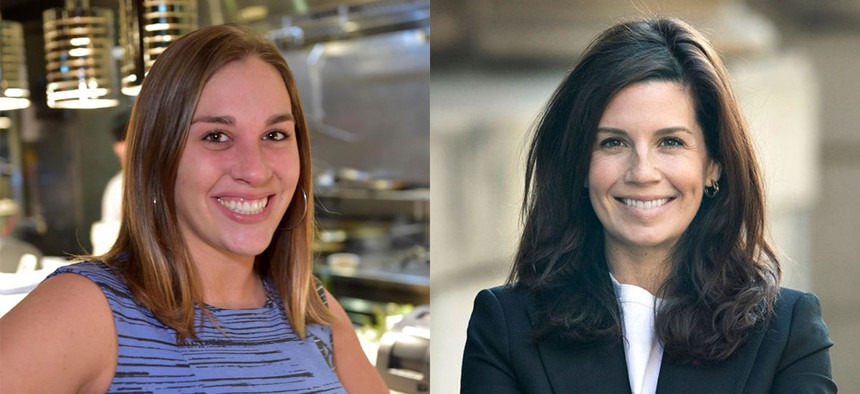 Allegheny County Council Member Bethany Hallam and Democratic challenger Joanna Doven are already embroiled in a bitter feud for Hallam's at-large county council seat – with Twitter becoming a major political battleground for the two to square off in the public light. 
Attacks in the primary race have already gotten personal, and both candidates are promising to bring progress to the greater Pittsburgh region – albeit in different ways. 
Doven, who served as press secretary under then-Pittsburgh Mayor Luke Ravenstahl from 2006 to 2013, has said she wants to return to local government – this time as an elected official – to address the ills that are plaguing the county. 
Doven listed gun violence, homelessness, public safety and economic development as part of an interconnected web of priorities that county officials need to address. 
"Our city right now is experiencing record gun violence. Record homelessness. The corporate community doesn't really want to stay there. The small businesses are dying because customers are afraid to go downtown," Doven said in an interview. 
"The 'gotcha' politics that are really popular today don't work to actually progress things forward. What works is collaboration. What works is finding solutions," she added. For her part, Hallam is hoping that her record as one of Allegheny County Council's most progressive members will carry her to another term. Since taking office in January 2020, Hallam has advocated for better conditions at the Allegheny County Jail, voted for paid sick leave for county residents and pushed for investments in air and water quality. 
Hallam said some of her top priorities for a second term include setting a $20 hourly minimum wage for county employees, establishing pay rates for incarcerated workers at the county jail and getting the Allegheny County Public Defender's office the same amount of funding that the District Attorney's office receives. 
But while she has begun prioritizing her agenda if elected to a second term, Hallam said the residents of Allegheny County will ultimately determine her platform."At the end of the day, it's gonna come down to when I'm out in the community: What do people need? What is the need that folks are seeing?" she said. "If we, as elected officials, remembered more often that we are public servants and not just politicians, we would have a much more equitable – not just county – but state and nation."
Shortly after Doven entered the race, screenshots of some of her past tweets emerged that showed her expressing support for Republican U.S. Sen. Marco Rubio and comparing transgender people to Rachel Dolezal, a former NAACP chapter president who received national media attention in 2015 for pretending to be Black. Things only intensified from there, with Doven calling the screenshots a "coordinated Twitter attack" and proceeding to point out Hallam's past struggles with opioid use. 
Doven has also criticized Hallam over her vote not to certify the county's 2022 election results. "She sided with the Republican Sam DeMarco and she sided with the insurrectionists," Doven told City & State.  
You will never hear anything negative about my opponent coming from my mouth because I do not think mudslinging helps anyone.
– Bethany Hallam
Hallam has publicly responded to many of Doven's criticisms, telling City & State that "shaming folks for their lived experiences is not how we move the county forward." "I am going to be focusing on this campaign. I'm going to keep focusing on the work that we've done, on the work that we still have to do," Hallam said. "You will never hear anything negative about my opponent coming from my mouth because I do not think mudslinging helps anyone."
Hallam has been open about her battle with opioid use disorder. In an interview with Bustle in 2019, during her first run for Allegheny County Council, Hallam said she got a wakeup call when she went into withdrawal in the Allegheny County Jail while serving time on drug-related charges, explaining how she focused on politics after getting out of jail. "I just took all that energy that I was using to support my addiction for all those years and gave it 110%," she recalled. 
There is no shortage of ammunition for the candidates to use on each other. Already this year, Hallam has become the subject of an effort to censure her over an insult she hurled at Common Pleas Judge Elliot Howsie, who chairs the county's Jail Oversight Board. 
Doven's old tweets also attracted criticism from Pittsburgh progressives and Hallam allies. QBurgh, an LGBTQ news and community resource organization based in Pittsburgh, ripped Doven for the tweets, saying her social media accounts have been "filled with anti-trans, anti-LGBTQ and racist sentiments."
In her initial 24-tweet thread responding to criticisms made against her, Doven apologized for her comments about Dolezal, saying they were "insensitive" and "outright wrong." 
Perhaps we have all just gotten so used to the mud that we don't know how to conduct a clean fight anymore.
– Pittsburgh Tribune-Review editorial board
But she also downplayed the focus on the old tweets, saying there are much more pressing issues to address in the county."Residents are checking their locks at night because they feel unsafe. People are afraid to go to the mall because there might be a shooting. People have to think about where to park and what route to walk to downtown to avoid aggressive panhandling. We need more police and we need to provide them with our support," Doven said. 
The early infighting has already captivated Pittsburgh politicos and prompted others to call for the rhetoric in the race to be toned down. A Jan. 19 Pittsburgh Tribune-Review editorial denounced the divisive discourse. 
"The primary isn't until May. There are still four months to get through between now and then. It's too soon to start punching each other in the mouth," the Tribune-Review's editorial board wrote. "This is a job interview, and no one in the real world is ever hired after handing in an application and immediately sucker-punching an employee. Why is it ever OK when the job is elected?"
But with less than four months to go until Allegheny County voters choose their next at-large representative on May 16, the editorial board didn't express total confidence that candidates will heed their call before then."Perhaps we have all just gotten so used to the mud that we don't know how to conduct a clean fight anymore," the board wrote. "Well, let's figure it out, because continuing this downward slide into the muck can't be allowed to continue."