Capitol Beat
Business leaders, lawmakers hope for bipartisan action on permitting reform
One lawmaker said the state has a "rare and unique opportunity" to act now.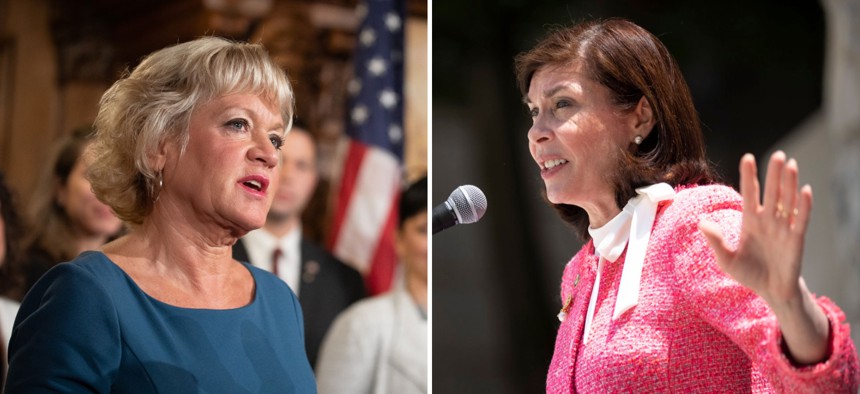 Leaders from the Pennsylvania Chamber of Business and Industry and the U.S. Chamber of Commerce partnered with two state senators on Tuesday to push for state-level permitting reforms, making the case that a streamlined and more transparent permitting process will keep more businesses and workers in the state and ultimately pay dividends for the state's economy. 
The virtual discussion included appearances from state Sens. Kristin Phillips-Hill, a York County Republican, and Lisa Boscola, a Democrat representing Lehigh and Northampton counties. Phillips-Hill is the prime sponsor of Senate Bill 350, which would make several changes to how permits are reviewed and approved in the state. Among other things, the bill seeks to speed up the timeline it takes to get a multitude of permits approved in the commonwealth. 
"We have a rare and unique opportunity to address the issue," Phillips-Hill said. 
Both Phillips-Hill and Boscola, as well as Luke Bernstein, the president and CEO of the Pennsylvania Chamber, said permitting delays have derailed projects that offered a lot of promise for the state. 
Bernstein pointed to U.S. Steel, which in 2021 chose not to move ahead with $1.5 billion in planned improvements to western Pennsylvania facilities, as an example of one project that failed to materialize due to permitting delays. U.S. Steel acknowledged that permitting difficulties were one component of its decision to halt the project in a 2021 open letter to the Pittsburgh region.  
Phillips-Hill said her office has heard from doctors and teachers who have struggled to get the necessary permits and licenses for their professions. "People can't wait for days to get an answer from their state government," she said. "I had teachers who could not get their certificate in time – they ended up leaving to teach in Maryland during the pandemic."
Boscola concurred. "Whether it's building roads, houses, pipelines, solar fields, energy, broadband – you name it. These delays can often make or break a project," she said.  
U.S. Chamber of Commerce Senior Vice President of Policy Marty Durbin and Pittsburgh Works Together Executive Director Jeff Nobers also spoke during the virtual press call. Nobers, who leads a partnership between building trade unions and businesses, said permitting reform efforts also have the support of western Pennsylvania labor. 
"We agree on this wholeheartedly. It's very logical. If businesses can't get the permits to construct, the trade unions don't work. Nothing could be more simple than that," Nobers said. 
Bernstein outlined a list of solutions that he said could improve the state's permitting processes. He called for lawmakers to codify an executive order signed into law by Gov. Josh Shapiro earlier this year, which directed state agencies to develop catalogs of the permits, licenses and certifications that they issue. 
The executive order, signed by Shapiro in January, tasks the governor's office with establishing recommended permit application processing times for agencies. If agencies exceed the processing times set by the governor's office, they will be required to refund the cost of the application fee, according to the executive order. 
Bernstein also said the state should allow for third-party reviews of permit applications, increase transparency during the application process and overhaul how permit appeals are handled. 
"From a state perspective, Pennsylvania needs to be more competitive," Bernstein said. "Pennsylvania loses out on critical investments if we have an antiquated and outdated permitting structure." 
SB 350, sponsored by Phillips-Hill, was approved by the state Senate in May with a 29-19 vote. The vote was split largely along party lines, though Boscola was the only Democrat to cross party lines and vote for the measure. 
The bill would require state agencies to review permit decisions and delays and establish a list of all the permits offered by state entities. The legislation would also task agencies with creating a secure tracking system for applicants to monitor the status of permit applications. 
It currently awaits a vote in the state House, which is currently made up of 101 Democrats and 101 Republicans, with one vacant seat needing to be filled.