News & Politics
In letter to Biden, PA mayors push president to act on immigration
Six mayors from across the state are calling on Biden to take executive action on immigration.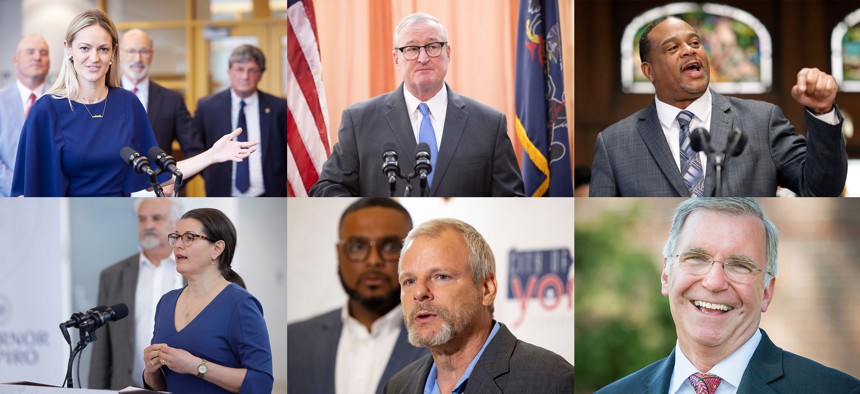 Mayors from across Pennsylvania are calling on President Joe Biden to take executive action on immigration, imploring the president to provide legal protections to those in the country without legal permission.
In a letter sent to Biden on Thursday, six mayors from across the commonwealth – Philadelphia Mayor Jim Kenney, Pittsburgh Mayor Ed Gainey, Scranton Mayor Paige Cognetti, York Mayor Michael Helfrich, Lancaster Mayor Danene Sorace and Erie Mayor Joseph Schember – asked Biden protect immigrants currently in "legal limbo."
"The threats to immigrant families continue to grow as extremist politicians propose policies that could ultimately upend their lives and impact the stability of our local communities and economy," the mayors, all of whom are Democrats, wrote in the letter. 
They said that in the absence of congressional action on immigration reform measures, those protected under the Obama administration Deferred Action for Childhood Arrivals program, as well as local workers and community members, "continue to live in fear of deportation."
"These families belong to our communities and contribute greatly to our cultural and economic growth, and yet they have no lawful avenue to gain legal status," the letter reads. 
The mayors, who were led in the effort by CASA, an organization that provides services to immigrant families, outlined three main areas they hope Biden will address, the first being protections for DACA recipients. They suggest that the Biden administration prioritize DACA recipient casework at the United Citizenship and Immigration Services and streamline "existing legal processes to access lawful permanent residency."
They also called on the president to extend and expand Temporary Protected Status for Venezuelan, Nicaraguan, El Salvadoran and Honduran nationals, and reduce backlogs that keep families divided. 
"We write from a state where immigrant workers and families are vital members of our communities. We live, work, pray and play with those who have come to America to build a better life for their families," the mayors wrote. "We urge you to use your authority to make life better in our states by extending and expanding protections for our friends and neighbors."
In January, the Biden administration announced it was expanding a humanitarian parole process for Venezuelan nationals to include individuals from Nicaragua, Haiti and Cuba, which would allow up to 30,000 individuals into the U.S. per month. At the same time, the administration also announced a new policy aimed at increasing the use of expedited removal on those who have no legal basis to stay in the country, according to the White House.
But the humanitarian parole program is currently subject to a legal challenge from a collection of Republican attorneys general led by Texas Attorney General Ken Paxton, according to NBC News. 
When announcing the suit on Jan. 24, Paxton called the parole initiative an "unlawful amnesty program" and said it would worsen the nation's immigration crisis. The lawsuit, filed in the United States District Court Southern District of Texas, asks the court to issue an injunction and declare the program unconstitutional.
The Obama-era DACA program is also in jeopardy, as it is once again before a federal judge in Texas who has previously ruled the program illegal, according to The Associated Press.
The full letter to Biden can be read below.