First Read
First Read PA
Cavalcante captured … Man sentenced for stealing Scanlon's car … Joyce comments on Biden impeachment probe … and more.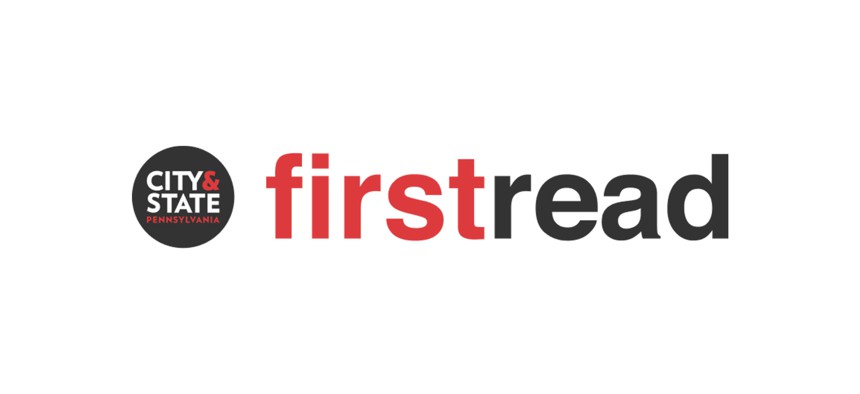 WEATHER: Philadelphia: sunny, high of 78; Harrisburg: sunny, high of 75; Pittsburgh: sunny, high of 72.
FROM CITY & STATE:
* Five candidates have entered Pennsylvania's 2024 race for attorney general to date – including four Democrats and one Republican. City & State is tracking which candidates have entered the race so far. 
NEW THIS MORNING:
* After a 14-day manhunt across the southeastern part of the state, thermal imaging equipment and a search dog helped officials capture escaped murderer Danelo Souza Cavalcante yesterday, The Associated Press reports.
 * Josiah Brown, a Wilmington, Delaware man who carjacked U.S. Rep. Mary Gay Scanlon two years ago, has been sentenced to 7½ years in federal prison, The Philadelphia Inquirer reports.
* Moody's Investor Services announced this week that the state's financial outlook has improved from "stable" to "positive," a change that both Democrats and Republicans were quick to take credit for, The Center Square reports. 
* A three-judge panel on the D.C. Circuit Court of Appeals ruled that efforts by prosecutors to access the mobile phone communications of U.S. Rep. Scott Perry violated his immunity under the constitution, Politico reports.
 * After Cavalcante was discovered wearing a Philadelphia Eagles hoodie at the time of his capture, Gov. Josh Shapiro is offering to replace the hoodie that Cavalcante stole, PennLive reports. 
* U.S. Rep. Madeleine Dean and her son Harry Cunnane joined Department of Drug and Alcohol Secretary Latika Davis-Jones at the state Capitol for a discussion on addiction and substance use disorder, the Pennsylvania Capital-Star reports.
 * U.S. Rep. John Joyce discussed a House Republican impeachment inquiry into President Joe Biden, as well as electric vehicle mandates, during a recent interview, Fox Business reports. 
* Allegheny County Councilmember Tom Duerr has dropped out of a state Senate race in the state's 37th Senate District, citing his mental health, the Pittsburgh Union Progress reports.
 * Janelle Stelson, a news anchor at WGAL, an NBC affiliate in Lancaster, will end her time at the news station this week amid rumors she may run for Congress in the state's 10th Congressional District – a seat currently held by U.S. Rep. Scott Perry, the Inquirer reports. 
* The state's new Office of Outdoor Recreation is designed to give businesses in the outdoor recreation space a direct line of communication to state government, Spotlight PA reports.
EDITORIAL PAGES:
* The Inquirer has an op-ed from Amanda Veazey, vice president of eastern operations at the Well Done Foundation, who examines opportunities to plug orphaned and abandoned oil and gas wells in the state. 
* PennLive has a new column from John Baer, who writes that unfinished state budgets might just be in the commonwealth's DNA. 
NATIONAL POLITICS:
* President Joe Biden told donors at a recent fundraiser in Virginia that a House Republican impeachment inquiry won't distract him from the duties of the office, marking the first time Biden has responded publicly to the probe, Axios reports.
* Utah Sen. Mitt Romney announced in a video yesterday that he will not run for another term in the Senate in 2024, noting that the country needs a "new generation of leaders" and that he would be in his mid-80s if he were to serve another term, Semafor reports. 
HAPPY BIRTHDAY: To Brian Edmonds, principal, Greenwood Commercial Real Estate Group … to former state Rep. Angel Cruz … to House Minority Appropriations Chair Seth Grove … to Scott Cantor, senior vice president, PNC Bank … and to Nia Meeks, senior marketing manager, Greenberg Traurig LLP … Want to wish someone a happy birthday in our newsletter? Email their name, job title and upcoming birthday to editor@cityandstatepa.com.
MOVING ON: … Have a career change or life event to announce? Email us: editor@cityandstatepa.com.
TODAY'S SKED:
10 a.m. – The Shapiro administration highlights the importance of charitable food network, need for food assistance programs, Downtown Daily Bread, 234 South St., Harrisburg. 
10 a.m. – The Philadelphia City Council meets, Room 400, City Hall, Philadelphia. Watch here.
2 p.m. – The Basic Education Funding Commission meets, Philadelphia School District Administration Building, School Board Room, 440 N. Broad St., Philadelphia. Watch here. 
5 p.m. – The Pennsylvania Human Relations Commission releases a white paper on the state of housing in the commonwealth, Main Rotunda, state Capitol, Harrisburg. 
To have your events included in Today's sked, please email the information to editor@cityandstatepa.com.
KICKER: 
"Folks, whoever had their Eagles hoodie stolen, if you could let us know … I'll do my best to get you one of those new kelly green ones, OK?" – Shapiro speaking after Cavalcante's capture, via PennLive