Nonprofits
Google makes largest donation to date to Philadelphia reentry nonprofit
The funding will support services for women at Ardella's House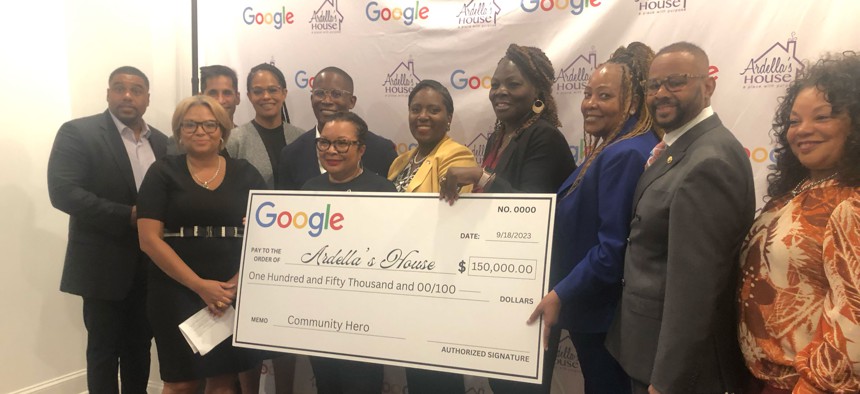 In the year following her mother's death in 2009, Tonie Willis founded Ardella's House Inc. – a transitional program for women impacted by the criminal justice system in Pennsylvania and the namesake for a mother who she says "saw good in everybody."
"We're here to give people all the help that they need. We meet them where they are – which is so important – to give them the tools they need to succeed," Willis said.
On Monday, Google announced that the nonprofit, located in the Strawberry Mansion neighborhood of Philadelphia, would receive a $150,000 community involvement grant to support their work in assisting women impacted by the criminal justice system in obtaining work, housing and health care. Philadelphia City Councilmember Curtis Jones, who represents the 4th District, where the nonprofit resides, followed that up with an announcement the city will be contributing an additional $50,000 to Ardella's House. 
Willis was joined by local leaders and Winton Steward, Google's head of government affairs and public policy, who gathered at Ardella's House in the Strawberry Mansion neighborhood for the announcement. 
"It's a blessing to fill this house, which was probably just a vision a while back and is now a beautiful reality," Steward said at the press conference Monday. "Over 64% of formerly incarcerated people returned to prison within three years of release … We're just so proud to support (Ardella's House) in helping more formerly incarcerated women reach their goals and in providing greater access to resources that serve the community."
Willis initially got involved in the reentry space when she assisted a male friend returning home after spending 10½ years in prison. After seeing the lack of assistance and reentry programs designed for women, she ultimately founded the nonprofit in 2010. 
After more than a decade of obstacles – including raising funds and rehabbing a home to house formerly incarcerated women – Willis opened her doors last October. 
Ardella's House now provides a broad range of services, typically 12-week programs, to women who are currently incarcerated and formerly incarcerated, including exit planning, mentoring, reunification and workforce preparation. For the formerly incarcerated women, workforce training can include adult and computer literacy services, legal advocacy and parenting skills. 
Willis now hopes to redefine reentry facilities for women. Her newly renovated three-story facility houses five women independently as they receive services and reenter the workforce. Willis, who was incarcerated for two years in her early 20s, has become more than just a mentor to the women coming to Ardella's House. 
Naja Fleming, a resident of Ardella's House since last October, said her mental health and ability to move forward has progressed well since her arrival. 
"I have a sense of peace here. It's a nice environment," Fleming said. "We appreciate everything everyone has been doing to make this organization better. We want to expand." 
Ardella's House is part of the Sisterhood Alliance for Freedom and Equality, or SAFE Housing Network. The network provided about $100,000 to help Willis complete the original house renovations. 
As Fleming said, the hope is for Ardella's House to expand into more properties and more services for women in the criminal justice system. Willis said she hopes to create another dozen houses throughout the city as well as a workforce development center. 
Willis is already mapping out her next project: a diversion house to prevent women with nonviolent offenses from being sent to prison. 
"Women are being pulled away from their children and their family members," Willis said. "What we want to do is stop sending women upstate for shoplifting."
Amid talks of additional funding and expansion, Jones asked state House Speaker Joanna McClinton, a Philadelphia Democrat, if House members could offer up some of the state's revenue surplus. 
"We don't have the ATM card," McClinton remarked. "(If we did), Republicans would change the PIN."