News & Politics
Penn Hillel vandalized as campus prepares for controversial Palestinian festival
Several speakers scheduled for this weekend's event have been accused of antisemitism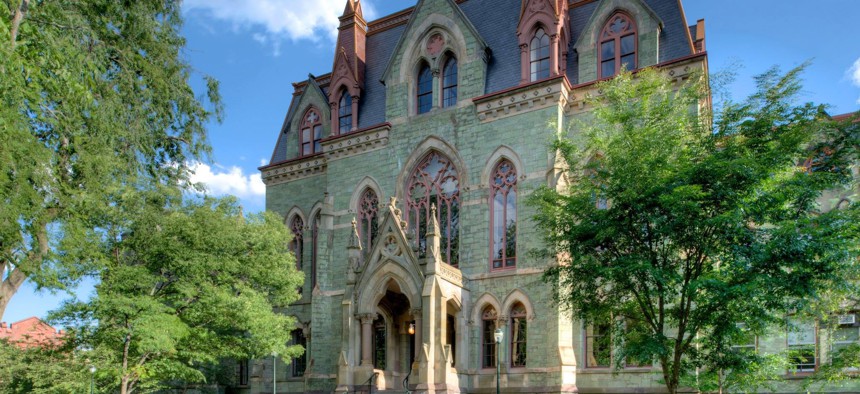 The University of Pennsylvania's community is being roiled by an upcoming conference on Palestinian culture featuring a number of speakers accused of antisemitism – which has been scheduled during Yom Kippur, the holiest day in Judaism, on a campus with a significant Jewish population. 
The Palestine Writes Literature Festival, hosted by several campus groups – as well as the university's Department of Near Eastern Languages and Civilizations, the Department of Cinema and Media Studies, Kelly Writers House and the Middle East Center – will showcase "dozens of writers, artists, publishers, performers, and scholars to explore the richness and diversity of Palestinian culture," according to the event page. 
But with some of the festival's scheduled speakers having a history of making antisemitic comments, students and Jewish groups around campus spoke out against the lineup and potential "anti-Jewish propaganda" being espoused at the event.
"While we appreciate the learning opportunity that can come from Palestinian literature, we are concerned that the students will be exposed to anti-Jewish propaganda, harm Jewish students who take Arabic, and open the Jewish community at Penn to discrimination," a group of 15 students wrote to school administrators, according to the Daily Pennsylvanian student newspaper.
Planned speakers include the musician Roger Waters, academic Marc Lamont Hill, Palestinian American author and event organizer Susan Abulhawa, Australian author Randa Abdel-Fattah and illustrator and Palestinian author Aya Ghanameh – all of whom have drawn previous criticisms for what many say are antisemitic remarks or actions. 
The U.S. State Department has previously stated that Waters, who also wore a Nazi-style uniform during a concert in Berlin in May, has an extensive history of denigrating Jews. 
Hill, a Philadelphia native who received his master's and doctorate degrees from Penn, was fired from CNN in 2018 after calling for a "free Palestine 'from the river to the sea''' – a phrase associated with destroying the State of Israel. Hill subsequently apologized and said he rejects antisemitism. 
Andrew Goretsky, regional director of the Anti-Defamation League Philadelphia, told City & State "the idea of a cultural festival that celebrates Palestinian literature, art and culture is a commendable idea," but upon examining the list of speakers, it "becomes apparent that there is a high likelihood that this festival will promote anti-inflammatory and antisemitic narratives about the Jewish people and then about Israel."
"That narrative can impact and create more hostile environments for Jewish students on campus," Goretsky, who serves the Eastern Pennsylvania, Southern New Jersey, and Delaware areas, said Thursday. "I fail to see where Roger Waters has Palestinian literature art or culture in his background."
The Daily Pennsylvanian has been covering the fallout throughout recent weeks, as well as the university's response to the criticisms. Penn President Liz Magill, Provost John L. Jackson Jr. and School of Arts and Sciences Dean Steven Fluharty responded with a statement on Sept. 12 saying that many people have raised concerns about the speakers, who "have a documented and troubling history of engaging in antisemitism by speaking and acting in ways that denigrate Jewish people."
"We unequivocally – and emphatically – condemn antisemitism as antithetical to our institutional values. As a university, we also fiercely support the free exchange of ideas as central to our educational mission," the statement said. "This includes the expression of views that are controversial and even those that are incompatible with our institutional values."
Abulhawa, the executive director of the festival, said in an email that most of the festival was about Palestinians, not Israel, but that naturally there would be expressions of criticism of the country.
"We have a glorious and rich heritage that is either being erased or appropriated by a 20th-century colonial enterprise that has worked overtime to denigrate us where they cannot fully erase us," she said in an email to the Jewish Telegraphic Agency. "It's disappointing, though unsurprising, that the university could not muster the courage to defend an indigenous people's moral and necessary struggle against Israeli colonial fascism."
The imbroglio is just the latest example of the kind of free-speech boondoggles that have bedeviled the university and led to an ignominious distinction: The Foundation for Individual Rights and Expression, a nonprofit aimed at protecting free speech on college campuses, ranks Penn second-to-last among 248 participating schools in terms of freedom of expression on campus.
"Historically, bringing people together to learn about and communicate through these incredibly difficult issues is so much more likely to lead to meaningful change. Penn has that opportunity right now. While choosing to talk across differences seems far tougher in the short term than just demanding censorship, it can pay real dividends long term. The same can't be said about censorship," Alex Morey, FIRE's director of campus rights advocacy, said in a statement to City & State. "Campuses that promise free speech like Penn can and should function as hosts for these kinds of debates, rather than choosing one side or another. Because of the controversy over the book festival, Penn should seize this obvious opportunity to call in concerned students and faculty to additional lectures, listening sessions or town halls to speak, listen and learn about all the relevant perspectives."
A festival spokesperson said the event ends several hours before the beginning of Yom Kippur, which starts on the evening of Sept. 24. The conference ends at 1 p.m.
Tensions remained high on campus at press time. The Daily Pennsylvanian reported Thursday morning that an unknown student entered the Penn Hillel building at 6:55 a.m., knocking over "several pieces of furniture" and "shouting antisemitic obscenities about Jewish people," Hillel wrote in a statement. 
In response to the incident, Hillel said that it has asked Penn to provide full-time security in front of the Hillel building "beginning immediately."
"The Jewish Federation of Greater Philadelphia and ADL's Philadelphia Chapter have been privately urging University of Pennsylvania officials to publicly condemn the Palestine Writes festival since the middle of August," Jason Holtzman, director of the Jewish Community Relations Council of the Jewish Federation of Greater Philadelphia, said in a statement. "Freedom of speech and critical thinking are important and should be uplifted. However, freedom to espouse antisemitism and teach hate cannot be tolerated. We are appalled by the global rise of antisemitism and anti-Israel sentiment and refuse to accept it in our community."