News & Politics
Philadelphia judge dismisses all charges against police officer Mark Dial
A Philadelphia judge ruled Tuesday that prosecutors had not presented evidence that Dial had committed a crime when fatally shooting Eddie Irizarry in August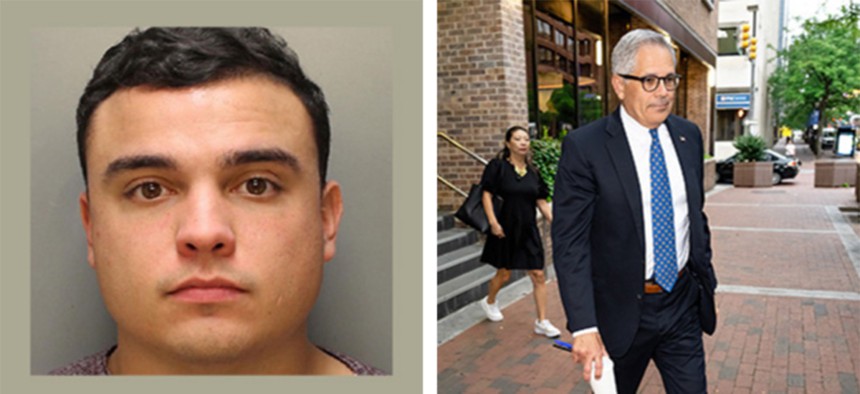 A Philadelphia judge on Tuesday dismissed all charges against police officer Mark Dial, the officer who fatally shot Eddie Irizarry in August, stating that prosecutors had not presented enough evidence to show the shooting was a crime. 
During a preliminary hearing on Tuesday, Municipal Judge Wendy Pew cited a lack of evidence when dropping all charges against Dial. The defense had argued Dial was acting in self-defense when he fired his weapon, almost immediately after exiting his vehicle, through Irizarry's rolled-up window during a traffic stop in Kensington on Aug. 14. 
Body camera footage from the incident shows Dial fatally shooting Irizzary about seven seconds after getting out of his police SUV, firing a total of six rounds. 
Defense lawyers called the shooting justified, noting that the footage also showed Irizarry was holding a knife near his right leg. Dial's partner, police officer Michael Morris, testified at the preliminary hearing that they had been following Irizarry because he was driving erratically, and that he screamed to Dial that he saw Irizarry had a knife prior to shots being fired. 
Brian McMonagle, Dial's defense attorney, urged Pew to drop all charges, which included manslaughter, official oppression and four other counts.
"He is firing while trying to take cover," McMonagle said in court Tuesday, arguing that Dial feared for his life: "Every tragedy is not a crime." 
The decision comes as police accountability advocates continue to call for greater transparency and repercussions for officers using excessive or deadly force when it's unnecessary. 
While police officers in the courtroom expressed support for Dial following the decision, Irizarry's relatives appeared stunned and said they would urge District Attorney Larry Krasner to appeal.
"The officers can go out here and kill a person that's not doing anything and get away with murder, because this is what it was," Zoraida Garcia, Irizarry's aunt, said outside the courthouse Tuesday. 
Krasner's office released a statement saying it disagrees with the ruling. 
"Special Investigations Unit prosecutors will be filing an appeal of this decision to the Court of Common Pleas by the end of today," Krasner said in the statement. "In keeping our oath to seek justice, we will move to have all criminal charges, including murder, reinstated against this defendant."
Dial's arrest last month came following an investigation that found the initial police report did not match up with the events that occurred in the bodycam footage. Police said the day of the shooting that Irizzary had lunged at Dial with a knife, with footage later revealing Dial opened fire seconds after getting out of his vehicle while Irizarry remained seated in his car with the windows rolled up and a knife in his hand.
At-large Philadelphia City Councilmember Kendra Brooks applauded Krasner's appeal and said Philadelphians and this case deserve a full trial. 
"When it comes to holding white police officers to account for the murders of people of color, our country has a long history of failure. Philadelphians have rightly called out for a public reckoning in the case of Eddie Irizarry's tragic death, and that reckoning cannot be achieved without a full trial for the former officer who killed him," Brooks said Tuesday. "By dismissing the charges against him, Municipal Court Judge Wendy Pew has denied Philadelphians the opportunity to fully understand the circumstances surrounding yet another death of a person of color at the hands of a white police officer."