Campaigns & Elections
PA House committee advances bills to repeal closed primary elections
Both bills await further action by House lawmakers.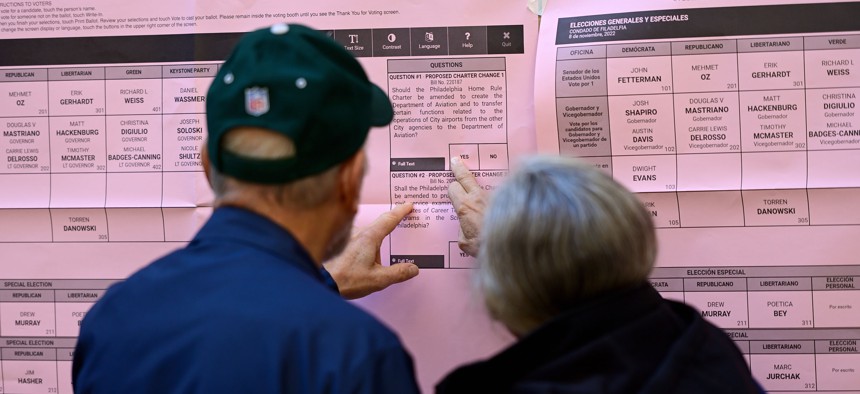 A Pennsylvania House committee advanced two bills on Tuesday that would allow independent voters to vote in primary elections for the first time by eliminating the state's closed primary system. 
Members of the House State Government Committee voted to approve two bills – House Bill 976 and House Bill 979 – that would repeal the state's closed primary system and allow unaffiliated voters to vote in primaries, something that is not currently allowed under Pennsylvania's election law.
The bills were largely approved along party lines, with all but one Democrat voting to advance the bills, and all Republicans voting against them.
Proponents said during Tuesday's committee meeting that the bills would strengthen the state's democratic ideals by allowing more voters to participate in elections. "For whatever reason that our primary elections suffer from (such) low turnout, there's obviously something wrong with the status quo in Pennsylvania," said Democratic state Rep. Jared Solomon, the prime sponsor of HB 979. "We have an opportunity to fix that, to overcome one of those barriers to increase voters in our primary and general election system."
"We have the opportunity today to bring over 1.2 million voters into the democratic process in Pennsylvania – to allow them a stake in our democratic process," Solomon added.
According to data from the Pennsylvania Department of State, more than 1.2 million voters in the state are unaffiliated with a political party – almost 15% of the electorate. 
According to the National Conference of State Legislatures, the commonwealth is one of just seven states to have closed political primaries, with the other states being Delaware, Florida, Kentucky, Nevada, New Mexico and New York. 
Republican state Rep. Marla Brown, the sponsor of House Bill 976, said the bill would allow many veterans who are unaffiliated with one of the two major political parties to participate in primary elections. "In a state where democracy began, I think we should continue this legacy," Brown said as she asked her colleagues to vote in favor of the bill.
The two committee votes drew praise from David Thornburgh, the leader of Ballot PA, which is a project of the Committee of Seventy seeking to end the state's closed primary system. 
"This is an idea whose time has come," Thornburgh said in a statement. "More than a million Pennsylvanians are being denied their right to vote. And that number continues to grow each and every day as more people register as independents. It's time to let these voters have a say in who represents them and how their government is run."
"This really is a historic vote … It marks the first time in history that a House bill to open primaries to independents has ever received a positive vote to advance from committee," Thornburgh said, thanking Brown, Solomon and Committee Chair Scott Conklin for the "bipartisan work they did to get the measure approved by the House committee."
While the bills do have some bipartisan buy-in, Republicans on the State Government Committee voted in lockstep against the bills. 
State Rep. Brad Roae, the minority chair of the committee, voted against the bill, countering that it doesn't make sense to allow unaffiliated voters to cast their ballots in primary contests.
"When you think about primaries, back in the day, party leaders in a smoke-filled room would decide who the candidates are, and that's who they were. Rightfully so, at a later point in history, they decided that members of a party would decide who that party nominated. That system has worked well: People that are Republican – they pick the Republican candidates; people who are Democrats – they pick the Democratic candidates," Roae said. 
"Usually members of an organization are the ones that make decisions for that organization," Roae said. "A political party is an organization and it just seems that letting somebody that is not a member of a party vote in a primary for that party doesn't make a lot of sense."