News & Politics
GOP regroups: Local conservatives say Republican campaigns must change heading into 2024
Undecided voters say Republicans need to focus messaging on the economy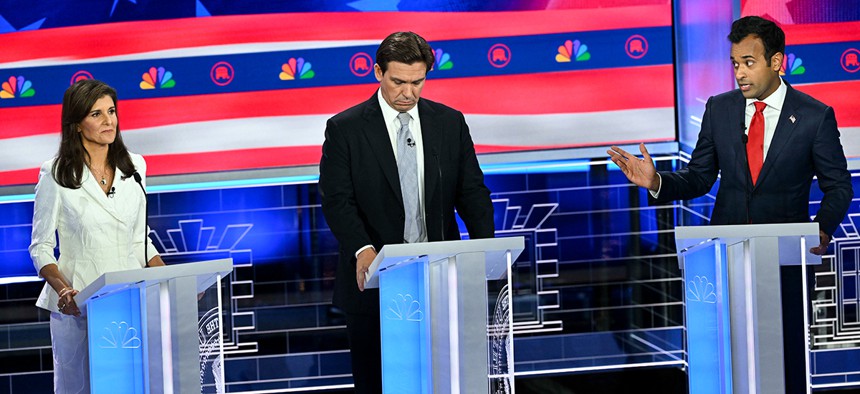 As the crowd at Cannstatters in Northeast Philadelphia watched the third presidential debate Wednesday night – barely 24 hours after what was widely seen as a disappointing election for Republicans in Pennsylvania – there was a sense that those in the bar wanted to see something different than what the GOP has presented voters in recent years. 
A mix of disappointment and displeasure dominated discussions early in the night, with voters acknowledging the Republican Party is "licking its wounds" in Pennsylvania. Attendees exchanged grievances regarding Tuesday's election results and expressed frustration with the Republican Party's lack of focus on inflation and the economy, and what they saw as its poor engagement with diverse communities in and around Philadelphia. 
Voters weren't the only ones in attendance to take issue with the GOP's approach to recent elections. "We're trying to fight back against the complacency that we're seeing across the commonwealth and the country," Emily Greene, deputy state director for Americans for Prosperity Pennsylvania, the libertarian-conservative political advocacy group, told City & State. Greene said that while AFP has yet to announce its first-ever presidential primary endorsement, the organization's membership wants to "turn the page" and move past the Donald Trump era. AFP Pennsylvania held its third round of Republican presidential debate watch parties Wednesday, hosting similar get-togethers in Philadelphia, Pittsburgh and Allentown. 
Early in the debate, former New Jersey Gov. Chris Christie, the most vocal Trump critic in the primary field, said the former president's legal challenges should disqualify him from office.  
"Anybody who's going to be spending the next year and a half of their life focusing on keeping themselves out of jail and courtrooms cannot lead this party or this country," Christie said. 
Someone near the bar shouted "Damn right!" in response.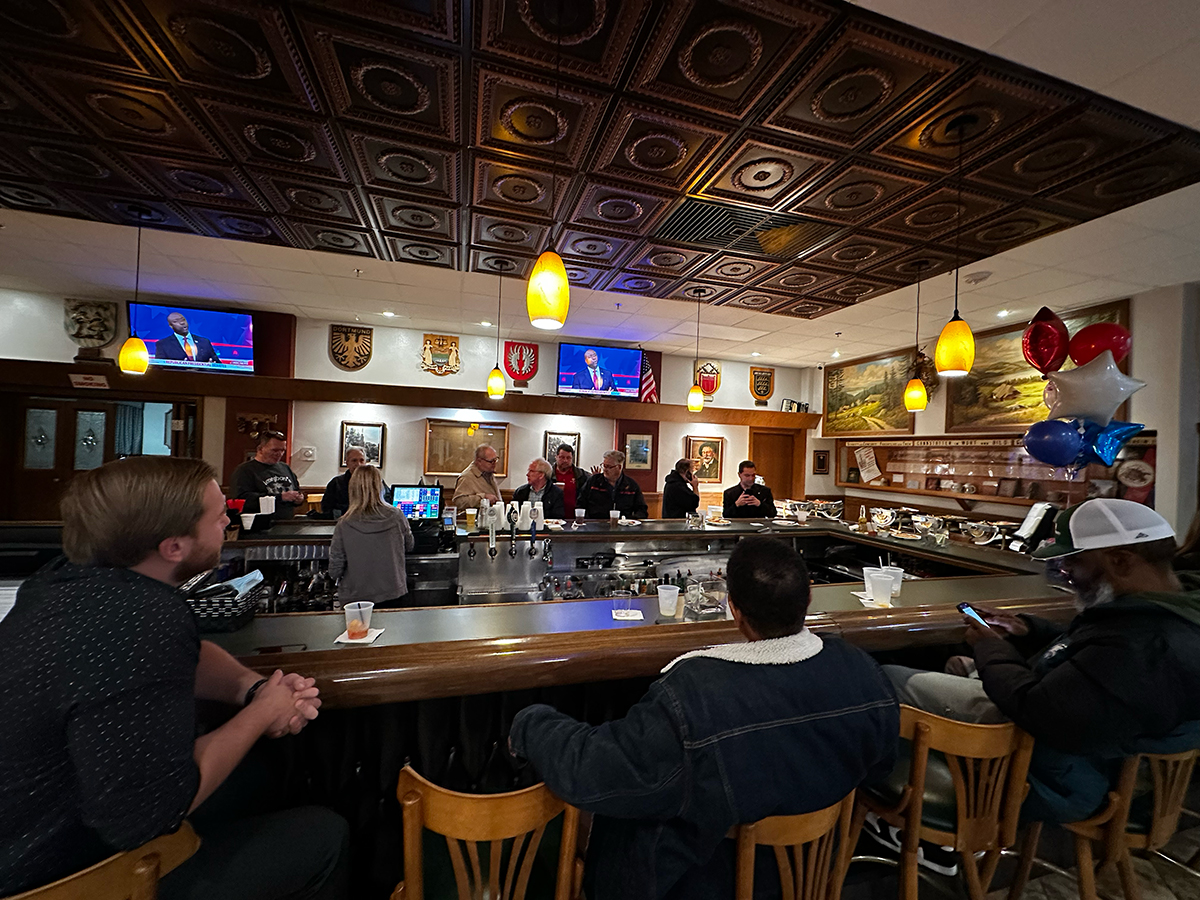 Setting the stage
Wednesday night's debate in Miami – the first since the Hamas terrorist attack in Israel – was largely focused on foreign policy and combating antisemitism. With a smaller lineup of just five candidates – including Christie, Florida Gov. Ron DeSantis, former U.N. ambassador and former South Carolina Gov. Nikki Haley, South Carolina Sen. Tim Scott and entrepreneur Vivek Ramaswamy – voters said they were hopeful the debate would be less chaotic and more substance-driven than the first two debates, which were often derailed by candidates shouting over each other. 
Voters still weighing Republican presidential nominees agreed that regardless of the candidate, the GOP must do more to not just talk about tangible issues voters face daily but to also counter the messaging Democrats have utilized to earn statewide victories in recent elections. 
But more than anything, Republican candidates should focus on pragmatism over partisanship, Rich Kosich, chair of the Conshohocken Republican Committee, told City & State. 
"Democrats made this election about abortion and voting rights," he said, adding that their tactics "were all based on fear. Republicans don't have a counter to that." 
Referencing candidates such as Trump and state Sen. Doug Mastriano – who was defeated handily by Josh Shapiro in last year's gubernatorial race – Kosich said that Republicans must avoid putting forth candidates with a lot of "baggage."
"They need to neutralize that (abortion and voting rights) argument and speak on real issues (voters face every day)," Kosich said. 
Ground-level GOP
The debate also occurred just days after a New York Times and Siena College poll showed Trump pulling ahead of President Joe Biden in the key battleground states of Arizona, Georgia, Pennsylvania, Michigan and Nevada – Biden won all five in 2020. 
As both parties vie to attract a broader, more diverse base, some Republicans are hopeful that talking about "kitchen table issues" will connect more with communities of color. 
Isaac Gardner, a Northeast Philadelphia native, told City & State that the Philadelphia GOP is too small to make an impact and that the party overall must do better to engage with marginalized communities. 
"Crime, the economy, education, the border … the GOP doesn't get out and engage with communities of color (on these issues)," Gardner said. 
Aaron Bashir, the Republican candidate for Philadelphia City Controller who was defeated by Democrat Christy Brady on Tuesday, is familiar with the shortcomings of the local GOP. Bashir told City & State that the state GOP and the Republican National Committee should be providing a clearer vision and more resources in local elections, particularly if the party wants to reestablish itself in Philadelphia.  
"The Working Families Party, they spent half a million dollars on their races" for Philadelphia City Council, Bashir said. "We didn't have those financial resources … We did not have a consistent, coherent message and that also caused some confusion. We need to run as a team." 
Party plans 
With the Miami event in the books, the Dec. 6 debate in Tuscaloosa, Alabama, is the last chance Republican candidates have to make their cases to voters in prime time before the Iowa caucuses on Jan. 15. Polling has shown Trump with a substantial, double-digit lead ahead of the caucuses, with Haley and DeSantis vying for a distant second - and those preferences were echoed by those in attendance at Cannstatters.
Bashir, who said he remains committed to Trump, believes Republican values can still win in the commonwealth and the country. 
Republicans "need to stop fighting with each other. They need to come out of this faction mentality," Bashir said. "Don't try to compromise your values, your support and your loyalty with your candidates because of the radical left, the media or news channels."