Philadelphia Mayor's Race 2023
Parker Rolls: Philadelphia elects Cherelle Parker as its 100th – and first female – mayor
The Democratic nominee defeated Republican and fellow former City Councilmember David Oh in Tuesday's election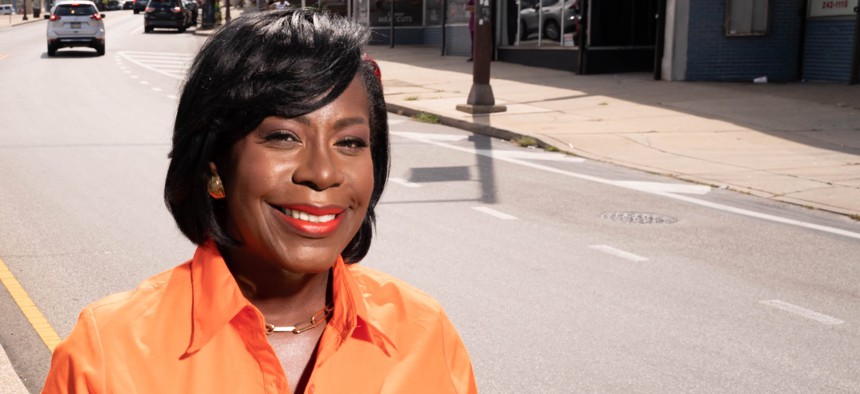 Cherelle Parker's Election Night party Tuesday had a familiarly celebratory feel to her primary night gathering except for one thing – this time, Parker was there to take center stage. 
Just months after a dental emergency sidelined Parker during her historic primary victory, the former City Councilmember and state representative – now Mayor-elect of Philadelphia – took the podium at Sheet Metal Workers Local 19 in front of a raucous crowd, surrounded by her family, friends and Democratic colleagues. 
An emotional Parker began speaking to the crowd Tuesday night with the message she ran with from the start of her campaign – to unapologetically be herself. 
"I wouldn't allow anybody else to attempt to weaponize my humble beginnings against me," Parker said. "Before they could do it, I made sure that I told you that I was born to a single teenage mother, that I was raised by my grandparents, that my grandmother collected welfare and subsidized food to take care of me … I needed people to know that my real life – lived experience – was closest to the people who are feeling the most pain right now in our city."
Parker won Philadelphia's mayoral race Tuesday in a historic night for the city on several fronts – setting herself up to be the city's 100th and first female mayor in the process. She garnered more than 72% of the vote as of late Tuesday night. 
A West Oak Lane native who often relied on family and friends for support growing up, Parker continually referenced her "village" and how it got her on the path to public service, including when she arrived to vote Tuesday morning with a collection of those guiding hands. 
"I'm only here today because I stand on the shoulders of men and women – and a village that looks like the United Nations that decided they were going to give me the best of everything that they could so that I could one day realize what my purpose would be in life. I learned my purpose was serving," Parker told reporters Tuesday. 
Parker's broad coalition of labor and faith leaders, along with her ability to hold a majority of the Black vote throughout the city, propelled her to the victory in May that led to tonight's win. Those groups, Parker said, connected with her humble beginnings and wanted a "relatable" candidate focused on the issues the city's most marginalized neighborhoods face. 
"People were yearning for authenticity," Parker said Tuesday. "My life should be a textbook case study on how to turn pain into power."
Parker often touted her "intergovernmental" experience throughout the campaign, referencing her time as an elected official in Harrisburg and Philadelphia. Gov. Josh Shapiro, one of her former House colleagues, joined Parker for a visit to polls Tuesday. 
Shapiro told City & State Tuesday he thinks Parker will make a "great executive" for the city. He noted their shared commitment to addressing city issues related to school funding, gun violence and more. 
"She ran a campaign on similar platforms to how we educate our children, bring safer safety to our communities and grow our economy," Shapiro said. "I think we're going to find a lot of common ground." 
"Philadelphia cannot be successful without the support of its governor along with the General Assembly … It's significant to know that a gentleman I had the great honor and privilege of learning from and serving with during my tenure in the Pennsylvania House is now governor," Parker said Tuesday. "He knows I'll be calling."