Events
Hundreds gather at City & State's inaugural Above & Beyond Awards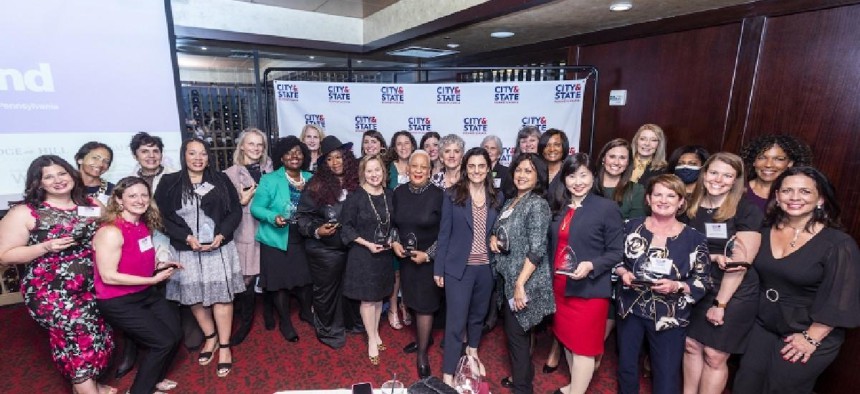 City & State's inaugural Above & Beyond Awards brought hundreds of attendees to Del Frisco's Double Eagle Steakhouse in Philadelphia to honor 40 women in politics, business, media, education and other sectors who have made major contributions across Pennsylvania.
The event featured keynote remarks from Philadelphia City Controller Rebecca Rhynhart, an Above & Beyond honoree who commended all of the awardees in attendance for their perseverance and hard work.
"Every woman that is getting an award tonight has had to fight really hard to get here," Rhynhart said. "I'm sure every woman in this room has had many moments where they have been told that they're not qualified enough, or it's not their turn, or they should just be quiet about something. I just want to celebrate the fact that all of us are here because we rejected that notion, and we said: 'We're going to chart our own courses here.'"
She also stressed the need for more women to hold positions of power, and may have even hinted at her interest in Philadelphia's 2023 mayoral race. "Pennsylvania has never had a woman governor or a woman senator. Philadelphia has never had a woman mayor. And this needs to change."
The event also featured speeches from Harrisburg Mayor Wanda Williams, House Democratic Leader Joanna McClinton, state Sen. Maria Collett and Glennis Harris, the senior vice president of customer experience at The Giant Company. 
Williams, who is the second woman and second Black person elected mayor of Harrisburg, said that electing more women to office will improve outcomes for families across the state. "Always remember, when women are elected, families win," Williams said.
McClinton, the first Black woman elected as a floor leader in the Pennsylvania General Assembly, celebrated the "leading ladies" on City & State's Above & Beyond list, and said there is still more work to be done to get more women in positions of power across the commonwealth.
Collett, who worked as both a nurse and a deputy attorney general before running for office, said that women in positions of power must stand up for women who are currently facing barriers. 
"Pennsylvania's women and families need our help now more than ever," Collett said. "Tonight as we embrace our collective accomplishments, let's also recommit to keep moving forward for all the women who are not in this room. We have to keep at it to educate them, to hire them, advocate for them, tear down barriers for them so that they can reach their own potential."
That was a sentiment shared by Harris, as well, who encouraged the event's attendees to continue charting a new path for women across the state.
"Women's History Month might only be 31 days on the calendar, but our mission here is to break down barriers for all women, both now and in the future, because it's not just confined to one month," Harris said. "Every interaction, every day of the year, it's up to us to champion a future we want to see for tomorrow's female leaders."
Photos from City & State's Above & Beyond Awards can be viewed below.