Winners & Losers
This week's biggest Winners & Losers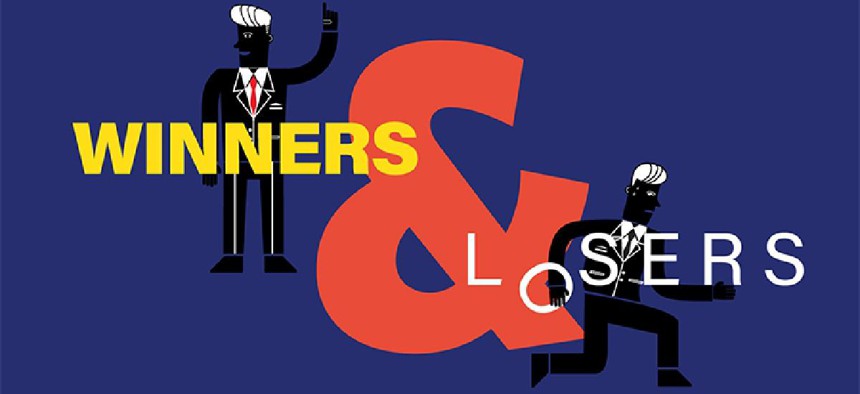 It's been a week marked by divisions in Pennsylvania! You might be thinking to yourself: "Well, what else is new?" But we're not talking about the usual political and ideological rifts in the Keystone State, but rather the new congressional and state legislative lines that are the topic of all the political tea. It will be an impossible task, as not everyone will emerge from the process pleased with the end product, resulting in clear winners and clear losers. 
With all the maps still in the preliminary phase, it's too soon to know which lawmakers will face a tough road ahead in newly-drawn districts, so for now, scroll down for this week's winners and losers!
WINNERS:
Seth Bluestein -
Seth Bluestein will end the year on a high note after being appointed to the Philadelphia City Commissioners by Mayor Jim Kenney this week. Bluestein will replace his boss and outgoing Commissioner Al Schmidt, who is leaving his post to lead the Committee of Seventy. Bluestein, along with the city's two other commissioners, will be charged with overseeing the city's elections at a tumultuous time, when election officials are facing heightened scrutiny, and even death threats, in the aftermath of a 2020 general election marked by unfounded claims about the election's integrity. Good luck, Seth.
Austin Davis -
In an unprecedented move, Attorney General Josh Shapiro is expected to tap state Rep. Austin Davis as his running mate in the 2022 gubernatorial election cycle, despite the fact that Pennsylvania voters must elect lieutenant governor candidates in separate elections. The planned endorsement will likely be a big boost to Davis, given that Shapiro is widely expected to be the Democratic nominee for governor come November 2022. Whether it will be enough to push Davis across the finish line in the primary, however, remains unclear.
Marty Causer -
One issue everyone can agree on is the need for broadband internet. The House came through this week on that front, approving a measure that will establish the Pennsylvania Broadband Development Authority to oversee the distribution of infrastructure funds for broadband deployment. The prime sponsor of the bill, state Rep. Marty Causer, called it a "major step forward," particularly for the northern tier. You could say that's a Cause for celebration.
LOSERS:
Scott Perry -
Scott Perry made national headlines this week for caustic comments made about one of his House colleagues. Perry levied accusations against U.S. Rep. Ilhan Omar, a Muslim lawmaker, accusing her of being "affiliated" with terrorist organizations, prompting Perry to be barred from speaking for the rest of the day. Maybe he'll take the hint and speak a little bit less often.
Jim Kenney -
Philadelphia officials continue to be on the hook for gun violence throughout the city and Mayor Jim Kenney is no exception. City Controller Rebecca Rhynhart and City Council member Jamie Gauthier bashed Kenney this week, saying he failed to tackle the crisis urgently. As the city has surpassed its record number of homicides, it's clear whatever the city's doing right now is not working.
Frank Pagani -
A Beaver County man was forced to resign from the New Galilee council after being charged with animal abuse this week. Former council member Frank Pagani Jr. is being accused of attacking stray cats with his car by the county's Humane Society. The charges came after video footage was released that seems to show Pagani accelerating and swerving onto the wrong side of the road in an attempt to hit stray cats in the road. I guess he was never told to let sleeping cats lie.