Winners & Losers
This week's biggest Winners & Losers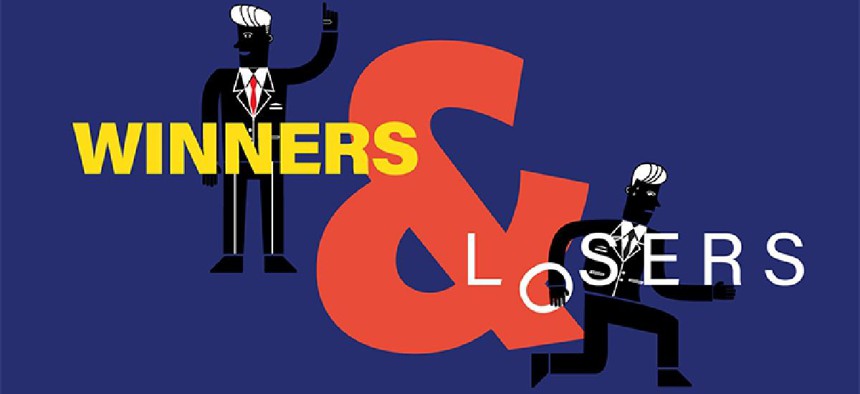 Death, taxes and six more weeks of winter. For the 107th time in 136 years, Punxsutawney Phil predicted there will be six more weeks of winter after he saw his shadow Wednesday morning. It seems like a given now that we'll be facing more cold and snow through February and into March. Phil's not the only one that wants to crawl back into his hole this week, however. To kick off the month, we saw two cities seek to fill vacancies and two Pennsylvanians face subpoenas for submitting fake electoral votes following the 2020 election. 
Scroll down for more of this week's winners and losers!
WINNERS:
Dave White & Jeff Bartos -
It was a good week to be a son of the southeast. Dave White and Jeff Bartos both capped off impressive GOP straw poll showings with one last victory at the Pennsylvania Republican Party's Southeast Caucus meeting on Wednesday night. Both candidates have notched multiple straw poll wins in recent weeks, giving them each some additional momentum heading into the GOP primary races for governor and U.S. Senate, respectively.
Mike Driscoll -
Out with Henon and in with Driscoll. State Rep. Mike Driscoll was chosen as the unanimous pick by Philadelphia City Council to fill the seat vacated by Bobby Henon, who resigned last month following corruption charges. Driscoll, who is still considering running for reelection in the state House, would easily win the council seat in the heavily Democratic district.
Wandalyn Enix -
Another pick for city council occurred this week, but this one, which happened in the Christmas City, is historic. Wandalyn Enix was unanimously appointed to Bethlehem City Council Tuesday, becoming the first Black council member in the city's history. A retired middle school teacher and the granddaughter of a Bethlehem Steel worker, Enix said she will prioritize addressing affordable housing issues.
LOSERS:
Bill Bachenberg & Lisa Patton -
Bill Bachenberg and Lisa Patton might be rethinking their decision to falsely declare former President Donald Trump as the winner of the 2020 presidential election. The Pennsylvanians are just two out of 14 people that have been subpoenaed by the House select committee investigating the Jan. 6 riot at the U.S. Capitol for serving as "alternate electors" that sent fake slates of Electoral College votes to Congress. You know what they say: You mess with the truth, you get the subpoenas.
Steve Voss -
An expensive investigation into the state's largest pension fund was hindered by Aon Consulting, a Chicago-based firm that refused to cooperate with a law firm hired by the state's Public School Employees' Retirement System, according to a new report from Spotlight PA this week. Steve Voss, the head of Aon Investments for North America, also apologized last year for "clerical mistakes" that corrupted investment performance data. Voss is probably wishing he never got involved with PSERS right now.
Daniel Goodson & Walter Geiger -
This week on keeping up with the constables, Westmoreland County District Attorney Nicole Ziccarelli is seeking to remove two elected constables in the region. The two, Constable Daniel Goodson of New Kensington, and Constable Walter Geiger of Arona, are facing lawsuits affecting their eligibility for the role. The lawsuits allege Goodson is ineligible to serve because of prior felony convictions and that Geiger is ineligible because he actually resides in North Huntingdon and not Arona.