Winners & Losers
This week's biggest Winners & Losers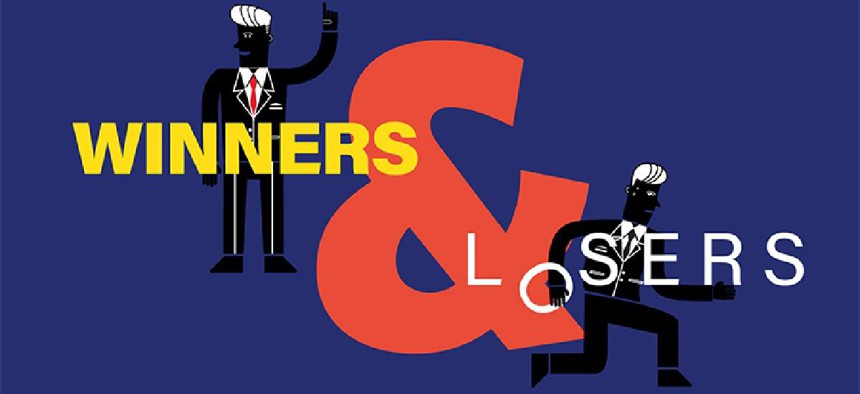 Unsurprisingly, President Joe Biden slipped in a Scranton reference in his State of the Union speech this week, much to the excitement of anyone playing State of the Union drinking games. But that was likely the high note of Scranton's media attention for the week, as the city was also named the "Allergy Capital" of the nation this week by the Asthma and Allergy Foundation of America, due to the city's "higher than average spring and fall pollen" as well as a "higher than average" use of allergy medicine. So if you live in the Scranton area and you feel a bit sneezy, an abundance of pollen may be to blame.
Hopefully you're not allergic to politics, because we've got more of this week's winners and losers below!
WINNERS:
Jeff Coleman -
Jeff Coleman, a Republican candidate for lieutenant governor, picked up a major endorsement in his bid to be the state's next lieutenant governor this week, earning the support of U.S. Sen. Pat Toomey. Toomey said Coleman's focus on bringing both conservative principles and civil debate to Harrisburg makes Coleman "right for this moment." The GOP field for lieutenant governor is quite crowded, so this endorsement could elevate Coleman's candidacy.
Stacy Garrity -
Pennsylvania Treasurer Stacy Garrity took swift action to divest the Pennsylvania Treasury of Russian-affiliated financial holdings following the country's invasion of Ukraine. In a series of tweets, Garrity said "immediate action was necessary to protect Pennsylvania taxpayers and to show our support for Ukraine." Divestment has received support from across the political spectrum, and Garrity didn't waste any time doing so, sending a strong message that the state won't stand for Russian President Vladimir Putin's invasion of Ukraine.
John Fetterman -
If amassing a significant campaign war chest wasn't good enough, Lt. Gov. John Fetterman got more good news this week in the form of new polling numbers. A poll from Franklin & Marshall College has Fetterman leading the pack of Democratic candidates running for U.S. Senate with 28% – a 13-point lead over the next closest candidate. However, Fetterman's support has dropped from past F&M polls, leaving questions as to whether he will be able to hold onto his lead as May nears.
LOSERS:
Tom Wolf -
While his lieutenant governor saw some decent poll results, Gov. Tom Wolf wasn't so lucky this week in a new Franklin & Marshall College poll. In his last term as governor, the percentage of voters who think Wolf has done an "excellent" or "good" job as governor has dropped from 52% in July 2020 to 37% in March 2022. Voters appear to be souring on Wolf's job as governor, or they're just ready for a new face in the governor's office. Either way, not the best for the guv.
Mary Hannah Leavitt -
Commonwealth Court Judge Mary Hannah Leavitt struck down the state's landmark mail-in voting law back in January, with the court ruling that the law violated the state constitution. Her decision was ultimately short-lived, as this week the state Supreme Court ruled that the mail-in voting law will remain in place, at least until the high court hears oral arguments on the case next week. So, for now, if you want to request a mail-in ballot for this year's elections, you still can.
Eugene DePasquale -
Former Auditor General Eugene DePasquale was rumored to have an interest in challenging U.S. Rep. Scott Perry in a rematch for Perry's 10th Congressional District seat, but Depasquale ultimately opted not to run this week, saying that he hoped the state's new congressional map would result in a "fairer, more competitive district." DePasquale said he doesn't see a path forward for himself in the new district, adding that the newly-drawn district "will continue to reward candidates who peddle in extremism and division."