First Read
First Read PA – Sept. 25, 2023
Fetterman calls on Menendez to resign … Fitzpatrick says bipartisan caucus will do 'whatever it takes' to avoid shutdown … Pitt weighs in on tuition rates … and more.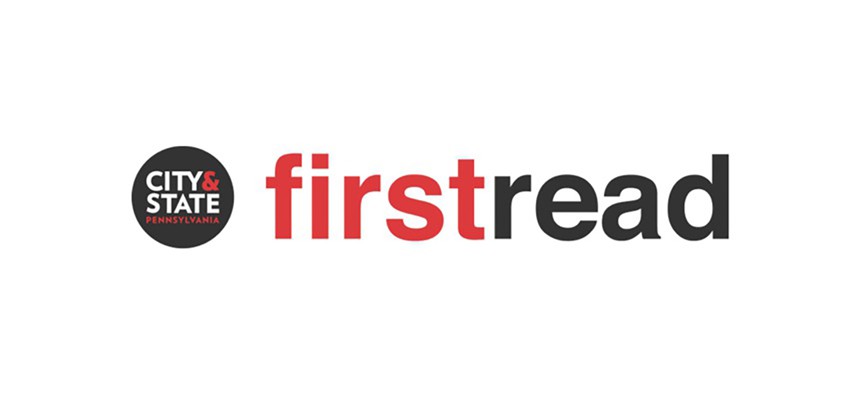 WEATHER: Philadelphia: cloudy, with rain likely between 7 a.m. and 9 a.m., high of 66; Harrisburg: cloudy, with a chance of light rain, high of 63; Pittsburgh: cloudy, with patchy drizzle before 9 a.m., high of 71.
FROM CITY & STATE:
* Gov. Josh Shapiro's administration announced Friday that it has finalized an agreement with Norfolk Southern Corp. to increase the number of daily passenger rail trips offered between Pittsburgh and New York City.* City & State's 2023 Greater Philadelphia Healthcare Summit welcomed the region's top experts and officials for panels focused on elder care, innovations in primary care delivery and more.
NEW THIS MORNING:
* U.S. Rep. Brian Fitzpatrick says the House Problem Solvers Caucus will do "whatever it takes" to pass a bipartisan bill to fund the government and avoid a shutdown, CNN reports.
* U.S. Sen. John Fetterman is the first Democratic senator to call for the resignation of Sen. Bob Menendez, a New Jersey Democrat who has been indicted on bribery charges, CNBC reports. 
* GOP congressional candidate and state Rep. Rob Mercuri picked up an endorsement from Americans for Prosperity Action – an organization funded by the conservative Koch brothers, the Pennsylvania Capital-Star reports.
* Adam Kidan, a leader in the temporary-staffing industry who has served time in federal prison for fraud and conspiracy, has emerged as one of U.S. Rep. Lloyd Smucker's top political donors, LNP reports. * As members of Congress and President Joe Biden's administration work to avoid a government shutdown, such a shutdown could result in disruptions for federal employees and facilities, The Philadelphia Inquirer reports. 
* Dale-Elizabeth Pehrsson announced her intent to leave PennWest University in February, but in the seven months that followed, the state-owned university has yet to begin the search for the university president's successor, the Pittsburgh Tribune-Review reports.
* A new statewide grant program is aimed at helping nonprofit organizations develop opioid prevention strategies for Black and Indigenous residents in the state, WHYY reports. 
* Philadelphia Democratic Party Chair Bob Brady has expressed frustration over the rise of Working Families Party candidates in Philadelphia's City Council races, the Inquirer reports.
* Reporter Jon Levine recently traveled through New York City dressed in shorts and a hoodie to see how far he could get into the city's finest restaurants donning Fetterman's signature apparel, the New York Post reports. * Leaders at the University of Pittsburgh say they are willing to freeze in-state tuition for the 2024-25 academic year if lawmakers agree to a 9.25% increase in state funding, the Tribune-Review reports.
EDITORIAL PAGES:
* Politics PA has an op-ed from state Senate Majority Leader Joe Pittman, who writes that it is "past time for the House to come back to session" and work with Senate lawmakers. 
* The Daily Item writes that efforts to implement automatic voter registration and establish open primaries in the state would be beneficial to democracy. 
NATIONAL POLITICS:
* Menendez faces growing calls for his resignation after being indicted alongside his wife for allegedly accepting hundreds of thousands of dollars in bribes in cash, gold bars and gifts, Axios reports. * House lawmakers believe the use of a discharge petition could help them bring a government funding bill to a vote and help the nation avert a lapse in funding, Semafor reports.
HAPPY BIRTHDAY: To state Sen. Jim Brewster … to Nancy Gephart, partner and president of Capital Markets, Shift Capital … and to Medina Rashid, CEO, MECCA Early Child Care Center … Want to wish someone a happy birthday in our newsletter? Email their name, job title and upcoming birthday to editor@cityandstatepa.com.
MOVING ON: … Have a career change or life event to announce? Email us: editor@cityandstatepa.com.
TODAY'S SKED:
11 a.m. – Shapiro administration to remind motorists about the dangers of flooding, PEMA Media Briefing Room, 1310 Elmerton Ave, Harrisburg. 
3:15 p.m. – The Pennsylvania Commission on Sentencing meets, remotely. Watch here. 
To have your events included in Today's sked, please email the information to editor@cityandstatepa.com.
KICKER: 
"I hope he chooses an honorable exit and focuses on his trial." – Fetterman on charges against Menendez, via CNBC