Opinion
Pennsylvania Democrats are working to lower costs while Republicans push tax hikes
Commentary: An argument for why Pennsylvanians should vote Democrat in the next election.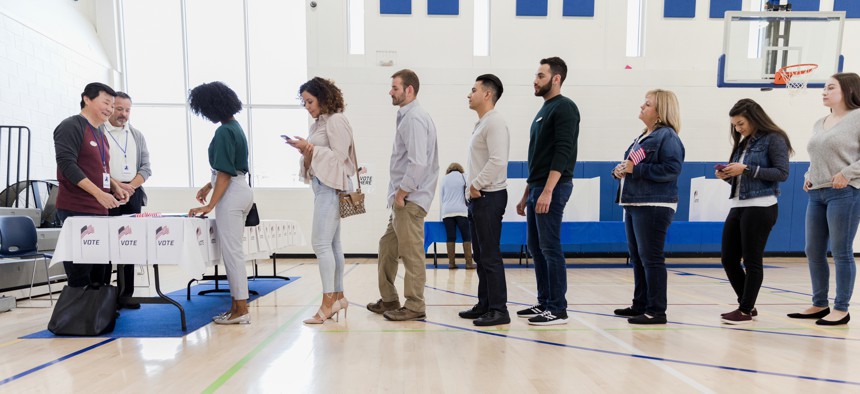 By Nancy Patton Mills
Pennsylvanians are worried about rising costs, but Democrats across the Commonwealth are working to lower those costs for working families and make it more affordable to live here in Pennsylvania. From fighting for student debt relief to working to make prescription drugs more affordable to calling for a gas tax refund, Pennsylvania Democrats have real plans to ease the financial burden. 
Republicans, on the other hand, are championing plans that could raise taxes on over 35% of Pennsylvanians and take away health insurance from 21 million Americans. And while the national Republican agenda has received scorn over the past several months, it's important to note that this is not just a national story – here at home, Pennsylvania's own Republicans are eagerly towing the party line. 
Democrats at every level of our government are working with the Biden administration to deliver for families and help Pennsylvanians through these difficult times. But it's important to recognize that national Republicans' agenda of tax hikes and taking away health care doesn't happen in a 
vacuum. Republicans' plans will be felt throughout our commonwealth, and that's especially true when Pennsylvania Republicans appear hellbent on raising taxes and opposing common sense investments that will create jobs. 
The contrast is clear in the governor's race. 
Earlier in March, Attorney General Josh Shapiro proposed a detailed plan to alleviate the burden of high gas prices on Pennsylvania families, but in response, Allegheny County GOP Chair Sam DeMarco advocated for "broadening the tax base." Simply put, in response to Democratic plan to cut taxes, DeMarco called for raising taxes on Pennsylvanians. Pennsylvania families can't afford that. 
At the same time, the Republican candidates for governor have proposed reckless plans that would cut funding for infrastructure – just months after the collapse of the Fern Hollow Bridge – and threaten to defund the Pennsylvania State Police. There are few details, if any, about Republicans' plans to pay for their proposals, and they should be forced to answer whether they support "broadening the tax base" like their party's leader in Allegheny County. 
Republicans' tone-deaf agenda doesn't stop there, unfortunately. The GOP agenda is out-of-step with what Pennsylvanians need right now. They refuse to support President Biden's bipartisan infrastructure law, which will be used to fix over 3,000 of our bridges in disrepair, expand broadband access to the over 394,000 Pennsylvanians without it, and create tens of thousands of good-paying, union jobs. And they oppose the American Rescue Plan – which reduced poverty for over three million Pennsylvania children.
Instead of fighting for Pennsylvanians, the Republican candidates are more focused on pleasing Trump and the MAGA base to win their messy, historically crowded primary. It's not just that candidates want to avoid "mean questions" and will only debate if there is a Republican moderator, it's also that they are shamelessly using taxpayer funds to pursue dangerous lies. While Pennsylvania families are struggling, Harrisburg Republicans are using taxpayer funds to fuel a sham election audit, not only wasting Pennsylvanians' money, but also risking their personal, private information to relitigate the 2020 presidential election. 
Those Republican candidates and elected officials should visit Pennsylvanians like Amy Raslevich and Victoria Schiano, whose families were able to receive lifesaving medical care thanks to the Affordable Care Act, and explain why they oppose affordable health care. They should go visit a local small business that was able to stay afloat during the pandemic because of the American Rescue Plan and tell them why they think that businesses shouldn't have received additional help. They should visit the Fern Hollow Bridge and tell Pittsburghers why they oppose President Biden's Bipartisan Infrastructure Law that will rebuild our roads and bridges. 
Pennsylvania Democrats are delivering, while Republicans are driving us farther apart, solely for their own political gain. Elected officials have the power to improve Pennsylvanians' lives or ignore their struggles in favor of partisan crusades, and this November, I urge Pennsylvanians to elect proven leaders up and down the ballot who will put our commonwealth first.
Nancy Patton Mills was born and raised in Allegheny County, where she led the Allegheny County Democratic Committee before being elected Chair of the Pennsylvania Democratic Party. A lifelong Democrat, Nancy is a member of the DNC, Governor Wolf's Pennsylvania Commission for Women, the Moon Township Planning Commission, and several nonprofit boards.