Editor's Note
Editor's Note: Trump's meddling in Pennsylvania's election demands a redress
The mountain of evidence against the former president and allies needs to be met with an indictment.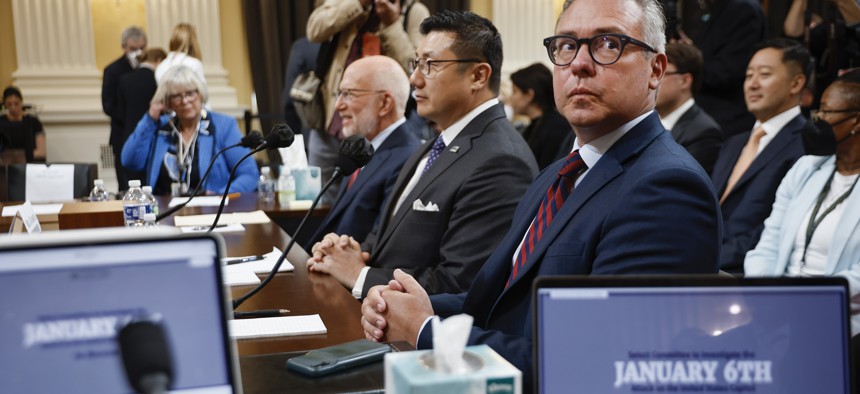 After watching the Jan. 6 committee hearings, I believe there is a pretty strong case that ex-President Donald Trump broke the law – and did so knowingly. 
Between his pressuring state and local officials to overturn their 2020 election results, his demanding Mike Pence to single-handedly do it, and the bogus electors his legal team conjured up, there is little room for plausible deniability. These individuals, well-versed in the law, knew what they were doing was illegal but did it anyway, including goading supporters to incite violence at the Capitol on Jan. 6, 2021.
House Speaker Bryan Cutler, Pennsylvania's highest-ranking lawmaker, told the Jan. 6 committee that after he received repeated phone calls from Rudy Giuliani he found "inappropriate," he asked Giuliani to cease and desist. Giuliani refused, telling Cutler he needed to pay attention to his "theories." When Cutler continued to ignore Giuliani, that's when things got bad for him. Cutler testified that what started as annoying phone calls escalated into protests outside his home and office. On one occasion, Cutler said, his 15-year-old son was home alone when protesters harassed him. 
Cutler isn't the only Pennsylvania official to incur the wrath of Trump followers. Al Schmidt, the lone Republican in Philadelphia to oversee voting during the 2020 presidential election, testified that he was doxxed online and his family was threatened – after Trump and his allies called him out for following the letter of the law. "After the president called me out by name, the threats became much more specific – much more graphic," he said. "Heads on spikes. Treasonous Schmidts," read a screenshot from an email to Schmidt and displayed before the committee.
According to a recent ABC News poll, nearly six in 10 Americans believe Trump should be charged for his role in the Jan. 6 riot. Trump Republicans who urge you to watch "2000 Mules" but then refuse to watch the Jan. 6 hearings are behaving hypocritically – but as Elizabeth Kolbert explained when writing about "confirmation bias," people embrace information that supports their beliefs and reject information that contradicts them. 
Here's hoping that the work done by the Jan. 6 panel helps convince the Justice Department an indictment of Trump is necessary.