News & Politics
Cutler tells Jan. 6 panel he felt post-election calls from Trump lawyers were 'inappropriate'
Committee hearing examined efforts to pressure state lawmakers and election officials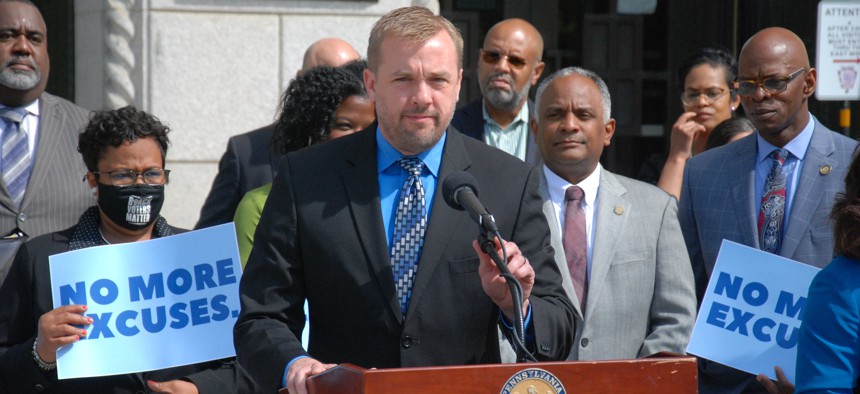 Weeks after the 2020 presidential race had been decided in favor of Joe Biden, attorneys for then-President Donald Trump made a series of calls to Pennsylvania House Speaker Bryan Cutler, looking to discuss election-related theories with the state House's highest-ranking lawmaker. 
But according to an attorney for the U.S. House select committee investigating the Jan. 6, 2021 attack on the U.S. Capitol, Cutler felt that calls from Trump attorney Rudy Giuliani were "inappropriate," prompting Cutler to direct his lawyers to ask Giulani not to call again. He did anyway, and Cutler later became the target of multiple protests that looked to pressure him into acting on Trump's requests to overturn the election's results. 
Tuesday's hearing offered a new window into Cutler's communications with the Trump campaign in the aftermath of the 2020 election, when Trump sought to pressure states to appoint alternate slates of presidential electors as he pushed unfounded, debunked claims of widespread voter fraud, according to the committee.
Josh Roselman, an investigative counsel for the committee, said that beginning in late November 2020, Trump and his lawyers "started appearing before state legislators urging them to give their electoral votes to Trump even though he lost the popular vote." That included Pennsylvania, where Giuliani and fellow Trump lawyer Jenna Ellis made repeated calls to Cutler about the state's election results.
In one voicemail, Giuliani said he and Ellis were calling because "we'd like to discuss, obviously, the election." In another message, Giuliani said: "I really have something important to call to your attention that I think really changes things." According to Roselman, Cutler directed his staff to ask Giuliani to stop calling, to no avail.
"Cutler felt that the outreach was inappropriate and asked his lawyers to tell Rudy Giuliani to stop calling, but Giuliani continued to reach out," Roselman said. 
What started as phone calls later turned into protests outside of Cutler's home and office, according to Roselman. He said Trump's former chief strategist, Steve Bannon, called for protests against Cutler in December 2020. 
In a video interview with the committee, Cutler said there were at least three protests outside either his home or his district office in the weeks and months following the 2020 election. During one occasion, Cutler said his then 15-year-old son was home by himself while protesters gathered outside his home.
"All of my personal information was doxxed online. It was my personal email, my personal cell phone, my home phone number. In fact, we had to disconnect our home phone for about three days because it would ring all hours of the night," Cutler said. 
Republicans in Pennsylvania prepared an alternate slate of presidential electors backing Trump and then-Vice President Mike Pence, though the effort ultimately went nowhere, despite a push from some state lawmakers to have the General Assembly appoint its own slate of GOP electors. 
Republicans in the state House and state Senate also asked Congress to reject the state's electoral votes, though an effort by Republicans to block the electoral votes from being certified by Congress also failed.
Cutler, in a statement released Tuesday, said he was interviewed by the committee on two occasions in recent months. "I was not contacted ahead of today's proceedings or made aware of what portions of my interview would be included in the public proceedings," Cutler said. "As the committee's investigation is still ongoing, it would be inappropriate for me to provide any additional comments about my testimony at this time."
Tuesday's committee hearing also examined Trump's efforts to pressure election officials in other states, such as Georgia, where Trump told Georgia Secretary of State Brad Raffensperger: "I just want to find 11,780 votes."
Raffensperger discounted Trump's claims of election fraud in the state, saying, "There were no votes to find. That was an accurate count that had been certified. And as our general counsel said, there was no shredding of ballots."