Reproductive Rights
We've seen firsthand that to defend reproductive rights and protect our freedoms, we need a Democratic governor
In op-ed, Democratic state legislators slam Republican gubernatorial nominee Doug Mastriano, calling him a dangerous conspiracy theorist.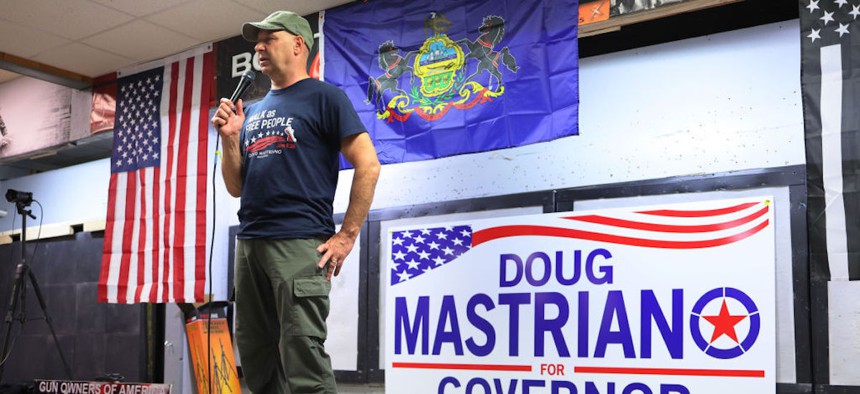 As elected officials in Harrisburg, we've seen firsthand just how important it is to keep a Democratic governor in office as the last line of defense against Harrisburg Republicans' dangerous crusade to take away Pennsylvanians' rights – from reproductive rights to voting rights. Last month, Republicans nominated the most dangerous gubernatorial candidate in the history of our state – conspiracy theorist, anti-choice extremist Doug Mastriano – making clear that our rights are on the ballot in 2022. Mastriano and his Republican colleagues in Harrisburg are clear: they want to take away our freedoms – and they want to outlaw abortion with no exceptions.
While Gov. Tom Wolf has repeatedly vetoed anti-abortion legislation – and Attorney General and Democratic gubernatorial candidate Josh Shapiro shares that commitment, Harrisburg Republicans are working on at least 18 bills attacking reproductive rights right now, including pushing amendments to the Commonwealth's Constitution that would deny the right to abortion care with no exceptions, imposing mandatory life sentences for anyone who performs an abortion and introducing legislation that would fine women and burden them with paperwork after an abortion or a miscarriage.
We're working with our Democratic colleagues at the local, state and federal levels to defend Pennsylvanians' freedoms from these Republican efforts, but there's only so much we can do when extremist Republicans control the legislature. We need an ally in the governor's office. We need a leader who will stand up for Pennsylvanians' rights – and that leader is Josh Shapiro.
The stakes in this election are clear. Republicans' dangerous nominee for governor, state Sen. Doug Mastriano, was a sponsor of a six-week "Heartbeat Bill," and now has bragged about how he wants to pass a three-week abortion ban, which would outlaw abortion before most women know they're pregnant and doesn't include any exceptions – not even for rape, incest or the life of the mother. Mastriano's attack on reproductive health care doesn't stop with effectively outlawing abortion, he also wants to criminalize health care professionals, throwing our doctors, nurses and medical workers in jail for performing abortions. This is unconscionable, but it would be our reality under a Gov. Doug Mastriano.
Doug Mastriano's agenda would make our communities less safe and take away our fundamental freedoms. That's why Democrats across the Commonwealth began mobilizing right away to make sure Pennsylvanians understand the stakes for reproductive rights this year. We're out in communities across the Commonwealth, showing the contrast in this governor's race and making sure Pennsylvanians know that the only way to protect our rights from extreme and out-of-touch Republicans like Doug Mastriano is to elect Josh Shapiro as our next governor.
While we will continue to communicate directly to our constituents across the Commonwealth, the urgency of this moment and the unprecedented nature of these Republicans' attacks on our reproductive rights and fundamental freedoms, we have one important message for Pennsylvanians today: vote like our rights depend on it, because they do.
State Sen. Maria Collett, state Rep. Melissa Shusterman, and state Rep. Jennifer O'Mara are Democrats representing the 12th Senatorial, the 157th Legislative and the 165th Legislative districts, respectively.