Opinion
Ski masks have got to go: Philadelphia City Council should ban them now
'The government has a vested interest in ensuring the safety of every citizen. So, this is necessary.'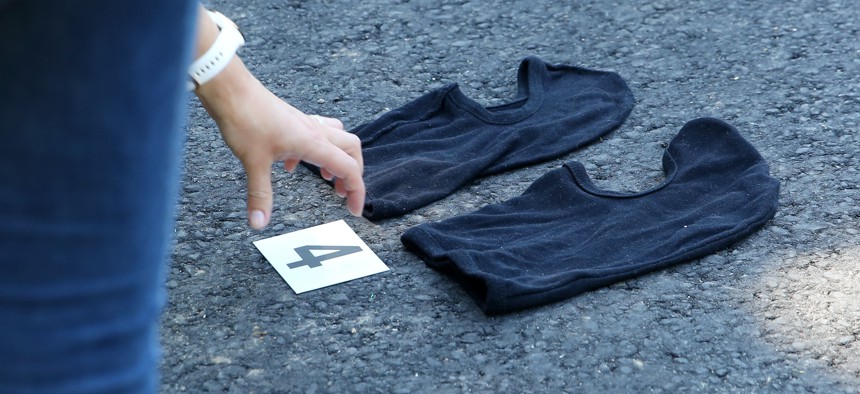 At the height of the COVID-19 pandemic, the City of Philadelphia started #MaskUpPHL, encouraging Philadelphians to wear masks to protect themselves and others from COVID-19. The Philadelphia City Council's COVID-19 Community Advertising Plan laid the groundwork for a $400,000 communications campaign entailing radio public service announcements, video messaging from Council members, billboard advertising and newspaper advertisements.
It was wonderful. Our city government was making strides to take care of its people, letting us know the protective benefits of mask-wearing. 
What none of us anticipated, however, was the rise in popularity of so-called "Pooh Shiesty" masks, known to non-Gen Z'ers as ski masks or balaclava helmets, among younger generations. Pooh Shiesty, whose real name is Lontrell Donell Williams Jr., is a 22-year-old rapper doing a five-year stint in federal prison for "conspiracy to possess a firearm in furtherance of violent and drug-trafficking crimes." In addition to his vile lyrics, Pooh Shiesty is known for wearing ski masks. This is why young people call them "Pooh Shiesty masks" – or, more succinctly, "Shiestys." Let us pause. 
Young people are modeling themselves after a thug. This problem isn't exactly new – as older folks who lived through the '90s gangster rap era can attest. But this may be the first time society has permitted it, albeit accidentally. Our well-intentioned masking campaign has enabled young people to wear ski masks casually with impunity. 
What have we done?
Ski masks were designed for snowboarding, snowmobiling, skiing, and extreme cold. That's it. They were not meant for casual wear. Now, to be sure, people did, in fact, wear them outside of those intended uses pre-pandemic. But back then, we understood ski masks to be undesirable as casual clothing. We used to see signs on doors to establishments warning not to enter with a hoodie or mask. 
But now, post-pandemic, we've unwittingly facilitated a culture that tolerates these masks. Walking down the street or riding SEPTA, you see everyone wearing them. These days, you can't decipher whether there's a thug under that mask or an innocent kid misguided by flashy rappers and societal trends. So, you walk around guarded, scared of the possibilities. And the fear is legitimate.
Time and time again, we see young men committing violent crimes while wearing these masks. Here's a taste of what's happening in Philadelphia: 
On Aug. 15, at a store I used to frequent, a man "approached a cash register, armed with a black handgun, demanding money." On Aug. 4, the Philadelphia Police Department posted a wanted alert for two armed serial robbers. And on July 27, in the middle of the Wister Townhouses in the city's Germantown section, young males shot at a "juvenile" riding an ATV, resulting in a nearby 7-year-old being hit in the hand by stray gunfire. 
Guess what all of those suspects were wearing? Ski masks. We have got to roll back on some of the things we've tolerated – and City Council should take the first step by banning people from wearing them. 
Council passed a similar ordinance in 2000, prohibiting people from wearing facial coverings to "intimidate or threaten another person" or to "hide" their identity while committing a crime. It was intended to curtail members of the Ku Klux Klan from terrorizing Philadelphians during the 2000 Republican National Convention hosted in Philadelphia. 
In their upcoming legislative session, City Council ought to address this issue. The government has a vested interest in ensuring the safety of every citizen – and we're lagging other parts of the country that already got the message. 
Wearing identity-concealing masks is illegal in West Virginia, Florida, Georgia and Virginia. It was also illegal in New York until that state's attorney general, Letitia James, noted the conflict in encouraging mask-wearing while it was illegal under New York law. So, to resolve that issue, New York's legislature permanently removed its ban on mask-wearing. Idiots. They could've simply amended it to make an exception for public health emergencies as Virginia did. 
Council could easily pass a similar measure, banning identity-concealing facial wear in all circumstances, even when they're not worn to intimidate – making exceptions for religious garments and public health crises. It's low-hanging fruit. Hopefully, Council does it. Or, if Council drops the ball, the General Assembly can pick it up – other states have done it via statewide legislation, too.
But the burden doesn't lie solely on the government. Most of it is on parents. Every adult who buys their child a ski mask or allows them to purchase one of their own is part of the problem. They enable the heinous crimes these young people are committing by giving them the means to evade recognition from law enforcement. Parents: Do better. There is nothing cute about your kid wanting to dress like a thug.
Now, to be transparent: I'm 18 years old. I know other people my age won't like this. But I don't care. This needs to be said. Numbskulled social tendencies like this make me embarrassed to be part of Gen Z. For Pete's sake, we've got people wearing ski masks in 90-degree weather. Surely, it's uncomfortable to waterboard yourself in your own sweat wearing those masks in July heat. It looks ridiculous and suspect.
Let's tighten up.