From the Editor
Editor's Note: Making the argument for more newsworthy political debates
Debates offer an opportunity for candidates to distinguish themselves; but most Philly mayoral hopefuls seem to tow the same line.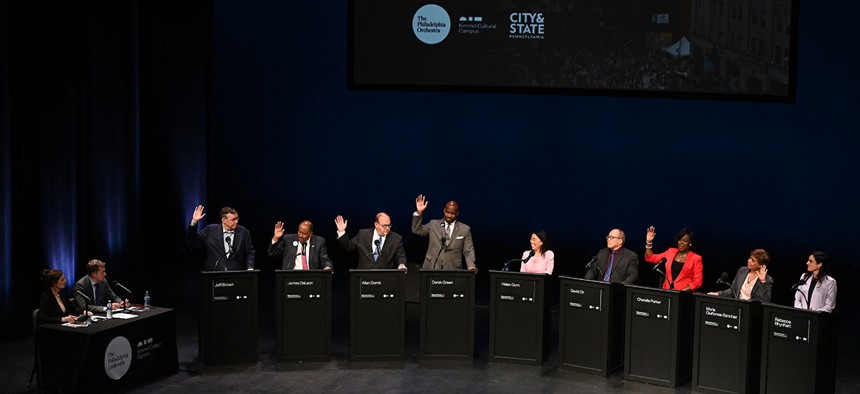 City & State hosted its second live broadcast debate earlier this month – this time in partnership with The Philadelphia Orchestra and Kimmel Center for the Performing Arts. I had the pleasure of moderating again with Kitchen Table Politics Podcast host Ari Mittleman. Nine of the 11 declared mayoral candidates participated – eight Democrats and the lone Republican – and we asked them a series of questions that ranged from how they would pay for arts and culture initiatives to expanding rapid transit and tackling violent crime in Philadelphia. All of them – save for David Oh – seemed to agree on almost every policy question. But knowing that they didn't know what we were going to ask them ahead of time – outside of the scope of general arts and culture-related questions – gave us some great insight into who the candidates really are. 
For example, we know that both younger and older Philadelphians show their creative side through various forms of social media. Recently, the director of the FBI, Chris Wray, has raised national security concerns with TikTok, warning that control of the data collected in the video-sharing app is in the hands of the Chinese government and thus subject to manipulation. The debate over whether to ban TikTok on government devices has raged all the way from City Hall to Congress. We asked the mayoral candidates – by show of hands – who had a TikTok account. Nearly all of them raised their hands. Our corollary to that: If elected mayor, would you ban the app on all city-owned devices? Only two candidates raised their hands with confidence – Jeff Brown demurely put up his, only to hastily lower it once he looked around and realized he was in the minority. 
Another question we asked: Would anyone pledge to make a cabinet-level post responsible for arts and culture funding? (Some background: In 2016, the Office of Arts and Culture and the Creative Economy was placed under the Managing Director.) Most candidates said they would, with Allan Domb saying he would want the job for himself and James DeLeon saying he would hire the person, so long as he or she wasn't a "backstabber." 
At the end of the 90-minute forum, each candidate promised to collaborate and work with their opponents to unite the city behind their vision, should they get elected. Maybe there's some actual truth behind that, because the evening felt more like a campfire sing-a-long than a heated debate.