Capitol Beat
Mike Zabel to resign following another accusation of sexual harassment
State Rep. Abby Major accused Zabel of harassing her last November during a press conference on Wednesday.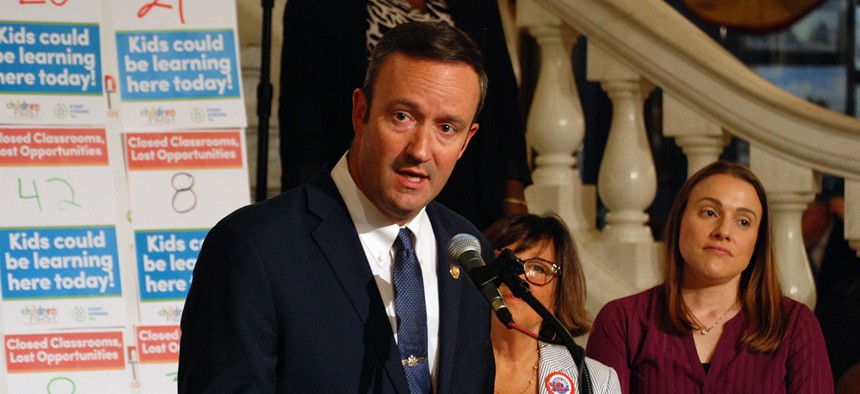 Democratic state Rep. Mike Zabel has tendered his resignation after a fellow lawmaker in the state House today accused him of sexually harassing her last year. 
State Rep. Abby Major, a Republican representing parts of Armstrong and Westmoreland counties, accused the embattled Zabel of sexual harassment on Wednesday, saying the Democratic lawmaker propositioned her at an establishment in Harrisburg and later followed her outside to her car.
Major said the incident occurred in November 2022, and that Zabel was "clearly intoxicated" at the time. "I was attempting to pay my tab when he began to tell me how fantastic I looked, how he could really tell that I lost a lot of weight and that I just looked great," Major said Wednesday, recalling the incident at a press conference at the state Capitol. 
She said that she made eye contact with a colleague, who approached her and Zabel and allowed her to move away. "I told him that Rep. Zabel had propositioned me and was being a creep," Major said. Major said that Zabel began following her as she attempted to leave.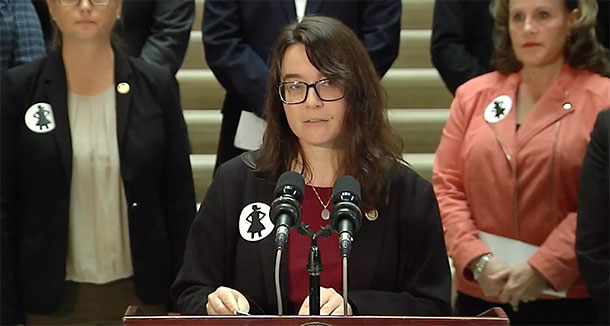 "As I began to walk down the hallway, I glanced back and noticed that Rep. Zabel was following me. I stepped into the restroom for a moment, and then I came back out of the restroom and went back to where the rest of my colleagues were, and asked another representative that I trust and is one of my closest friends if he would walk me all the way to my car because I felt unsafe," Major said.
"I told him about what had happened. He agreed, and as we were opening the doors once again to step outside, I noticed that Rep. Zabel was again behind us. I was stunned. I left for the evening disturbed by the situation," Major added.
She also stressed that she doesn't want the issue to be viewed as a political fight, suggesting that even if Zabel would resign, Democrats are likely to keep their slim majority in the state House. "It's not political for me, truly. I understand the situation that we're in makes it political. I would say that there has to be a special election called for one seat that's already vacant – it could easily be two. If those are heard on the same day they would maintain their majority the whole time. It wouldn't be an issue."
Major's story was first published by the conservative news site Broad + Liberty on March 1, though she was not named. That same day, SEIU 32BJ Political Director Andi Perez named Zabel as the lawmaker she accused of sexually harassing her, calling on Zabel to resign. 
Zabel first responded to the allegations last week, relinquishing his seat on the House Judiciary Committee – while refusing to resign. He added that he will receive treatment for an "illness" that he did not specify.
I left for the evening disturbed by the situation.
– State Rep. Abby Major
"My illness has caused some behavior that I regret, and I agree that additional intervention is necessary for me to fully recover," Zabel said in a letter to House Democratic leaders. "I am in the process of securing additional intensive treatment, beyond the outpatient treatment I have been receiving, and am currently working with my health care providers and my family to identify an appropriate inpatient program which I will be entering as soon as possible."
"I will cooperate fully with the Ethics Committee in considering any allegations against me," he added.
However, shortly after Major went public with her allegations on Wednesday, Zabel submitted his resignation to House Speaker Joanna McClinton. "At this time, I will be stepping back from this role to focus on my family and my health," he wrote. His resignation will take effect on Thursday, March 16.
Earlier in the week, 16 women from the House Republican Caucus signed a letter to House Speaker Joanna McClinton calling for Zabel's resignation. Today, several other lawmakers followed suit. 
House Democratic leaders said in a statement Wednesday that Zabel "has chosen to do what is best for his family, the people he represents and the state House of Representatives."
"As part of our caucus's ongoing commitment to protection and transparency, a website will soon be available to the public to learn more about the newly empowered Ethics Committee's process for collecting and investigating reports of discrimination and harassment," their statement reads. "Additionally, the House Democratic Caucus will keep former Rep. Zabel's district offices open to ensure members of his community continue to have access to state services."
In recent years, lawmakers on both sides of the aisle have been accused of sexual harassment and assault. Former Republican state Rep. Brian Ellis resigned in 2019 after a woman accused him of sexual assault, and state Sen. Daylin Leach faced calls to resign from his own caucus over misconduct allegations. 
This year, state House lawmakers voted to expand the chamber's rules concerning sexual harassment claims, allowing anyone to file sexual harassment complaints against House lawmakers, as long as the lawmaker was working in their official capacity when the incident occurred.
But Major said Wednesday that while the current sexual harassment protections are "revolutionary," she stressed that they "only apply to any individual if it's a legislative event or if the legislator is operating in their duty as a legislator."
"If a representative were to be in their district, at a bar and sexually harasses a woman, or groped a woman, that wouldn't count as an ethics violation," Major said. "So we're asking for just a more expansive set of ethics rules that hold us to a higher standard all the time."