News & Politics
Mike Zabel faces calls to resign following sexual harassment allegations
An SEIU lobbyist and an anonymous state representative have accused Zabel of harassment.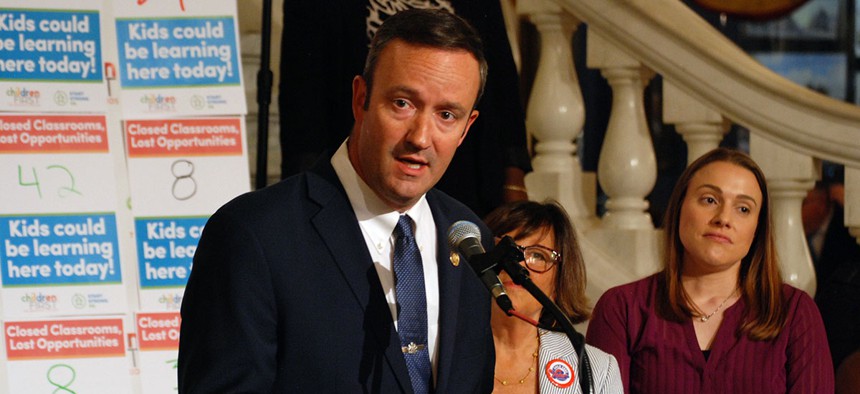 Delaware County state Rep. Mike Zabel is facing calls to resign after a lobbyist for the Service Employees International Union 32BJ went public with the identity of the lawmaker she previously accused of sexually harassing her. 
SEIU 32BJ Political Director Andi Perez told lawmakers at a Jan. 27 listening tour session on House operating rules that an unnamed member of the General Assembly had sexually harassed her in the past. On Wednesday, she said that person was Zabel after the conservative news outlet Broad + Liberty published a story identifying him as the unnamed lawmaker who Perez accused of sexual harassment. 
Following the passage of new House rules, which include expanded protections for sexual harassment claims against lawmakers, Perez celebrated the rule changes and called on Zabel to resign. 
"I am proud that sharing my story created real, tangible and systemic change in the legislature to give victims of harassment an avenue for justice," she said in a statement. 
"Yes, I was sexually harassed by Mike Zabel. My union, SEIU 32BJ, and all 65,000 members of the SEIU family in Pennsylvania stand with us as well," Perez added. "Mike Zabel needs to resign immediately, and I encourage every person who is ready to share their stories and seek justice in their own ways to do so when they feel comfortable."
In January, Perez told lawmakers at a listening tour that she was "sexually harassed by a lawmaker who is still in office while I was discussing a bill." Zabel, who she didn't name at the time, "decided to caress my leg while I was wearing a skirt, all the while telling me he was impressed by my passion and knowledge of the issues we were discussing."
Perez said during her remarks that, at the time the alleged incident occurred, House rules did not allow her to file a complaint with the House Ethics Committee – that complaints were limited to House staff and limited to incidents that happened inside the Capitol building.
On Wednesday, an anonymous member of the state House also came forward with a separate allegation against Zabel, accusing him of following her to her car and making unwanted romantic advances last November, according to the Broad + Liberty report. 
The new House rules approved this week expand the definition of harassment to include sexual harassment, and will allow anyone interacting with House members in their official capacity to file complaints against members, according to the sponsor of the rule package, former House Speaker Mark Rozzi.
House Republicans quickly called for Zabel to resign. In a joint statement, members of the GOP leadership team said he should resign without delay.
"In 2018, our colleagues on the other side of the aisle said, 'Anyone accused of a credible violation like this should resign their position,'" Republican leaders said. "Now that a member of their caucus has been credibly accused of multiple and serious incidents of sexual harassment, it would be our hope that Democrats would join us in calling on Rep. Zabel to resign."
Democrats, who now have a majority in the House, have not yet called for Zabel's resignation, and Zabel has not publicly commented on the accusations. 
A spokesperson for House Democrats did not answer questions asking whether Zabel will resign, nor whether the caucus will take any actions in response to the allegations. 
In a statement Wednesday night, leaders from the House Democratic Caucus said they are "concerned by the allegations we learned today, and take such accusations seriously."
The caucus took credit for the chamber's new operating rules, including the sexual harassment protections. 
"Until today, deficiencies in the House Rules denied anyone other than legislative staff and House members an opportunity to report incidents of harassment or discrimination," they said, adding: "Everyone deserves to be safe at work and our caucus commends and respects the courage of those who come forward."