General Assembly
Opinion: Skill games legislation ignores needs of older, vulnerable Pennsylvanians
AFSCME Council 13 Executive Director Dave Henderson calls on lawmakers to reject legislation that would tax and regulate skill games.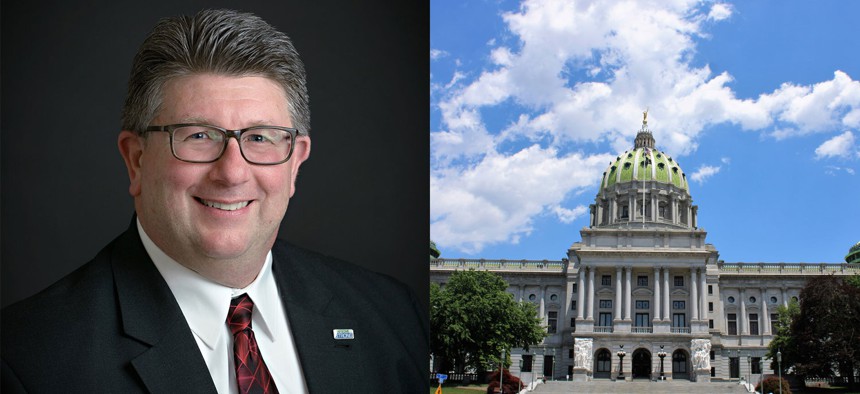 Summer brings baseball, fresh corn, tomatoes – and the annual state budget scrum in Harrisburg – which will hopefully end by the July 1 start of the next fiscal year. 
One relatively new tradition we could do without: the introduction of reckless legislation to allow tens of thousands of so-called "skill games," which law enforcement officials maintain are illegal gambling devices, across Pennsylvania.
Already, these machines have sapped an estimated $650 million from Pennsylvania Lottery scratch sales – and up to $170 million this year alone, according to testimony offered at the state House Appropriations Committee this spring.
Now, more than any other year, lawmakers need to stand firm in opposition to proposals to wildly expand gaming, especially in light of Gov. Josh Shapiro's plan to expand the Property Tax/Rent Rebate Program, one of the lottery's most important programs.
This program is funded by the lottery and from gaming revenues, both of which would take a massive hit under any proposal to add tens of thousands of these so-called "skill games." 
For decades, the program has delivered billions in property tax and rent relief to Pennsylvanians 65 and older, widows and widowers 50 and older, and Pennsylvanians with disabilities who are 18 and older. 
The governor, rightly, wants to increase the maximum rebate to $1,000 from the current $650, raise the income eligibility cap for both renters and homeowners, and add a cost-of-living increase.
If approved, Shapiro's proposal would allow 175,000 additional Pennsylvanians to take advantage of the program. In addition, the Shapiro administration estimates that 86% of the 430,000 claimants who already qualify will see their rebates increase. 
This proposal mandates a consistent and growing revenue stream for the lottery. 
But state Sen. Gene Yaw doesn't seem concerned about the critical programs the lottery funds. Yaw has proposed the "Skill Video Gaming Act" which, all in, is close to 40 pages and 8,000 words long. 
One word that you will not find in the bill is "lottery." Three other words that are missing: "property tax relief."
Yaw, perhaps the legislature's most ardent supporter of skill games, does not earmark a single penny for seniors. Nothing for rent or property tax relief. Nothing for free or low-cost prescription drugs, senior centers or any other lottery-funded programs.
Given what we know about these games and their documented impact on lottery sales, it is overwhelming that the senator and his co-sponsors would ignore the needs of Pennsylvania's seniors. 
In 2020-21 in Yaw's backyard of Lycoming County alone, the lottery provided a total of slightly more than $10 million to residents, including $2.75 million in property tax and rent rebates; $1.9 million in prescription assistance; and $2.4 million in care services.
Ignoring older and needy Pennsylvanians is just one of many glaring deficiencies in the bill, including a laughably low tax rate for these games of 16%, which pales in comparison to the 54% tax that the casinos pay to the state on slot machine games.
In fact, Pennsylvania's casinos generated a record combined tax revenue production from gaming in 2022 of $2.1 billion, according to data compiled by the Pennsylvania Gaming Control Board – the highest collection of gaming taxes of any state. 
The American Gaming Association reports: "Reflecting one of the highest effective tax rates in the country together with the rapid growth of internet gaming, Pennsylvania's gaming tax revenue exceeded that of any other state by more than $800 million in 2021."
Pennsylvania casinos provide 20,000 good-paying jobs and power 17,000 indirect jobs. They generate $2 billion in annual wages, nearly $300 million in funding for payments to local governments and nonprofits, as well as economic development and infrastructure projects.
The casinos are also a lifeline for our state's horseracing industry, providing $240 million annually to the agriculture sector and the horseracing industry. Finally, every year, casinos pump more than $500 million in annual investments with in-state businesses.
This bill is bad math and bad policy for Pennsylvanians and should be rejected. 
The full text of the legislation can be found here. I encourage you to contact your lawmakers and urge them to put seniors first and reject proposals that would jeopardize funding for lottery-funded programs.
Dave Henderson is Executive Director of Council 13 of the American Federation of State, County and Municipal Employees, which represents workers across the state, including at the PA Lottery and in the horseracing sector.