Economic Development
Opinion: Investing in clean energy will benefit communities and the climate
Pennsylvania is set to benefit environmentally from two major bills approved by Congress.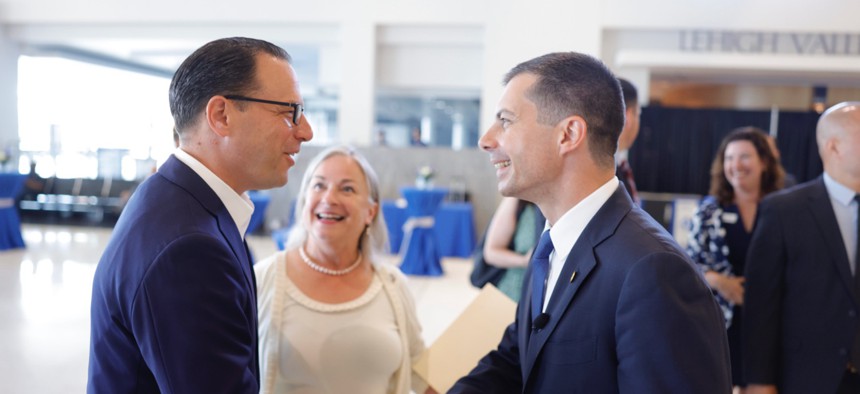 President Joe Biden, First Lady Dr. Jill Biden and Transportation Secretary Pete Buttigieg joined state and local officials across Pennsylvania last week to highlight how federal investments are spurring economic innovation in the Keystone State.
A key driver of this growth? The accelerating transition to clean energy, which can transform the state's economy and communities – if we act now to further investments in clean energy and climate action approved by Congress that are already bringing jobs and economic opportunities.
The Bipartisan Infrastructure Law, approved by bipartisan action in 2021, will deliver billions for traditional infrastructure needs in Pennsylvania – think critical improvements to roads, bridges, drinking water and airport development. But the BIL also makes available $66 billion for public transit and $171 million to expand the electric vehicle charging networks across the country, will fund home weatherization programs to cut energy costs and provides at least $100 million to improve broadband internet access for schools, businesses and homes. Right here in Pennsylvania, the BIL is spurring the construction of a billion-dollar tunnel to connect northbound trains, which will increase the speed of transportation threefold.
As U.S. Rep. Brian Fitzpatrick said when the BIL was passed, "Investing in our roads, bridges, rail, and energy grid is an investment in our national security, our economy, and the American people."
Our elected leaders should show the same foresight and initiative in preparing for the additional opportunities coming our way through another significant economic package – the Inflation Reduction Act. Approved last year, the IRA represents the greatest federal investment in clean energy and climate action in U.S. history, with $370 billion pledged over the next 10 years to support a prosperous clean energy economy while also helping to address the climate crisis.
What's in it for Pennsylvania? Among other things, the IRA will provide stimulus for some of our leading industries, including energy, construction trades and hardwood forest products. The IRA funds:
Programs that expand the availability of clean electricity, make our factories less polluting, and promote the use of clean cars and trucks
Agriculture and forestry programs that enhance the capacity of our forests and farmland for storing carbon, increase their climate resilience and reduce wildfire risk
Incentives to help Pennsylvania companies compete when producing advanced energy technologies and utilizing cleaner manufacturing processes
A recent analysis by BW Research Partnership, commissioned by The Nature Conservancy, found that the provisions in the IRA could generate more than $10.8 billion of investment in Pennsylvania. That's a return of $1.42 for every federal dollar invested.
Every year for 10 years, Pennsylvanians will see:
17,400 jobs
$837 million in employee compensation
And $194 million in annual local, state and federal tax revenue
While these projections are encouraging, we must also recognize that these investments go far beyond economic development. They are investments in the future health of our planet. Other independent researchers, including the Rhodium Group and Energy Innovation, have documented that by 2030, the IRA could reduce emissions 40% below 2005 levels.
Emission cuts at this level will bring the nation within reach of U.S. climate goals and international commitments – goals and commitments made in hopes of preventing the worst effects of climate change, including heat waves, storms, floods, and droughts.
As the Intergovernmental Panel on Climate Change recently reminded us, we have a "brief and rapidly closing window of opportunity to secure a livable and sustainable future."
Another window is also closing. The recently enacted federal incentives and funding may be available for the next decade, but companies looking to take advantage of those incentives are already making business decisions on where to invest in clean energy facilities and factories. State leaders and the congressional delegation must take bold action and make swift decisions to stave off the worst impacts of climate change. We must continue to capitalize on the opportunities presented by the IRA and unlock the promise of innovative, cleaner industries – and the jobs that come with them.
Lori Brennan is the executive director of The Nature Conservancy in Pennsylvania.