Diversity Summit
'Intentionality with inclusivity' was the focus of City & State's second annual Diversity Summit
Panels discussed how governments and organizations can prioritize diversity in planning, procurement and partnerships.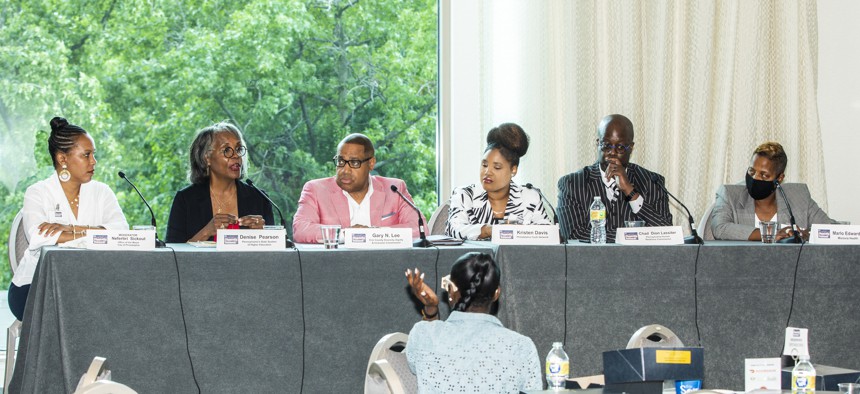 Nearly 100 attendees convened at the Hilton Philadelphia at Penn's Landing on Thursday for City & State PA's second annual Diversity Summit. The half-day conference featured public officials, business professionals, and diversity and inclusion experts discussing how the commonwealth can level the playing field and support diverse small businesses in building public-private partnerships. 
Pennsylvania Department of Transportation Secretary Yassmin Gramian, the event's keynote speaker, provided insight into how PennDOT is prioritizing equity in its operations.
"Under-resourced communities often face challenges in mobility and struggle with access to vehicles, which has impacted the ability to access jobs, accumulate generational wealth, procure healthy food and obtain quality health care," Gramian said. "It is incumbent on us to not only be experts of our transportation system itself but also of the challenges and inequities that our system effectuates as we integrate new solutions and plan for future investments." 
Gramian said commonwealth agencies are focused on identifying barriers to doing work with the government and how to assist disadvantaged businesses in submitting proposals and working with partners. PennDOT and other agencies are also taking active steps to "cultivate a culture of diversity," she said. 
The conference also featured several panels of industry executives who discussed ways small diverse businesses can get the tools they need to succeed, as well as how to connect them to local and state government partnerships.  
"What are we doing with intentionality, in terms of legislation, to highlight, push and promote accessibility for Black businesses in particular?" Karl Singleton, chief equity and compliance officer for the City of Harrisburg, remarked. "All of us need to push our colleagues, in particular those that are embedded in the legal side of this agency, to push for laws and language that is allowing for inclusivity with intentionality." 
Photos from the event can be viewed below.