Interviews & Profiles
A Q&A with Doug Mastriano's running mate Carrie Lewis DelRosso
The GOP nominee for lieutenant governor talks with City & State about her first bid for statewide office.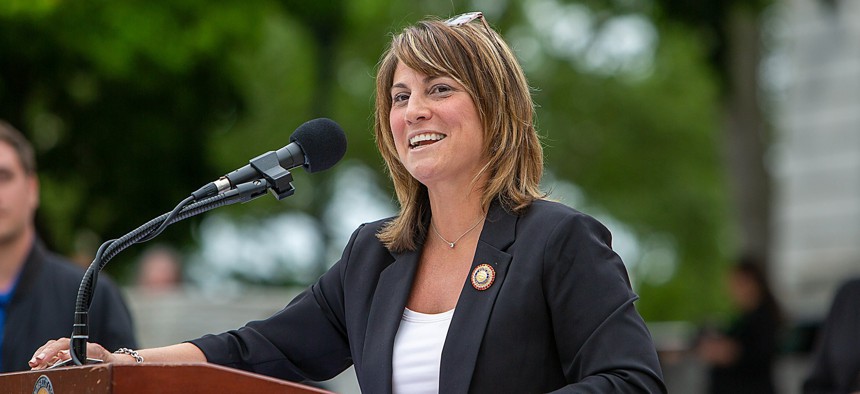 Carrie Lewis DelRosso hasn't even completed her first term representing the 33rd state House District, but that hasn't stopped her from amassing a slew of major political wins that have made her a candidate to watch in Pennsylvania politics. She defeated the top Democrat in the state House in 2020, beat a field of eight other candidates for the GOP nomination for lieutenant governor and even secured the support of one of the state's largest political donors. 
As she looks to ascend to the position of lieutenant governor and win her first statewide race, DelRosso spoke with City & State about her rise, her top priorities as lieutenant governor and what her relationship with state Sen. Doug Mastriano – the Republican nominee for governor – looks like heading into this year's general election.
This interview has been condensed and edited for length and clarity.
You have found a lot of political success in recent years – in 2020, you knocked off House Democratic Leader Frank Dermody in an election for the 33rd State House District and this year, you won a crowded race for the Republican nomination for lieutenant governor. What are you doing right?
I'm doing what I want to do and I'm winning for the people. I'm a hardworking mother of three. I believe in working-class people and, yes, you're correct, I did knock off the minority leader. I knocked on those 13,000 doors to win that seat. It was very important for me to get my message out to my district, and unfortunately, with the redistricting and the lines that were redrawn, I think the other team tried to sideline me. I drove home and I looked at my children, and my son looked at me and said, "Mom, what are you going to do?" And I said, "I can go to the private sector … I'm a working-class mom, I'll be fine." And he said, "But Mom, you don't retreat." And I said, "OK, well maybe there's another option" – and I ran for lieutenant governor for that reason. 
Lt. Gov. John Fetterman has often used the office as a bully pulpit to generate conversations around issues important to him. Would you do something similar?
In the job itself, as lieutenant governor you have three roles: serving on the Pennsylvania Emergency Management Council, chairing the Board of Pardons and presiding over the state Senate – I will do my best at all of them. I'm an action-item kind of person. Stepping into that office, I would look to the staffing and opportunities there of seeing how I can expand and make things better … working together as a team. I look at myself and Sen. Mastriano as a working team. We've been working hand-in-hand on our message, which is stopping inflation and promoting better jobs and more abundance of the energy sector jobs in the state of Pennsylvania. 
Regarding those people who are coming out against him, I think that they're scared of him because he's not playing inside baseball.
What would you like voters to know about where you stand on the issues that are important to them?
I passed two laws as a freshman – sometimes, people don't understand that to get legislation moved out of committee can be hard, and getting both chambers and then the governor to sign them is very difficult. Just in the 16 months that I've been there, I've been able to get two. 
We have a lot of money that's sitting out there right now – let's make sure that we have financial accountability, transparency and sustainability in Pennsylvania so we don't put ourselves into a recession (and have) to raise taxes in the future. We're pushing energy independence, but we also want education to get better in Pennsylvania, and better opportunities for our kids in public education. Parents that want private education – they should be able to have that choice. I think that we can very well do that right now. 
How well did you know Sen. Mastriano prior to your run for lieutenant governor, and what has your relationship been like since you became the nominees?
I did not know him other than just shaking his hand maybe once or twice in the hallway up in Harrisburg … The night I won and he won, he called me – it was like 1 o'clock in the morning – and he congratulated me and said he's ready to go. 
I won by 130,000 votes. It wasn't a 900-vote margin like Dermody was, and Sen. Mastriano went and took 44% of the vote while not spending a lot of money, which was very impressive. His infrastructure for the grassroots effort was impeccable. And again, remember: 13,000 doors in a House district? That's pretty impressive, too. I think both of us have that mentality. He is a leader. He listens to my suggestions and he works with me. He has never, ever second-guessed me in certain things, and even when we've agreed or disagreed on things, there's always a happy medium. Unfortunately, people don't know him the way I'm learning to know him. He's going to be an outstanding governor.
I look at myself and Sen. Mastriano as a working team.
Recently, some leading Pennsylvania Republicans, citing grave concerns about Sen. Mastriano, have endorsed Josh Shapiro for governor. What is your response to voters on the fence? 
Regarding those people who are coming out against him, I think that they're scared of him because he's not playing inside baseball. … What's unfortunate is, they're of the past. I'm sorry – this is time for change. I think that some of these people who were politically connected before want to be still relevant, but they're not in the game. The game is for the people right now. And it's unfortunate that they would have to come out and do this kind of negative press, but it's only making the people stand up even more. I don't think their game is going to work. Josh Shapiro is a career politician that is looking for his next step, which has been a run for president. And I will say that President Biden is not doing such a good job – he's eyeing up that job, I think, sooner than later. So we don't need a governor who's going to ignore Pennsylvania. We need a governor who's going to be active in Pennsylvania. And that is Doug Mastriano.