Winners & Losers
This week's biggest Winners & Losers
Who's up and who's down this week?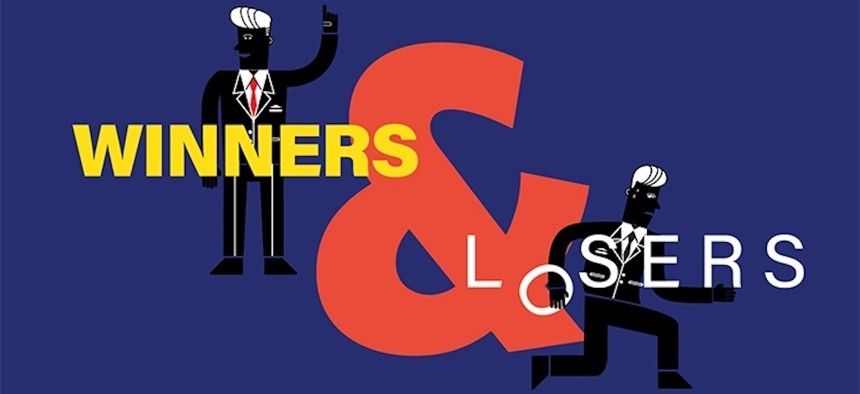 WINNERS:
Jim Gregory -
This week presented positive news all around for state Rep. Jim Gregory, a Blair County Republican who was named to the Opioid Misuse and Addiction Abatement Trust, which will oversee the disbursement of payments tied to a national settlement with three pharmaceutical companies. Adding to Gregory's list of wins this week, Gov. Tom Wolf announced an agreement on a measure to grant legal relief to child sex abuse survivors, which Gregory has long fought for.
Malcolm Kenyatta -
The state representative and former U.S. Senate candidate has something new on his agenda. Malcolm Kenyatta, a Democrat from Philadelphia, has joined fellow Democrats and LGBTQ+ advocates in the new Agenda PAC. The first openly gay LGBTQ+ elected official of color in the state legislature, Kenyatta will chair the PAC focused on challenging politicians who oppose pro-LGBTQ+ and pro-choice policies.
Michele Volpe -
For the University of Pennsylvania Health System, the month of September brought a new chief operating officer. Michele Volpe, who spent the last 23 years as CEO of Penn Presbyterian Medical Center, takes over as the UPenn Health System COO on Sept. 1. Volpe also serves as chair of the Hospital and Healthsystem Association of Pennsylvania. In her new role, she'll oversee efforts to enhance operational efficiency and program integration across the health system.
LOSERS:
Toni Shuppe -
This week, yet another GOP candidate is getting backlash for statements made not by themselves but by someone on their campaign. Toni Shuppe, founder of Audit the Vote PA and campaigner for Republican gubernatorial nominee Doug Mastriano, had some old Facebook posts brought into the spotlight. Shuppe mentions in posts and videos conspiracies related to 9/11 and "Pizzagate," and reportedly refers to QAnon as a "very valuable resource."
Jim Wertz -
Jim Wertz, chair of the Erie County Democratic Party, found himself on the receiving end of a state lawmaker's lawsuit this week after state Sen. Dan Laughlin sued him over a recent opinion piece he authored in the Erie Reader. In the piece, Wertz claimed that Laughlin and U.S. Rep. Mike Kelly were on a list of individuals who sought pardons from former President Donald Trump in relation to efforts to overturn the 2020 election – a claim that Laughlin resoundingly denied. Wertz has defended his commentary piece and said the lawsuit is politically motivated.
Julian Khater -
Plenty of Pennsylvanians have been pinned to the riots that occurred on Jan. 6 at the U.S. Capitol. This week, another pleaded guilty to assaulting a police officer with a dangerous weapon. The man is Julian Khater, who pepper-sprayed Capitol Police Officer Brian Sicknick, the officer who died on Jan. 7 following a stroke. Khater now faces up to 97 months in prison, which would be the longest sentence handed out from the Capitol attack yet.