Interviews & Profiles
A Q&A with Chad Dion Lassiter
The Pennsylvania Human Relations Commission Executive Director, who will be a panelist at City & State's 3rd Annual Diversity Summit, talks about how DEI can impact individual companies and the economy at all levels.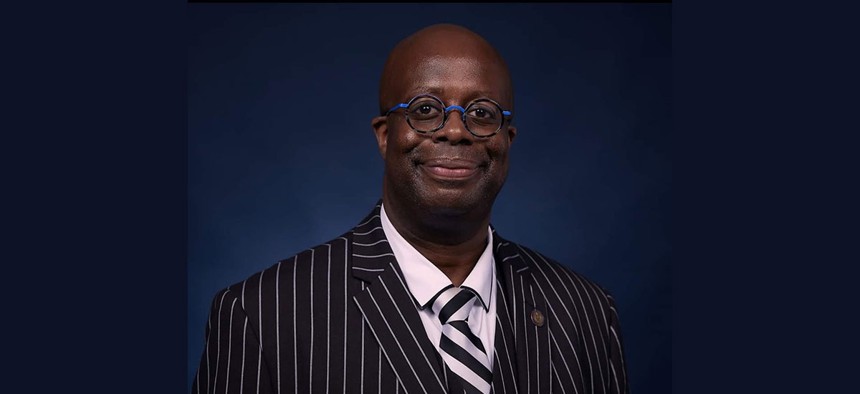 Chad Dion Lassiter's work on race relations and social policy speaks for itself. As executive director of the Pennsylvania Human Relations Commission, Lassiter oversees the legislatively delegated authority in investigating complaints of unlawful discrimination and developing diversity, equity and inclusion measures to implement across state agencies. In addition to his role with the commonwealth, Lassiter is also a co-founder and president of the University of Pennsylvania's School of Social Policy & Practice's Black Men at Penn – the Ivy League's first Black male group of social workers. 
City & State spoke with Lassiter, a panelist during the Diversity Summit's second panel, ahead of next week's event to discuss his role and what the conference has to offer. 
This interview has been edited for clarity and length.
For someone who has never gone to a conference like the Diversity Summit, what can they expect to see and get out of the event?
First and foremost, individuals will be in a space where there'll be learning from experts, thought leaders, people who have practical experiences, people who can share with them some of the complexities with regard to small business, procurements and things of that nature. I think they can expect to get a blueprint or template on how to navigate being in the DIY space for small businesses, and to participate in an exchange of ideals and concepts. 
One of the things about the summit is that it's not just a panel; it's a networking event as well. Individuals have an opportunity to interact not just with the panelists, but others in the room – procurement officers, minority business owners, individuals who are social entrepreneurs and individuals in state government. It's a collaboration of individuals coming together to provide information to a targeted audience. The audience also comes with a dearth of experience as well to actually push the panel with regard to questions and comments. It's always been something I look forward to whether I'm a panelist or not. 
We've heard from previous attendees about the business connections they made last year. What else can the Diversity Summit provide besides the scheduled discussions?
The exchange of ideas. One of the things I enjoyed about it last year is that it wasn't just the panel talking to the audience and the audience talking back. It was an exchange of ideas. It was individuals who were in the audience who were also sharing best practices, things that are working, things that need to be revamped and things that need to be analyzed. People were applying a Strengths, Weaknesses, Opportunities, and Threats framework to some of the challenges and some of the barriers with procurement – a lot of the red tape. 
The other thing to look forward to is you have a Secretary of the Department of General Services that just got confirmed unanimously – 49 to 0 – who's going to be bringing the keynote speech. And then the panel itself is comprised of a diverse cadre of individuals who have multiple perspectives and multiple experiences that they can also share. For me, the overall thing is for us to reach a consensus on how we can better serve individuals in that market space as it relates to small businesses, as it relates to contracts, as it relates to procurement, and as it relates to making sure that people know what to do, like: "What are the resources, who should I talk to when the red tape is so exhaustive?"
What do you hope to bring to the conversation – and to get out of your panel discussion?
Given that the Human Relations Commission is the top civil rights enforcement agency in the commonwealth, it's important for individuals to know that we actually move things forward in the space of diversity, equity and inclusion, and by addressing all forms of discrimination. Primarily, our Pennsylvania Human Relations Act protects the citizens of Pennsylvania in the discriminatory areas of employment, education, housing, commercial property, and public accommodation. I look to learn from the audience and learn from the panelists, but also to share my expertise in the space of fostering justice, equity, diversity and inclusion, as well as equity and belonging in the workplace. 
We're always doing training for other commonwealth entities, whether that's, for example, the Department of Corrections, Labor and Industry and others – but we also do training ourselves. We do the training within PHRC to make sure that we're doing the things that we need to do to make sure that our workforce is diverse and that people feel welcome in the PHRC. We bring in the Anti-Defamation League and they train us on unconscious bias to make sure that we're treating people with dignity and respect. 
Lastly, I look forward to talking about how diverse workforces move the commonwealth forward. Pennsylvania under this governor is in a unique position to be a leader in the global market economy. I think Pennsylvania is going to lead the nation in a lot of key spaces under this governor, his cabinet and all the wonderful people that make up multiple small businesses, government entities and educational entities in our great commonwealth.  
City & State's third annual Diversity Summit takes place June 15 at the Hilton Penn's Landing in Philadelphia. For more information, including tickets, click here.