Health Care
The CSPA Q&A: Allegheny County Human Services Director Erin Dalton
Dalton spoke with City & State about the challenges facing the county's vulnerable populations ahead of the Greater Pittsburgh Healthcare Summit.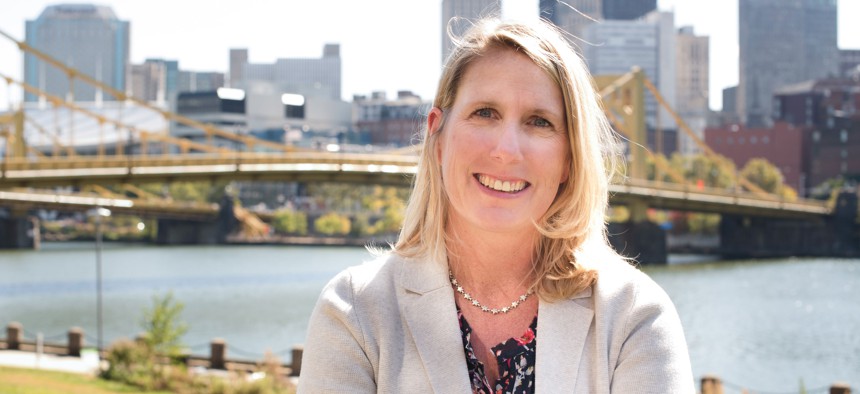 As director of the Allegheny County Department of Human Services, Erin Dalton oversees a department that provides services to more than 200,000 residents each year. 
Much like the rest of the state, Allegheny County is seeing its population get older, which presents new challenges for both the department and the county's aging populations. 
Ahead of her participation in City & State's Greater Pittsburgh Healthcare Summit, Dalton talked with City & State about the work of the Allegheny County Department of Human Services, the types of challenges faced by the state's vulnerable populations and the topics she hopes people take away from Wednesday's summit.
This interview has been edited and condensed for length and clarity. 
At our upcoming summit, you'll be participating on a panel focused on vulnerable populations and the caregiving crisis. What type of perspective are you hoping to bring to the conversation?
Allegheny County DHS is responsible for providing human services to people of all ages – including protection from abuse, mental health, substance use, housing instability and more. All these challenges affect older adults and their caregivers. My perspective is: People naturally turn to families and friends for help – but there are times when they don't know how to help or it's beyond them. That is why DHS is here. We have the services individuals and families need, and we prevent issues, protect people from abuse and respond when there's a crisis.
One example of what I mean is with the surprising increase in overdoses among older adults. We know that nationally, the rate of older adults age 65 and older who are dying from drug overdoses more than tripled between 2000 and 2020. Allegheny County is not exempt; while our overall number of overdose deaths has decreased since 2017, the percentage of overdose deaths from the older adult population has increased. In 2017, we lost 835 people to overdoses, and 3% of them were ages 65 and older. Last year, in 2022, we lost 689 people, and 40 of them were older adults – that's 6%. This is beyond what caregivers, families and friends can help with alone. So we need to reach people with the help they need, including supporting caregivers with how to see warning signs, to know what to do. This is our perspective: Understand where the community needs us, look at the data and work with families and community agencies to make things better. For people who want to see more of this information, I encourage you to visit our sites – Allegheny Analytics and Allegheny Engage – to view our public data and share your own perspective.
What are some of the biggest challenges facing vulnerable populations that you see on a day-to-day basis, and how is Allegheny County responding to them?
Social isolation is a huge issue. It's always been a challenge among older adults but became more severe during COVID. Nearly all of us experienced social isolation during the pandemic, and our society was particularly careful not to interact in person with older adults in order to keep them safe. Now that we are coming out of the pandemic, we need to help older adults move beyond safety and basic needs and back into connection and community. We need to modernize and imagine how future older adults will connect with others and have lives that are rich and social. As one example, we are reimagining our Senior Centers. In 2022, nearly 10,000 older adults visited our Senior Centers to socialize, participate in wellness activities, share a meal and find information and assistance. As another example, we're looking at "home sharing" – using technology to help pair independent seniors who want to age in their homes with individuals exploring rental options – as a potential solution for both affordable housing and loneliness. And at the same time, we continue to provide resources for older adults who aren't able to leave their home. We train older adults to volunteer as senior companions, or friendly visitors to another older adult who may be lonely. And every month, we provide approximately 60,000 home-delivered meals to 2,200 older adults. This gives us an opportunity to check in on how people are doing and keep them connected. 
What do you hope attendees of the summit take away from your panel?
Our older adult population is growing and changing, and we need to follow those trends. We need to prepare for future demand. Pennsylvania already has one of the oldest populations in the nation. Allegheny County is facing a rapid increase in its older adult population as Baby Boomers age, coupled with a decrease in the number of middle-aged adults who are more likely to provide informal care. By 2040, the ratio of the size of the population ages 45-64 – caregivers – compared to the population age 80+ will have reduced by a third. We're already planning for these population shifts. The state is developing a Master Plan for Older Adults and we're engaging our community members to comment on what they want to see in the future. We need to proactively think about how to serve older adults in the future, and I'm excited to co-create solutions with our partners in the community.
City & State's Greater Pittsburgh Healthcare Summit takes place July 19 at the Pittsburgh Marriott City Center. For more information, including tickets, click here.