News & Politics
A Q&A with Mark Compton, Pennsylvania Turnpike Commission CEO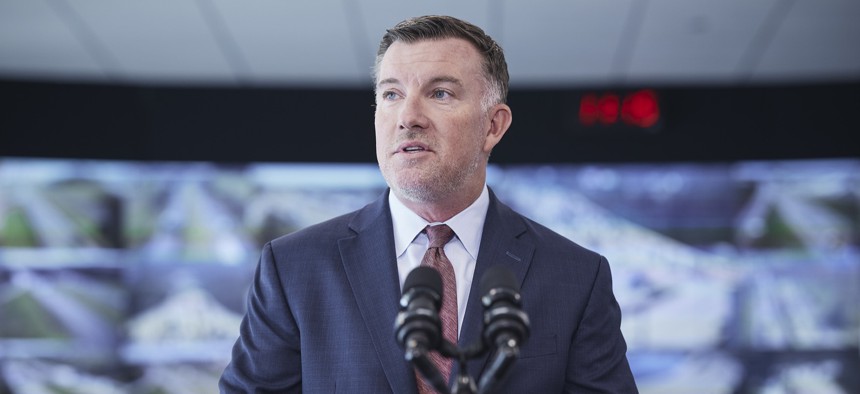 Mark Compton, who has led the Pennsylvania Turnpike Commission for the last decade, recently sat down with City & State to discuss the evolution of the highway, the commission's funding challenges and how the agency is working to track down unpaid tolls.
The following conversation has been edited and condensed for length and clarity. 
How have you seen the Turnpike and the Commission evolve?
One of the greatest honors of my professional career is being able to be the CEO here at the Turnpike for the past 10 years. As I often say when I have the opportunity to: I wish people could see my 1,300 colleagues work every day. What I've seen is the way that they strive to be best-in-class in all they do – and that really speaks volumes of them and how they strive to be best-in-class in customer service and to be best-in-class in safety. 
Over the course of the last 10 years, we've seen so many improvements in the way that we go about our work. That speaks to the way in which they care about each other. If we take a look at the way that they are with safety, that really speaks to the way that they work with each other – safety among our colleagues and safety among our customers.
What has put the Turnpike in a funding bind? 
Back in 2007, there was a bill called Act 44. That bill requires the Pennsylvania Turnpike Commission to send $450 million to PennDOT on an annual basis. That was tied to tolling of Interstate 80. Because that didn't happen, the number was $450 million. At the time, half of those funds went to mass transit, the other half went to highway. Then that was set to move until 2057. The next transportation bill was Act 89 – that moved our sunset provision of the Turnpike from 2057 to 2023. It also changed the payment structure so that it all went to mass transit. Moving forward from 2023 to 2057, we still have the $50 million cash contribution, but we're out of the $400 million.
What is the Turnpike Commission doing to address unpaid tolls?? 
Our collection rate has remained steady. We collect 93% of all transactions. Obviously, our goal is to push more people over to E-ZPass because it's the most cost-effective way for us and it's the easiest way for us to collect – right now, 87% of our customers use E-ZPass.  
We're also working really hard to get reciprocity agreements with other states. That has been much tougher than I anticipated.
Are there any projects you're particularly excited about? 
The work that my colleagues are doing in sustainability is really unbelievable right now. We set up our first microgrid in the western part of the state. We've got some real strong leadership here under our Sustainability Committee. We've got a goal here to be sustainable by 2040. While others have things on the shelf, we're doing it and we're working toward it. The opportunities we have under sustainability are really setting footprints in the industry and I'm really excited about what our folks are doing there.