Education
A Q&A with Khalid Mumin
The Pennsylvania Education Secretary talks about what it wil take to make the state a leader in all things education.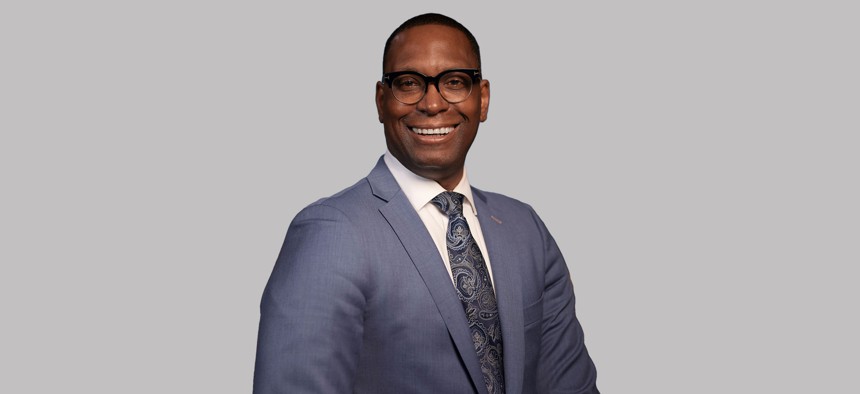 Pennsylvania's new education secretary Khalid Mumin has his hands full as the leader of the state's Department of Education. Mumin is overseeing the state's education system at a time when the courts have ruled it needs to be fixed, and at a time when state lawmakers are divided over whether to invest state resources into a government-funded private school scholarship program. Mumin spoke with City & State to discuss the myriad challenges facing the commonwealth's education system. 
This conversation has been edited and condensed for length and clarity. 
We're at a landmark moment when it comes to the education system, particularly in the wake of the recent Commonwealth Court decision. What does this moment mean for rethinking education in the state?
It's a great opportunity for us to come together around education as a whole. In regards to the lawsuit itself, it's been made very clear by Gov. Josh Shapiro and the administration that we are working with one another to comply with the court ruling. I can tell you this as a fact: We have been meeting with the Basic Education Funding Commission to get this work started, so it's a promising step. This budget is a down payment on our education system and invests strategically and comprehensively in public education in the commonwealth, and includes the largest increase in BEF – Basic Education Funding – in Pennsylvania's history. So again, another foot in the right direction. 
Pennsylvania's future depends on a skilled workforce, and that's the pot of gold at the end of the rainbow. The training begins in the classroom. This budget provides a $1 billion investment in K-12 public schools, including a $567 million increase to the basic education fund. For Pennsylvania school districts, this will be distributed through the BEF. It is a critical moment in education in the commonwealth and a very exciting time to be in this position, leading this agency doing this work.
What are some of the key challenges you are currently facing? 
Most importantly, it's: "What is the exercise of education?" Why are students being educated? What is the return on investment? Quite clearly, it's the workforce shortage. Education should be that pathway for us to be able to increase our workforce. That's not simply an urban thing, it's not simply a suburban thing, or a rural thing, it is a commonwealth thing. I think that's it in a nutshell. If we want to go really high-level, we should provide opportunities where students can seamlessly walk through the pre-K-12 journey into post-secondary training or CTE training into influence in our workforce.
PASS scholarships, and the topic of private school tuition scholarships or vouchers, has been a point of conversation and even contention at times. Where do PASS scholarships fit into the picture here?
Gov. Josh Shapiro has been very clear that every child deserves a shot at success. He supports parent choice and student voice, as long as it is not to the detriment of public schools. That is the genesis of the discussions around choice and voice. It's a succinct response, but it's very clear of the governor's direction in that area.
What has it been like to step into your current role and how has your experience guided you?
Coming from the field itself as a practitioner, and now being able to delve into the agency work where we're dealing with policy and procedure has been enlightening. It's a huge learning experience, because I don't get to see the other side of the street, so to speak, as a practitioner. Now, I'm able to see how process and procedure and policy come to life, how it's supported and advocated for, in hopes of being able to broaden our scope around education and to influence learners to graduate, get the training they need and to engage in the workforce. I love it. 
Why should people have hope that our system of education is moving in the right direction and evolving?
I think first and foremost, we're recognizing the paramount issues that we have to really go after with great ferocity. Pennsylvania has always been at a level of prominence when it comes to education, innovation, leadership. Now, let's put action steps together to be able to accomplish goals around these challenges, where we are stepping back up there and leading in these spaces. Again, it sounds like a broken record, but we're talking about workforce shortages. Is that simply a Commonwealth of Pennsylvania thing? No. It's an issue that is polarizing throughout the United States of America. But think of this: What better state to have the opportunity to be the trendsetters in these areas, to magnify sustainable success? We are the fifth-most populous state in the country. California. Texas. Florida. New York. Pennsylvania. One of us has to get it right. I have my confidence and I have my bets on us to be the ones to step up and resolve these critical issues in the education space.