Philadelphia
Speculation builds on possible Brady exit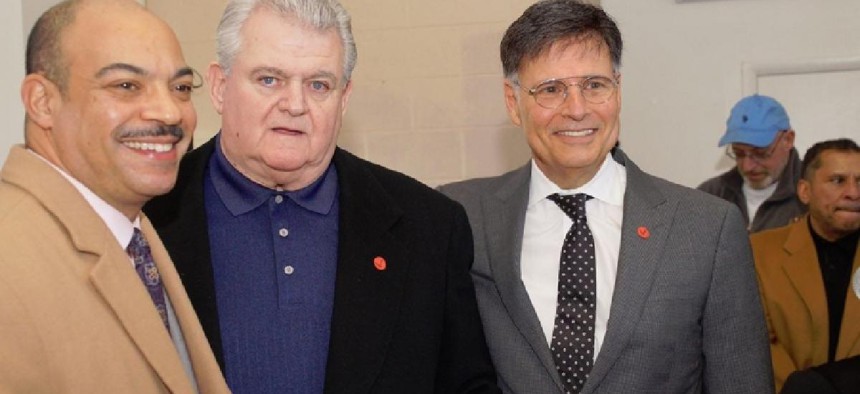 For more than 30 years, as other Philadelphia elected officials have passed away or been put away, one man has been the city's political North Star: Congressman Bob Brady.
That era may now be drawing to a close.
Sources are saying that Brady has spoken openly about retiring from his powerful seat atop the Democratic City Committee, which nominally guides ward leaders and doles out crucial endorsements and campaign dollars. The only name mentioned as Brady's likely replacement: longtime ally and former Philadelphia City Controller Jonathan Saidel.
"What people are saying is that [Brady] is going to leave the party," said former Councilperson Marian Tasco. "They're saying he is going to leave as chair of the party and that [Jonathan] Saidel would take over. He's been working very closely with Brady on the DCC policy. He's always with Brady, he goes to state committee with Brady – he's around."
Brady has held his DCC spot since 1986. For his part, the congressman vigorously denied the rumors.
"Jon Saidel has been coming with me to party meetings for 30 years," he said. "The last time I checked, I'm not going anywhere. I never talked to anybody about stepping down as the chairman. I don't know, maybe Saidel is promoting this shit."
The congressman added that he'd recently spoken to Saidel, who had promised him that he was not floating his name for the spot.
Not everyone in Philadelphia is so sure.
Of 18 elected officials, consultants and political insiders contacted by City&State, nine said they had heard that Brady intended to step down and name Saidel as his successor. Only two denied the rumor outright, including Brady spokesperson Ken Smukler. The rest said they either didn't know or refused to discuss the subject.
One source close to Brady suggested that his departure from the DCC might happen sooner than later – the congressman allegedly stated his intention to close on an outstanding application for a 10-year tax abatement for the DCC's headquarters before resigning his chair.
The DCC has a hearing on that issue in two weeks, according to Brady.
Another source said he had heard the congressman openly describe his upcoming term in the First Congressional District as his last. Still others said that Saidel had recently reached out to several unnamed political consulting firms with an eye on Brady's seat. Although it does not preclude him from running, it is worth noting that the former controller does not currently reside in Brady's district, which streches from Northeast Philadelphia to Chester, PA.
Several sources said Saidel's possible anointment as DCC chair or congressional sucessor could be a belated way for Brady to make amends for a nearly decade old political slight. 
In 2007, Saidel ran for mayor with assurances that Brady would stay out of the race – but the congressman broke that promise. Saidel had abandoned a four-term post as controller to run for mayor, but abruptly dropped his candidacy when Brady announced that he would, in fact, compete in the mayoral contest. 
The congressman went on to lose in a landslide to Michael Nutter.
In a phone conversation, Brady denied everything.
"Do you know what you're going to do in four years?" he joked. "The last time I looked, I'm running for re-election and I'm not giving up my seat ... Saidel can't do anything unless I step down."
However, in a phone conversation, Saidel didn't rule anything out.
"I can't confirm or deny anything at this time," he said. "I'm honored by all this rumor stuff, but they're just rumors. It's probably one of the greatest honors of my life to even be talked about for something like that."
Saidel has largely existed on the periphery of Philadelphia politics since his resignation. He's held positions at various law firms, flirted with a failed runs for Lt. Gov. and his home Congressional seat, and briefly floated his name for last year's mayoral contest. He joined the Rosen law firm as an "advisor" several weeks ago.
Political analyst and St. Joseph's University professor Randall Miller said he'd heard some "very light rumblings" about the possible handoff.
"Saidel just joined the Rosen law firm to make some money for sure," he said. "Saidel is an astute observer of political possibilities and acts accordingly. That said, if Brady were to go, there would be others wanting his seat. It's a tough district, with a large African-American constituency that will want a big say in whoever gets it if or when Brady decides to bow out."

However, Brady's district, which he has held onto since 1998, was redistricted in 2012. The new boundaries eliminated a Hispanic portion of the district in the city's Kensington neighborhood, while adding historically white sections of Northeast Philadelphia and Delaware County.
UPDATE: After the publication of this story, Saidel emailed a longer response to City&State. It appears in full below:

"I was Chair of Bob Brady's first campaign for Congress and I intend to Chair his last campaign which I hope will not be for another 20 years . When Bob Brady took over Democratic City Committee, I pledged to help him in any way to make this the strongest Democratic Party this city or nation has ever seen. I am as committed to this pledge today as I was when I first made it 30 years ago."