COVID-19
The tracks of our tiers: sorting out Philadelphia's masking policies
Where masks are required and where they're not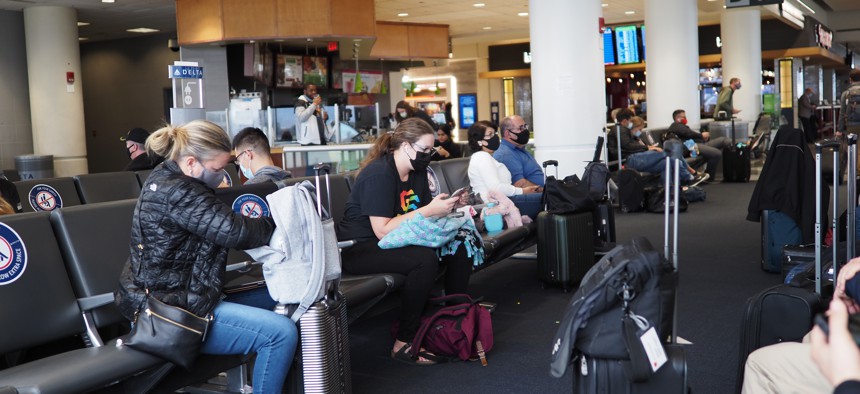 To mask, or not to mask, that is the question. 
In the wake of a continuing rise in COVID-19 cases and hospitalizations, Philadelphia on Monday became the first major U.S. city to revive its indoor mask requirement – less than two months after the city dropped its original masking mandate. 
The change shouldn't be a shock to residents. When the city dropped its mandate earlier this year, it introduced a tiered COVID response system based on case counts, positivity rates, hospitalizations and the rate of change in cases. 
Philadelphia's mask mandate
As of last week, Philadelphia is averaging more than 100 new cases each day, and the city's 10-day increase in total cases is averaging over 50%. With that upswing, the city has gone from the "all clear" tier to the "mask precaution" tier.  
The announcement was met with mixed responses, including frustration from a group of businesses and residents who filed a lawsuit against the mandate in Commonwealth Court over the weekend. The suit claims the mask mandate doesn't follow the Centers for Disease Control and Prevention guidelines and that it is "a renegade standard unfound anywhere else in the world." 
What it means for travelers
The mandate resumption also comes as a federal judge in Florida struck down the Biden administration's mask mandate for travelers on Monday. And despite being the only major metropolitan area in the nation to reinstate its mask mandate, Philadelphia is no longer requiring masks on public transit. The federal judge's ruling was followed by an announcement by SEPTA that it will stop requiring masks on public transit or in stations. Transit authorities in New York, Los Angeles and Chicago, on the other hand, are still requiring masks.  
Got all that? But wait – there's more. That ruling doesn't apply to all Philadelphia-area travelers. The Philadelphia International Airport confirmed Monday that, in accordance with the city's indoor mask requirement, travelers must wear masks inside airport terminals. 
On top of that, the ridesharing service Uber announced Tuesday morning that it would no longer require passengers to wear masks. 
The inconsistencies were on full display Monday night. Fans at the Sixers playoff game were required to wear masks in the arena but not on the ride home if they took the subway. And if you saw any of the action, it was clear the mask mandate wasn't being enforced firmly inside the Wells Fargo Center. 
The bottom line
Masks are once again required in all indoor public places, including schools and restaurants. However, businesses are allowed to require proof of vaccination instead of requiring masking. 
If cases and hospitalizations continue to rise, Philadelphia could once again reach an infection rate that would require vaccine mandates. For the city to reach that "caution" tier, it would need to average more than 225 new cases per day, more than 100 hospitalizations, and/or a more than 50% increase in cases over the past 10 days.