Satire/Odd News
Should the Hershey Kiss be Pennsylvania's official state candy?
Policymakers are set to debate this dense subject at City & State's 2022 Pennsylvania Power 100 event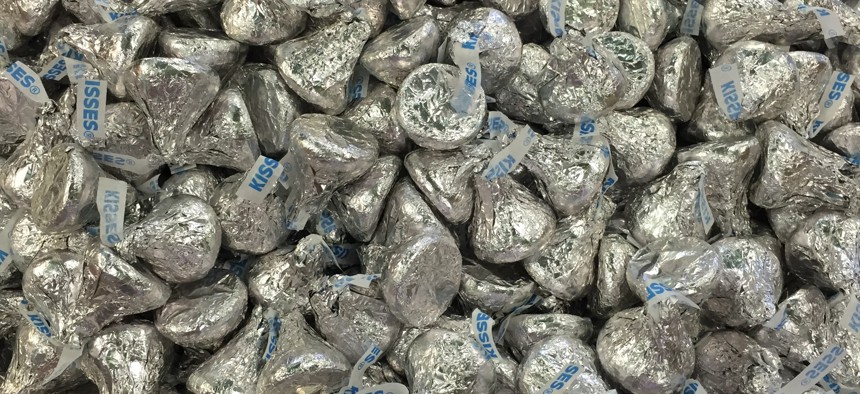 Pennsylvania is well-known for its culinary creations. Cheesesteaks are a staple in Philadelphia, Pittsburgh is known for Primanti Brothers and pierogies, and if you end up in the Coal Region during the right time of year, you can likely find NEPA natives cooking up a pot of Boilo once the weather gets cold.
There's also an argument to be made that the Keystone State is a major candy capital of the U.S., if not the world, with multiple confectioners claiming the state as their home. There's arguably no bigger candymaker in the state than The Hershey Company, which has become a worldwide name due to many products, including the instantly-recognizable Hershey Kiss. 
It's the Kiss that is at the heart of a new debate in Harrisburg, with state lawmakers exploring whether it should be immortalized as Pennsylvania's official state candy. 
The idea has plenty of backers. State Rep. Tom Mehaffie, a midstate Republican, and state Sen. Maria Collett, a Democrat who represents Bucks and Montgomery counties, teamed up to sponsor matching bills to make the Kiss the state's official candy. 
The legislation was brainstormed, and drafted, by students in Bucks County, who formed a "Hershey Kiss Committee" that met with Hershey executives, lobbied lawmakers and publicized the effort to make the Hershey Kiss Pennsylvania's state candy. 
"Many of our state symbols originate in the classroom, including the recent addition of the Eastern Hellbender as Pennsylvania's state amphibian. In their efforts to name a state candy, the middle school students of the Hershey Kiss Committee did much more than sample candy, they learned about our state legislature and how a bill becomes a law," Collett said in a statement. 
Collett added that the Kiss has a considerable impact on the state's economy. "As the Hershey Kiss Committee laid out, the production and delivery of more than 70 million Kisses each day depends on Pennsylvania's dairy industry, our manufacturing and transit jobs, and the retail sector, impacting countless workers and their families," Collett said. "The Hershey Company employs thousands of Pennsylvanians and has made this sweet treat in the commonwealth for over 115 years." 
Other proponents of the legislation, which has taken the form of House Bill 2150 and Senate Bill 1122, say the significance of Hershey candy – namely, the use of Hershey proceeds to fund educational opportunities at the Milton Hershey School – gives the Kiss an added advantage in the debate over the state's supreme candy. 
"There's no other place and no other candy that's as iconic worldwide as the Hershey Kiss," Mehaffie told City & State. "It funds over 2,000 kids who are going to get a chance to get a good education, and a good chance to come out of a bad situation and go to the Milton Hershey School."
"That's what it does. At the end of the day, I don't think any other candy can say they do this," Mehaffie said. But others think the state should take a more cautious approach to determining an official state candy. State Sen. Dan Laughlin, a Republican from Erie County, voted against Collett's legislation in committee, and said that if lawmakers are going to weigh in on choosing an official candy, they should take the time to consider confectioners from all across the state. 
"I know that there's probably some decent arguments on why the Hershey Kiss would make sense to be our state candy," Laughlin said, noting other towns and municipalities throughout the state have candymakers of their own. Erie has at least three candymakers of its own – Romolo Chocolates, Pulakos Chocolates and Stefanelli's Candies, Laughlin said. 
"I think if we're going to do this and pick a state candy, I think there needs to be a little more input into that," Laughlin said. 
He noted that former state Senate President Pro Tempore Joe Scarnati, the owner of the Dan Smith Candy Company, might like a word as well. Scarnati and his wife purchased the Brookville candy company in 2015, which now has five locations across western Pennsylvania. The state is also home to Clark Bars, Peanut Chews, Peeps and Wilbur's Chocolate.
While the debate over the Hershey Kiss has prompted some lighthearted banter between Pennsylvania politicians, there's widespread agreement that student involvement in choosing state symbols – like the state candy or Pennsylvania's favorite slippery friend, the Eastern Hellbender – is a good way to get younger generations interested in civic engagement. 
"I'm really proud of these high school kids working on a bill, and I think that the fact that it isn't just gonna sail through as a feel-good piece is actually better for them in a civics lesson anyway," Laughlin said. 
Mehaffie, who differs from Laughlin in the great commonwealth candy debate, agreed. "I think it's a fantastic learning opportunity … it gives me hope that they're understanding the process, and how hard the process is."
The debate, however, is far from over. Lawmakers have yet to hold a floor vote on either bill, but candy-related chatter is continuing in the interim. City & State's 2022 Pennsylvania Power 100 event will feature remarks from Mehaffie, Laughlin and Collett during a Pennsylvania State Candy Forum. Attendees will also have the chance to taste and cast their own vote for candies from across the state. 
City & State's 2022 Pennsylvania Power 100 event will be held on Tuesday, May 24 at King Mansion in Harrisburg from 6:30 p.m. to 9 p.m. Don't forget to grab your tickets here.