General Assembly
How a bill becomes a brawl: The fight over the changes needed to the legislative process
City & State takes an inside look at how Harrisburg pols want to rework the way laws are enacted in Pennsylvania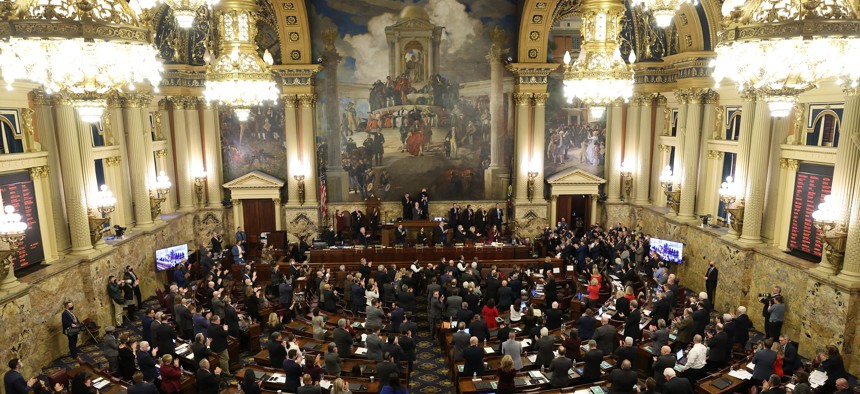 It's easy to fixate what elected leaders don't agree on in Pennsylvania – especially now. Gun control, abortion rights and election issues are threatening to add even more fuel to an already-fiery election cycle that includes high-stakes races for governor, state legislature and U.S. Senate.
But focus in on some of the more wonky conversations happening in Harrisburg, and you'll quickly find that lawmakers agree on one broad, overarching concept: The lawmaking process in the commonwealth needs to change. The lawmakers themselves, however, just don't agree on how to effect that change.
Talk to Democrats – who have been in the minority throughout the last several legislative sessions – and the answer is clear. The rules that govern the state House and state Senate need an overhaul to allow for more bipartisanship. Speak to a Republican, and you'll get a vastly different solution – the governor's executive power needs to continue to be whittled down to rebalance the scales between the three legislative branches. 
Public polling also seems to back up a broad desire to change the status quo in Harrisburg. A significant percentage of Pennsylvania voters have listed "government" and "politicians" as the most significant problems facing the state in regularly scheduled Franklin & Marshall College polls, underscoring the discontent of voters across ideological lines. 
The college's most recent poll, conducted in late April and early May, had 21% of respondents identifying "government" and "politicians" as their top concerns, followed by worries about the economy, as well as violence and crime.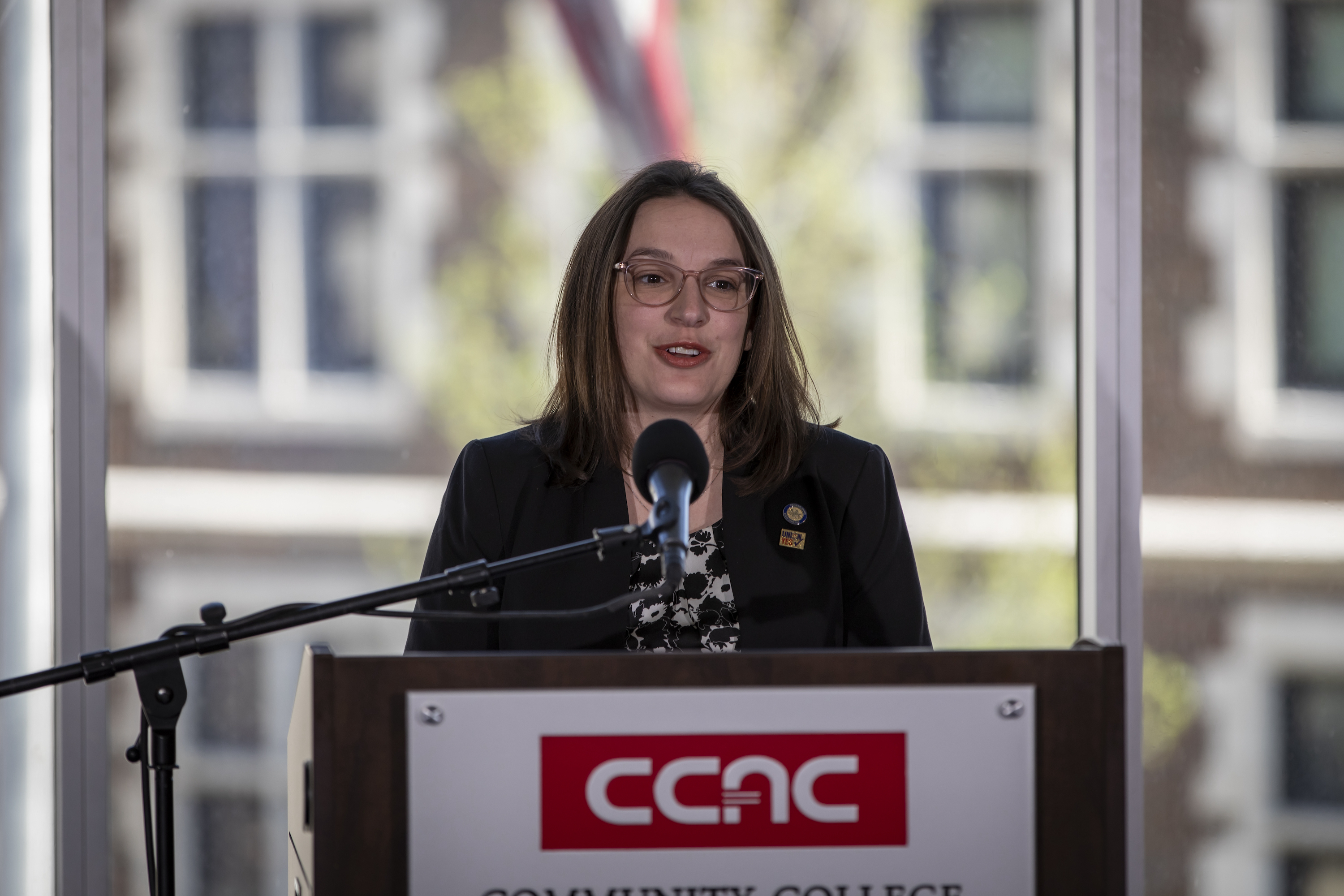 State Sen. Lindsey Williams, a Democrat from Allegheny County, said she frequently hears from constituents who are frustrated that their top priorities aren't garnering any attention in the state Capitol. That frustration prompted her and other colleagues to introduce a package of reforms to the state Senate's operating rules, which govern how the General Assembly's upper chamber is run. 
Williams, in an interview with City & State, said that while rules reform may not be the sexiest issue that lawmakers can act on, operating rules are pivotal to shaping which bills run in Harrisburg – and which bills never see the light of day. Williams said it's easy for freshman lawmakers to come to Harrisburg with rose-colored glasses on, full of high hopes for bipartisanship and compromise before noting that the reality of how House and Senate rules work can dim the prospects of certain initiatives. 
"You realize that much of what is happening – or, more frequently, not happening – in our commonwealth is a result of the rules. It's a thing that is hard to talk to individuals about. It doesn't fit in a sound bite," Williams said. 
Williams is one of several Democratic senators sponsoring a comprehensive rules reform package that, in her view, would make the Senate work in a more transparent, bipartisan fashion. Among the reforms being backed by Senate Democrats are measures that would require votes on legislation that has bipartisan support, allow minority committee chairs to add bills to a committee's agenda and require that every bill introduced by lawmakers gets a committee vote. 
Currently, committee chairs have wide latitude to determine what bills advance in the General Assembly, which has annoyed Democrats, who have called for action on gun control, green energy, health care reforms and other measures opposed by GOP committee chairs.
Speaking on the Senate floor in mid-June, Democratic state Sen. Amanda Cappelletti of Delaware and Montgomery counties implored her colleagues to act on rule changes as Democratic efforts to call up gun control measures failed. 
You realize that much of what is happening – or more frequently not happening – in our commonwealth is a result of the rules.
State Sen. Lindsey Williams
"Currently, the majority party has the power to determine which legislation moves through committee, which bills get a committee hearing and which bills move on the floor. This system has no incentive for us to work together," Cappelletti said. "It has led lawmakers in Harrisburg to be distracted by partisan games when we could be focusing on bettering the lives of the people we represent."
One proposal from Senate Democrats would set specific public notice requirements designed to give lawmakers and members of the public more time to review legislation and prepare for committee hearings. The rule change would require at least 72 hours' notice for a committee meeting, require amendments for bills in committee to be circulated at least 24 hours before a meeting and require the marked version of the Senate calendar to be circulated at least 12 hours before the next session day begins.
Williams said publicizing the Senate's calendar earlier can help keep constituents abreast of what goes in Harrisburg in a given day. "Part of that one (proposal) is requiring a marked calendar for the floor 12 hours in advance so the public knows what is running that day," she said. "They can reach out to their elected officials accordingly at that point – whether they want them to vote yes or no – or whatever it is on that particular bill."
But these Democratic proposals have so far failed to gain support from Republicans to fundamentally alter how the Senate moves legislation. And such changes, Republicans say, would run counter to what the chamber voted to approve at the onset of the current legislative session.
"The rules of the Senate are well-established with input and agreement from the leadership of both parties and voted on by each member of the Senate with the understanding that the majority manages the rules," said Erica Clayton Wright, a spokesperson for Senate Republicans. "Calls by activist Senate Democrats to change the rules (have) less to do with the majority management of the rules and (are) more reflective of the disgruntlement among Senate Democrats."
But rule changes aren't the only mechanism some lawmakers want to use to modify how policies are advanced in the state Capitol. Reining in executive power has been a major focus of Republican lawmakers following Gov. Tom Wolf's use of executive orders and health directives to respond to the COVID-19 pandemic in 2020.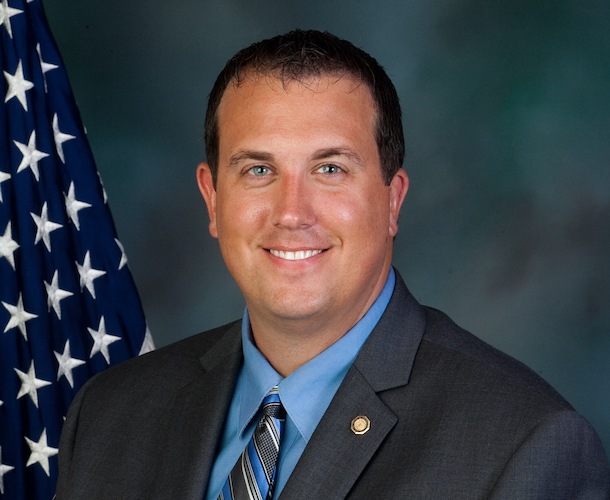 Voters already approved a constitutional ballot referendum to roll back gubernatorial emergency powers in 2021, but Republicans who control the legislature are hoping to continue making changes to both state law and the state constitution to minimize the use of executive power to accelerate policy goals without legislative input. 
State Sen. Scott Martin, a Lancaster County Republican, has sponsored two measures that would curtail the ability of cabinet secretaries – including the secretary of health – to issue mandates and directives when an emergency declaration is not in effect. 
Others have eyed the regulatory process, which reviews and establishes state regulations, as an area in need of fixing. State Rep. Seth Grove, a York County Republican who chairs the House State Government Committee, has introduced legislation that would expand the Independent Regulatory Review Commission, an obscure yet powerful state panel, and give it the ability to halt regulations from taking effect. 
Grove, in a statement, said the five-member panel's decisions are ultimately decided by the governor's appointee, and that more balance is needed on the commission – which is why he's proposing adding two additional members chosen by the majority party in each chamber. 
"As the Independent Regulatory Review Commission currently stands, the governor's appointee generally serves as the tiebreaker when votes between commissioners appointed by each caucus in the General Assembly are tied," Grove said. "Since the commission is meant to be a check on the rulemaking actions initiated by the administration, the governor's appointee is more or less a super-voter with extraordinary powers." 
Grove added that his bill would "bring more balance to the commission and further protect our vital system of checks and balances."
Since the commission is meant to be a check on the rulemaking actions initiated by the administration, the governor's appointee is more or less a super voter with extraordinary powers.
State Rep. Seth Grove
The measure advanced out of Grove's committee on June 15. State Rep. Paul Schemel, a Franklin County Republican, said Grove's proposal would reduce instances where the meaning of a law gets altered by state regulations. "What happens all too often with the broad enabling legislation that we pass that then becomes the source by which various agencies – executive agencies – can enact their regulation, is that regulation becomes policy of its own and policy independent of what the legislature had intended," Schemel said. "I think that this legislation is wholly appropriate."
The bill, House Bill 2649, has already been met by resistance from Wolf. Elizabeth Rementer, a Wolf spokesperson, said the administration "strongly opposes" the proposal. 
"This is just another attempt at a power grab by Republicans and would diminish the critical 'independent' aspect of IRRC," said Rementer. 
Grove, however, disagrees. "I've said it once, I've said it again – the power to regulate is established in the power of legislation, and this bill actually brings that back to the General Assembly," he said during a June committee meeting.
But whether it be rule changes, regulatory reforms or other solutions entirely, there's agreement that something has to give in Harrisburg for bipartisanship to be viable in such divisive times – it just comes down to lawmakers to agree on how exactly they can make that happen. 
"At this time in our world, our culture, where there's a distrust in government, anything that we can do," Williams said, "anything that makes it more accessible and accountable to people I think (will) help rebuild that trust … that we're actually doing the people's work here in Harrisburg."