Capitol Beat
Lawmakers send veto-bound transgender athlete bill to Tom Wolf's desk
The measure would ban trans women from playing on women's school sports teams.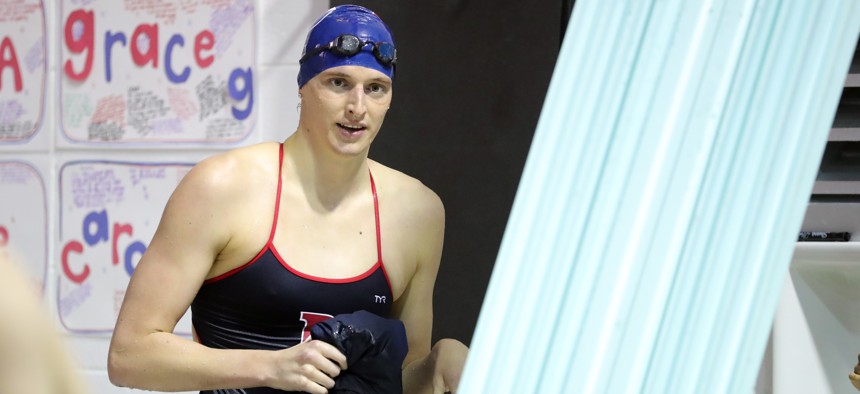 State lawmakers approved legislation Wednesday that would prohibit transgender student athletes from joining schools sports teams that align with their gender identity, sending the bill to Gov. Tom Wolf's desk, where it will be met with a veto.
The legislation, House Bill 972, was approved with a 30-20 vote in the state Senate, and would bar transgender women from playing on women's sports teams at the scholastic and collegiate levels. 
Proponents of the legislation said it would protect female athletes and ensure that they have the opportunity to compete on a level playing field. Opponents of the legislation – all Democrats – say the measure targets transgender Pennsylvanians and seeks to address a problem that doesn't exist.
State Sen. Doug Mastriano, the state's GOP nominee for governor, said athletes that are born as males, regardless of how they identify, hold certain physical advantages in athletic competition. "Women deserve the right to have the same opportunities and not to be dominated, once again, by a patriarchal male-dominated society where stronger men are going to roll over them and take away their opportunities," Mastriano said.
Democrats said the bill is an attack on the rights of LGBTQ athletes. State Sen. Maria Collett, who hails from Bucks County, said the proposal is a "radical solution in search of a non-existent problem" that attacks "the existence, rights and liberties of the LGBTQ population in this commonwealth."
After receiving approval from both chambers of the General Assembly, the bill will go to Gov. Tom Wolf's desk, where Wolf is expected to veto it. In a series of tweets about the proposal, Wolf has called it a "discriminatory ban," saying he will "veto this bill if it makes it to my desk."
I'll veto this discriminatory ban if it reaches my desk.

To Pennsylvania's trans youth: You belong. You are valued. Participate in the school activities that make you happiest. I'll be cheering you on. https://t.co/D12O7CNmCR

— Governor Tom Wolf (@GovernorTomWolf) April 6, 2021
Pennsylvania's Republican lawmakers are celebrating Pride Month by advancing legislation targeting trans kids.

As I've said, I will veto this bill if it makes it to my desk.

Leave trans kids alone. Stop the political stunts and focus on the real problems facing Pennsylvanians. pic.twitter.com/bqmZMSsWY4

— Governor Tom Wolf (@GovernorTomWolf) June 8, 2022